Phuket Wedding

By Paula Parker


Wedding Packages In Phuket
Have you ever imagined a romantic Phuket wedding?
The Island of Phuket is the perfect destination for tropical weddings and honeymoons, with its ideal weather, beautiful beaches and tropical islands.
There really is no better destination for a memorable, romantic wedding than on the island of Phuket.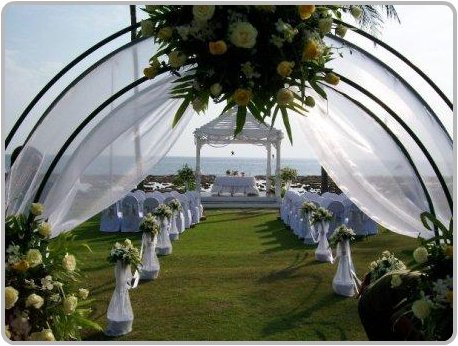 There are countless romantic locations both on and off the island of Phuket.
Phuket Beach weddings are by far the most popular setting for a destination wedding in Phuket.
However it doesn't stop there!
There are loads of other beautiful locations and settings that ooze romance, including garden weddings, wedding cruises and private villa weddings.
Throughout our Phuket wedding pages we will share with you ideas for the best wedding settings and romantic locations where you and your partner can tie the knot in Phuket.
Below you will find a list of the most affordable Phuket wedding packages available.
The destination wedding packages will provide you and your partner with a range of different ideas for a romantic Phuket wedding.
All the packages offer great value for money and are priced to suit all styles and budgets.

Phuket Wedding Packages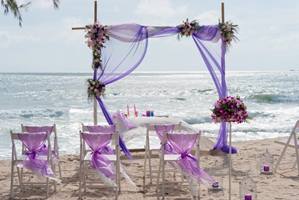 Mini Package is the perfect choice for the budget minded bride and groom, or for those wishing to renew their vows. Read more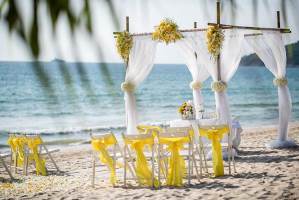 Standard Beach Wedding Package is ideal for a small group of family or friends with the ceremony held on a secluded beach away from the crowds. Read more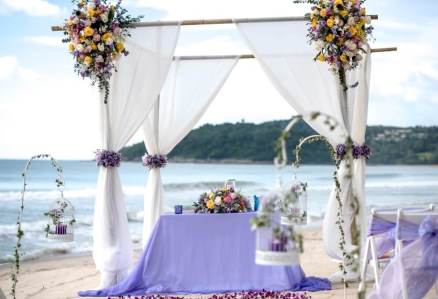 Superior Beach Wedding Package is similar to the regular beach package; however it offers some extra features to make your wedding in Phuket extra special. Read More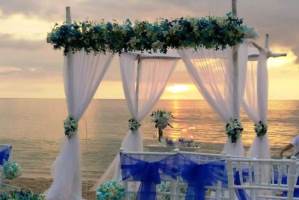 Thai Beach Wedding Package combines the harmony of a Buddhist ceremony with the romance of a western wedding that will create memories that will be cherished and treasured for years to come. Read More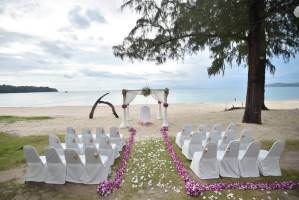 Exclusive Beach Wedding Package is the finest of all the beach packages available, and is well suited for a larger group of family and friends. This all inclusive package has an excellent range of extras that will nicely surprise you. Read More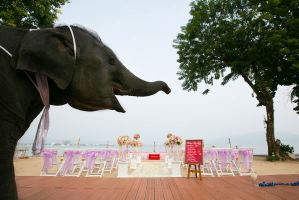 Ivory Beach Wedding Package is unique reflecting the Thai culture, blended with a traditional western style ceremony. This package includes a monks blessing, followed by a ceremony on the beach where the couple can have photos taken with a baby elephant. Read More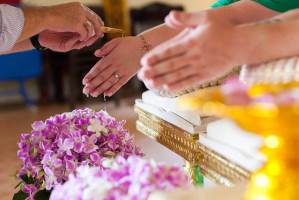 Monks Blessing and Island Tour Package includes a two or three hour tour of Phuket, following the tour you and your guests will stop at Wat Chalong Temple, where the bride and groom will be blessed by monks. Read More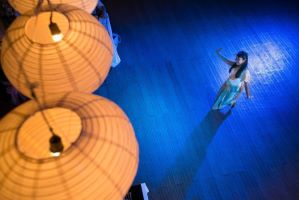 Thai Wedding Package is a Traditional Thai Wedding; the ceremony begins with a long drum parade, followed by rituals and a water blessing ceremony. Read More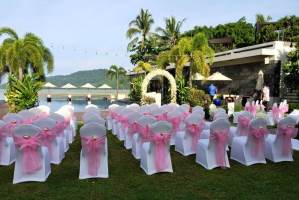 Garden Wedding Package comes complete with beautiful decorations and an abundance of hand-made floral arrangements. Read More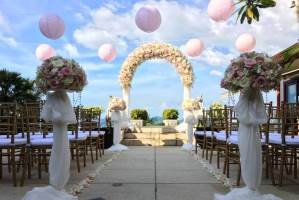 Villa Wedding Package will ensure that you're special day is truly unique with total privacy, so that you and your partner can enjoy your wedding day in the exclusive company of your family and friends. Read More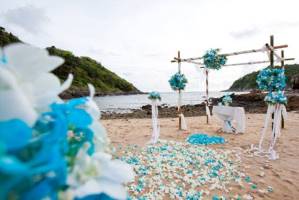 Island Wedding Package the offshore islands are perfect for your destination wedding in Phuket. The secluded tropical beaches and breath-taking sunsets, makes for a romantic and intimate wedding. Read More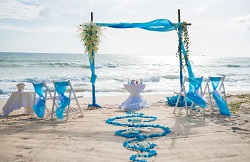 Tailored Weddings if choosing one of the above packages is not what you were looking for, you can also tailor your own wedding package. Read More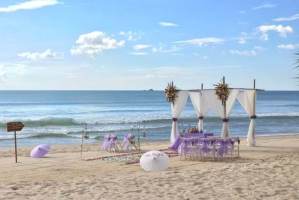 Boat Wedding Package is an ideal choice for something totally unique. This memorable package will see you and your guests cruising on the picturesque waters in Phang Nga Bay Read more
THE BOAT WEDDING PACKAGE IS NO LONGER AVAILABLE


The options of venues for a Phuket wedding are endless as are the types of ceremonies you can choose from including a traditional western style with non-denominational ceremony, or a Traditional Thai or Buddhist Wedding.
If you are in search of a florist check out some of the beautiful wedding flowers that are available for your wedding in Phuket. 
No wedding would be complete without a professional wedding photographer to capture your most precious memories.
If you like scuba diving you can also take your vows underwater, surrounded with tropical fish with an underwater wedding.
Combine all of these features and you have the reason as to why so many couples are deciding to travel abroad for a destination wedding.
When exploring the many possibilities of a Phuket wedding, ensure that you have a wedding planning checklist on hand and you have your wedding finance in place.
Many resorts on the island also have all inclusive weddings, these packages usually include your personalized wedding planner to help organize your special day, accommodation, the wedding ceremony, reception, flowers, photographers, and hairdressers.
Now that you have the wedding planning in place, it's time to start exploring ideas for your honeymoon.
There are many beautiful locations so take your time and explore some of the best honeymoon destinations in Phuket.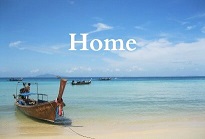 ---
---