Phuket Maps

Location map of Phuket

Phuket Maps come in very handy are extremely useful for those travellers who want to get out and explore the island.
The Island of Phuket is located on the southwest Coast of Thailand, some 860km south of the capital Bangkok and lies in the Andaman Sea, which is part of the Indian Ocean.
The island is 49km long and 21km wide and is Thailand's largest Island.

The Island is accessible by road from the mainland, as it is connected to the mainland by the Sarasin Bridge.
Throughout our site you will also notice that we have provided interactive maps to help you get your bearings.
These maps also come in handy to find the area where you would like to stay for your holiday vacation.
The Island is roughly the size of Singapore, so if you want to get out to see all the sights, attractions and wonderful beaches, it maybe cheaper to hire a car or motorbike rather then having to rely on taxi's or tuk tuk drivers.
Some of the more relaxing beaches on the island can be quiet remote or a little out of the way and you might find that you will want to have a car or bike just to get around.
When hiring a car or bike ensure you pick up a map before you head out on the road.
Maps of Phuket can be found at the International Airport Arrivals area or from your hotel or resorts information counter or at any of the local tourist desks.
Throughout our site we have google maps, you can open these maps up in a larger image or if you like you can print them out.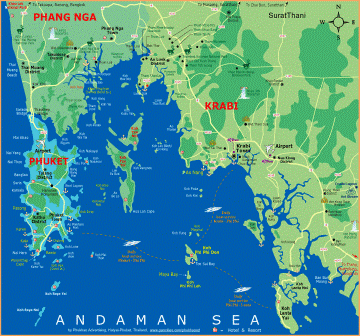 See other Phuket maps below

If you enjoyed this article and found it helpful for your travels in Phuket, let us know by following us on Facebook. 

Save Time: Search Phuket Travel Secrets