Buddhist Weddings in Phuket

By Paula Parker


Monks Blessing & Island Tour Wedding Package 



Buddhist weddings are a wonderful way to refresh a marriage or to begin your married life together.
The highlight of the Monks Blessing and Island Tour wedding package is the blessing by 5 monks at a beautiful temple in Phuket.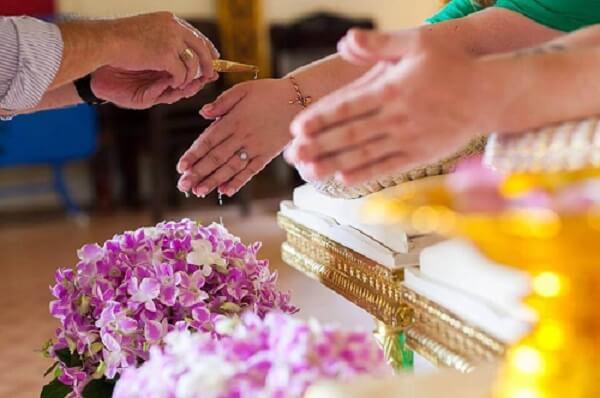 You don't have to be Buddhist to partake in the ceremony and, in fact more and more Western couples choose to have a Buddhist ceremony when planning their Phuket wedding.
As it is believed that the Buddhist weddings will bring your relationship good luck and harmony.
The Buddhist blessing and Island tour package includes a two or three hour Phuket Island tour.
Which takes you to a collection of beautiful beaches and viewpoints in Phuket, including Phuket Town, Big Buddha and Promthep Cape.
Following your Island tour you and your guests will go to a local temple, where you and your loved one will be blessed by five monks. To be blessed by five Monks is prestigious in Thailand and brings good luck & fortune.

After the Buddhist blessing there will be plenty of photo opportunities in the temple area.
The Buddhist wedding ceremony is the perfect package for those who are married already and want to reaffirm their wedding vows to one another.

Or for couples who are looking for affordable wedding ideas that's both simple and unique.
The venue for the Buddhist wedding ceremony in Phuket are mostly held at Wat Doi Thepnimit, a temple with stunning views over Patong Beach.

You can choose other temples in Phuket like Wat Chalong, however keep in mind that if you choose Wat Chalong there could be lots of tourists.





Monks Blessing & Buddhist Weddings at Wat Chalong
Inclusions:

Transfer to and from your resort, hotel or villa
Temple Fee 

Island Tour 2-3 hours
Monks blessing 
Offerings for 5 monks 
Thai Celebrant to lead the ceremony

Water Blessing
Traditional Flower Garlands for Bride & Groom
Professional Photographer
Non official Wedding certificate
Photos
Soft Drinks & Cold Towel
For couples who would like a Monks Blessing but don't require a tour of the Island, this package can be modified for you.
If you would like to wear traditional Thai costumes for your Monks blessing the wedding planner will be happy to help you source your outfit.
For further information about the Buddhist Blessing and Island Tour Package, or prices on one of the other packages, please complete the following contact form and the wedding planner will contact you.
Please Note
By completing this contact form your details and any questions you may have will be sent onto our preferred and most trusted wedding planner in Phuket.
If you enjoyed this article and found it helpful for your travels in Phuket, let us know by following us on Facebook. 

Save Time: Search Phuket Travel Secrets