Ko Phi Phi Travel Guide
By Paula Parker





What to do and where to stay at Ko Phi Phi
Ko Phi Phi is renowned for its spectacular beaches, in fact it is one of the most inspiring holiday destinations you will find in Thailand.
The scenery is truly amazing with sheer limestone rock formations that rise dramatically from the turquoise colored waters which are teeming with colorful marine life.
Ko Phi Phi

With all this natural beauty, it's no wonder that the Phi Phi Islands are one of the most popular tourist attractions in Thailand. 

About Ko Phi Phi
Ko Phi Phi lies halfway between Phuket and Krabi.
Many people think that this group of islands are part of Phuket, however the Islands are considered part of Krabi province.
Six islands make up the Ko Phi Phi archipelago, the six islands are known as Ko Phi Phi Don, which is the largest island covering an area of 28 square kilometres and is the only island in the group that has resorts.
Phi Phi Ley is where you will find Maya Bay; other Islands in the archipelago are Bamboo Island, Yung Island, Bida Nok and Bida Nai.
To visit the other islands, there are organized day trips from Phuket or Krabi or long-tail boats available for hire from Ko Phi Phi Don.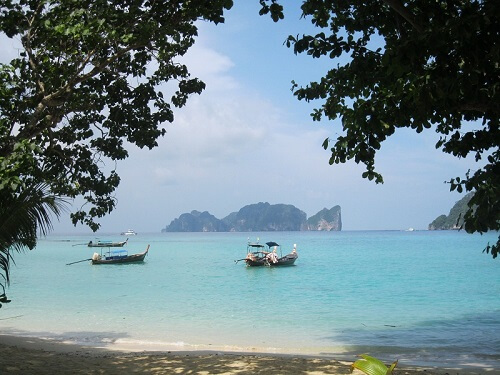 Looking towards Phi Phi Ley

Tonsai Bay at Phi Phi Don
Tonsai Bay is a hive of activity as it is the main arrival and departure point; there is a constant flow of ferries, yachts, speed boats, dive boats and long tail boats either arriving or departing.



Tonsai Village
The main tourist hub is Tonsai Village which attracts plenty of back packers and party goer's.
There are no roads or cars, just footpaths and the only mode of transport you will find is a push bike.
Tonsai Village has an abundance of bars and restaurants, their is casual beach side dining around the beaches and loads of delicious restaurants dotted throughout the streets and alley ways.


Streets in Tonsai Village

If you love to shop, you won't be disappointed as there are loads of shops around Tonsai Village.
With everything from handmade jewellery, boutique clothing, handicrafts to sunglasses, DVD's and CD's.
Many visitors come to the islands for a day trip from Phuket or Krabi, but the reality is that there is no possible way that you can do and see all what these stunning islands have to offer in just one day.
The best way to see all of the attractions and do all the fun and adventurous activities on and around the Islands is to stay a couple of nights.
Pee Pee Viewpoint
Something that you must do while on the larger island is the walk to  Pee Pee viewpoint, here you will see some of the most incredible views of the Islands.
Whilst the walk is a little tough especially in the heat, the sunset views from the lookout are simply amazing.


View from Pee Pee Viewpoint over Tonsai Village


Best Beaches on Ko Phi Phi 
Ko Phi Phi has many hidden beaches and bays to explore, some you can discover on foot while others can be easily reached via long-tail boat. 
Long Beach is absolutely beautiful, with soft white sand. The beach faces Phi Phi Ley and is much quieter then Loh Dalum Bay. 


Laem Tong Beach

i

s located along the north east coast of Phi Phi Don, the beach is absolutely beautiful,  with soft white sand and easy access via long-tail boat to Bamboo Island.


Loh Ba Gao Bay

i

s located along the north east coast, the beach is picture perfect and is home to a couple of upmarket resorts.


Pak Nam Bay is a secluded bay located south of Loh Ba Gao Bay on the east coast of Phi Phi Don.


Nui Beach

is located on the west coast of Phi Phi Don with a

 tropical back drop and crystal clear water. You can get there by long boat or kayak from Lo Dalum Bay, or by foot. 


Monkey Beach is beautiful with soft white sand, one of the best ways to explore this hidden beach is by kayaking from Loh Dalum Bay. You can read more about it here. 


Loh Dalum Bay is without a doubt one of the most stunning beaches at Phi Phi, however the  downside is that it gets very busy. 


Bamboo Island is a top spot to spend a few hours or the whole day. Reached via longtail boat.


Maya Bay is one of our favorite beaches. Maya Bay was made famous by the movie "The Beach" and is located on the smaller island of Phi Phi Ley. You can read more about Maya Bay here.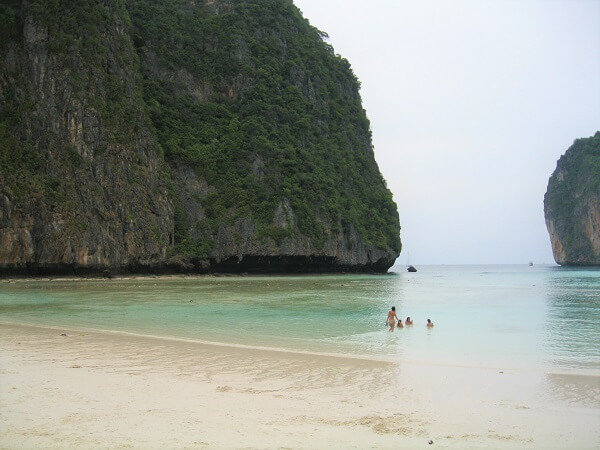 Maya Bay

Phi Phi Activities
The Islands are an ideal spot for a scuba diving vacation, with exceptional dive sites for all levels of experience from complete beginners to qualified divers.
For an adrenaline rush you could try some other adventurous activities such as cliff jumping, rock climbing or swimming with sharks.
Or hire a long-tail boat or kayak and explore some of the hidden bays and beaches such as Monkey Beach or Monkey Bay, at either of these two locations you will find groups of crab eating cheeky monkeys.
There is a colorful array of nightlife on Phi Phi Don, with plenty of bars and pubs that provide nightly entertainment and music including soul, hip hop, reggae and dance music.
Maybe you would like to take in a fire show or chill out on the beach, relaxing under the stars.
Koh Phi Phi can be very busy throughout the high season, a great vacation spot for backpackers, but is also an ideal destination for a romantic getaway.
You really should include Koh Phi Phi in your Thailand vacations.

Phi Phi Hotels & Resorts



There are many resorts and hotels available at Phi Phi Don to suit all tastes and budgets.
Including upmarket resorts and water-front bungalows, that are located on the quieter beaches of Phi Phi Don.

Backpackers flock to Phi Phi Don as there are numerous cheap hotels and affordable guesthouses throughout Tonsai Village.


This page contains affiliate links, which means if you make a purchase through a link, we may receive a very small commission at no additional cost to you, you can read our affiliate disclosure.




Ko Phi Phi Travel Tips
Some resorts are only accessible by boat transfer from Tonsai Pier. Guests that are staying at the following resorts are transferred by boat to their resort.
Most of these resorts don't have piers, so leave your good shoes at home and wear a pair of flip flops.



Natural Island Resort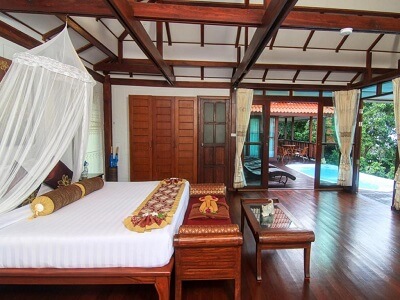 PP Natural Island Resort is a 3 star resort located on Laem Tong Beach.

There is a good choice of rooms, cottages and pool villas available with resort facilities that include a swimming pool and a sea-view terrace and bar. Read More on Agoda



Zeavola Resort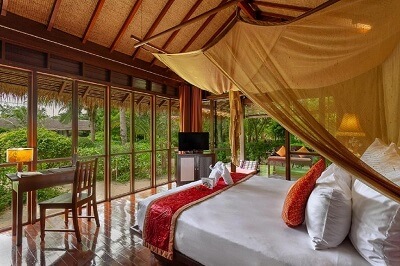 Zeavola Resort is also located on Laem Tong Beach, with a fantastic selection of beach front suites, garden villas and pool villas.

Facilities include a swimming pool, a health spa and two restaurants. Read more



Holiday Inn Resort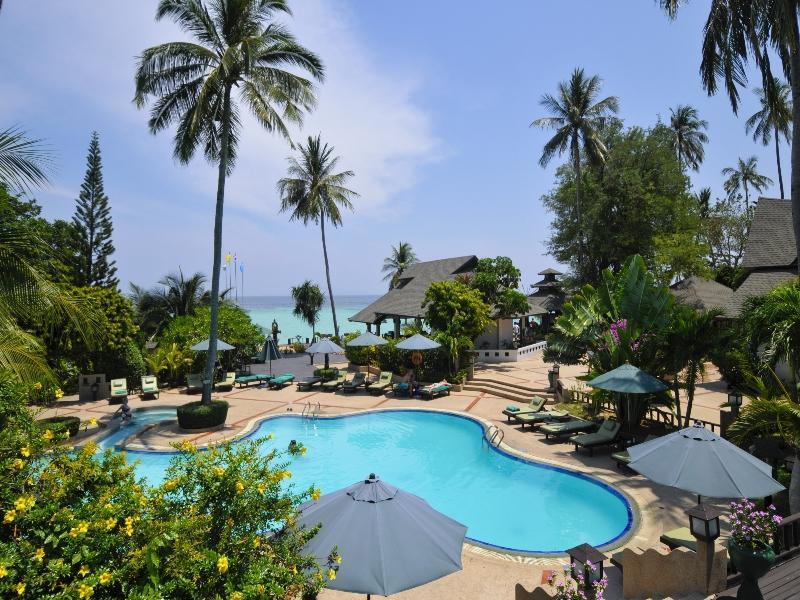 Holiday Inn Resort has a fantastic selection of rooms, consisting of bungalows and studio rooms. The resort is also located on Laem Tong Beach. 

Onsite facilities include two swimming pools, a kid's pool, Jacuzzi's, a sauna room and more.



P.P Erawan Palms Resort
P.P Erawan Palms Resort is set on Laem Tong beach with a good selection of rooms and bungalows.

Some of the facilities include a swimming pool, beachfront restaurant and friendly staff. Read more on Agoda.



Island Village Resort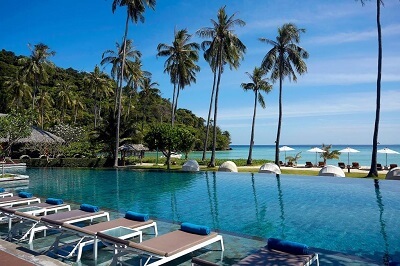 PP Island Village Beach Resort is perfect for a romantic getaway, located on Loh Ba Gao Bay.
The resort features a mix of rooms, beach front suites and hillside pool villas. Read More on Agoda.



Villa 360 Resort & Spa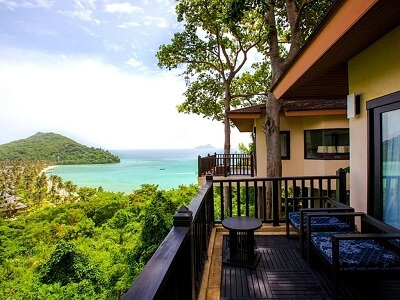 Villa 360 Resort and Spa is an all villa resort which is also located overlooking Loh Ba Gao Bay. 

The villas are situated on the a hill with fantastic views a great spot if you don't mind steps. Read More on Agoda.



Phi Phi Relax Beach Resort
Phi Phi Relax Beach Resort is located on Phak Nam Bay with a range of Garden and beachfront bungalows. Read More on Agoda.



Getting to Ko Phi Phi
The cheapest way to get to the islands from Phuket or Krabi is by scheduled ferry.
The trip on the ferry takes around 90 minutes, depending on the conditions and runs every day all year round.
Another option is to take a speed boat which is the fastest way to reach the islands.
Speedboats take as little as 45 minutes from Phuket, and are ideal if you are going on a day trip.
If you have pre-booked your accommodation,  when you arrive at Tonsai Bay there will be transfers waiting on the pier to help you with your luggage and to escort you to your resort.
Ko Phi Phi Location Map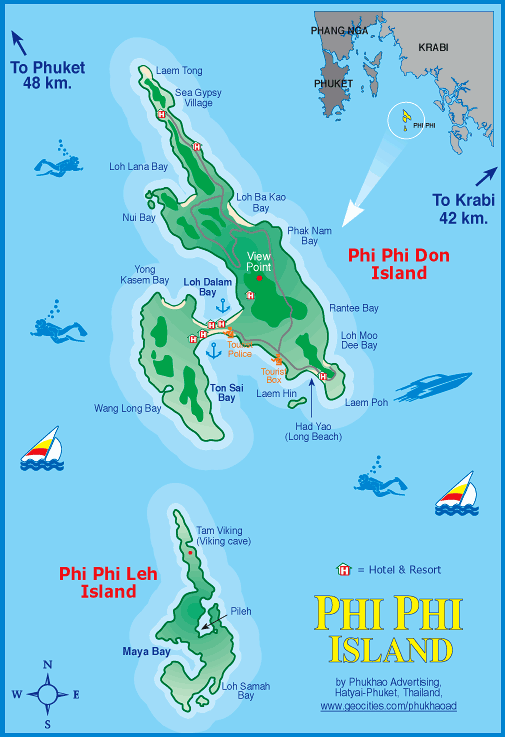 If you enjoyed this article and found it helpful for your travels in Phuket, let us know by following us on Facebook. 

Save Time: Search Phuket Travel Secrets