Your Phuket Pictures & Videos
Would you like to share your Phuket pictures or videos with other Phuket Travel Secret readers?
Well if so, we would love for you to share them on our site by using the form located at the bottom of this page.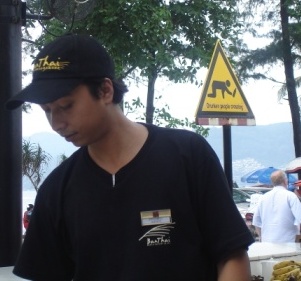 I love this sign in Patong
Phuket has long been a popular holiday destination in Southern Thailand.
With many thousands of holiday makers from around the world visiting every year, many of which are return visitors.

The island of Phuket and neighbouring tourist destinations of Krabi and Ko Phi Phi all have an abundance of picturesque places to visit including the stunning beaches, offshore islands and many beautiful and exotic sights that are often captured in photos and videos.


Submit your Phuket Pictures & Videos 
If you have any favorite Phuket pictures, videos or travel stories of other top destinations in Thailand we welcome you to upload them to share with other visitors to our site.
Your pictures and videos can be anything that is related to Phuket or if you wish any other destination throughout Thailand.
Over the years we have found many visitors, don't just stay on the island, they also like to travel to other exotic destinations throughout Thailand.
Further down this page are pictures that have been uploaded by other visitors showing their favorite beach pictures, nightlife pictures of Bangla Road and their favorite Phuket bar pictures.
Maybe you would like to share pictures or a video of one of the following
Favorite Activity

Temple 

Beach

Viewpoint in Phuket

Your Wedding Day

Images of your Resort or Hotel
Or just a funny picture of something you come across on your travels
Your pictures or video will be placed on a new page on our site and the photos or video can be accredited to you, or if you wish you can remain anonymous.
As well as the image or video we also ask if you can pop in a description of your photo or video to assist in telling the story behind the image.
How to upload your Phuket Pictures
If you have pictures of your travels throughout Phuket or other top destinations in Thailand you can upload, publish and share them here.

Just enter a picture title in the box provided, for example "My Tuk Tuk experience", "My Favorite Restaurant", "A View from Big Buddha", "My Nightlife Encounter".
Then add a description or story about the photo, you can upload up to 4 images.

Readers' Pictures
Click below to see contributions from other visitors to this page...

If you enjoyed this article and found it helpful for your travels in Phuket, let us know by following us on Facebook. 

Save Time: Search Phuket Travel Secrets