Wedding Theme Ideas In Phuket
 Thai Beach Wedding Package
One of the most romantic and unique wedding theme ideas for an exotic wedding in Phuket is to combine a beach wedding along with a Buddhist blessing by monks which is then followed by a western ceremony on one of Phuket's tropical beaches.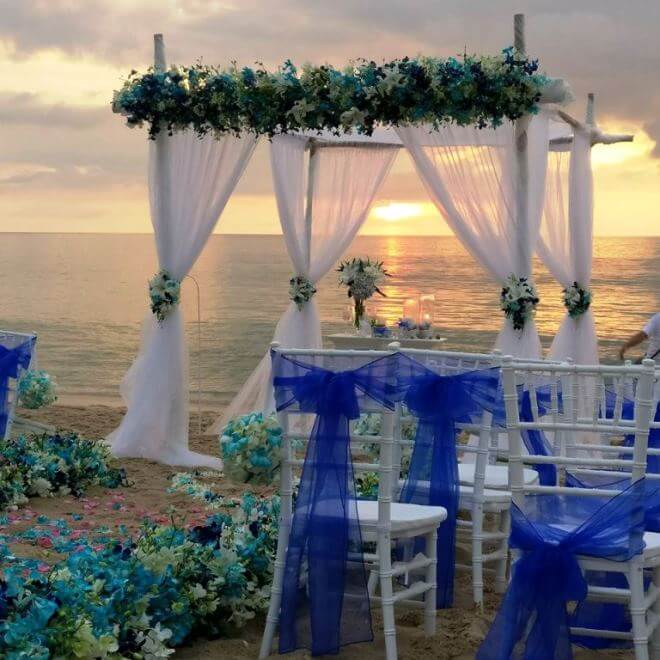 Why not indulge yourself and opt for a wedding ceremony where East meets West in this colorful and vibrant marriage of traditions and customs.
The Thai Beach wedding package blends both the harmony and splendor of the Buddhist ceremony with the simplicity and romance of the western wedding to create an everlasting impression that will be cherished and treasured for years to come.

With the spectacular backdrop of the setting sun over the Andaman Sea this Thai beach wedding package will guarantee a wedding with memories that will last a life time.
The wedding package is a combination of the Superior Beach Wedding package and the Monks Blessing package at Wat Chalong Temple.
This wedding package includes a pre-ceremonial meeting at your hotel to discuss all your wedding theme ideas and the details of your special day.
The wedding planner will meet with you before your wedding to go though all the details of the wedding ceremony, including your personal ceremonial vows.

The package also includes a wedding bouquet for the bride, altar with flower decorations, professional wedding photographer, a non official wedding certificate and photo CD with all your wedding photos.
On the day of your wedding a make-up artist and hair stylist will come to your resort or hotel to have the bride looking beautiful. When ready you will be picked up and taken from your hotel or resort to Phuket's largest and most visited temple Wat Chalong.
Here the bride and groom will be blessed by five monks, a truly memorable experience, one of those wedding theme ideas that should be incorporated into your wedding plans when getting married in Thailand.

The monks Buddhist blessing is part of a Buddhist ceremony, but even if you are not a Buddhist it is absolutely appropriate as well as impressive.
Accordingly to local belief this blessing will bring your relationship good luck and harmony.
The Buddhist blessing includes chanting and blessings by the monks as well as handing over of offerings.
After the blessing there is time for photos in the temple area.
From Wat Chalong you will be driven to your chosen Phuket beach for the wedding ceremony.
You and your loved one, wearing beautiful flower garlands, will stand on the sand in front of the altar making the most important promise of your life to one another.
Following the ceremony the bride and groom will cut the wedding cake while sipping champagne.
A short walk on the beach watching the sunset completes your most important day of your lives together.


Thai Beach Wedding Package
Hair and Make-up for bride
Transfers in an air-conditioned van from your hotel to the temple, ceremony and return
Flower Garlands for Bride & Groom
Monks blessing at Wat Chalong
Offerings for monks
Wedding Bouquet for the bride
Corsage for the Groom
Flower decoration for the altar
Ceremony with Wedding Master
Unity Ceremony & Music
Wedding Cake
1 Bottle of Champagne
Professional wedding photographer
Non official Wedding certificate
Photo CD with all your wedding photos
This is such a romantic and unique way to exchange your vows, and is a perfect wedding package for planning weddings on a budget.
All the beach wedding packages can be customised to suit your requirements.

If you would like to find out more information about other wedding theme ideas or more information and prices of the Thai Beach wedding Package, please complete the following contact form.
Please Note
By completing this contact form your details and any questions you may have will be sent onto our preferred wedding planners in Phuket.
---
---