Phuket Wedding Photographer
By Paula Parker


Acquiring a professional Phuket wedding photographer for your special day is just as important as finding the best wedding planner, wedding florist and the perfect venue for your destination wedding in Phuket.
If you are reading this page you have already decided to have a destination wedding in Phuket and now you are on the search for a professional wedding photographer to capture all your precious moments of your special day.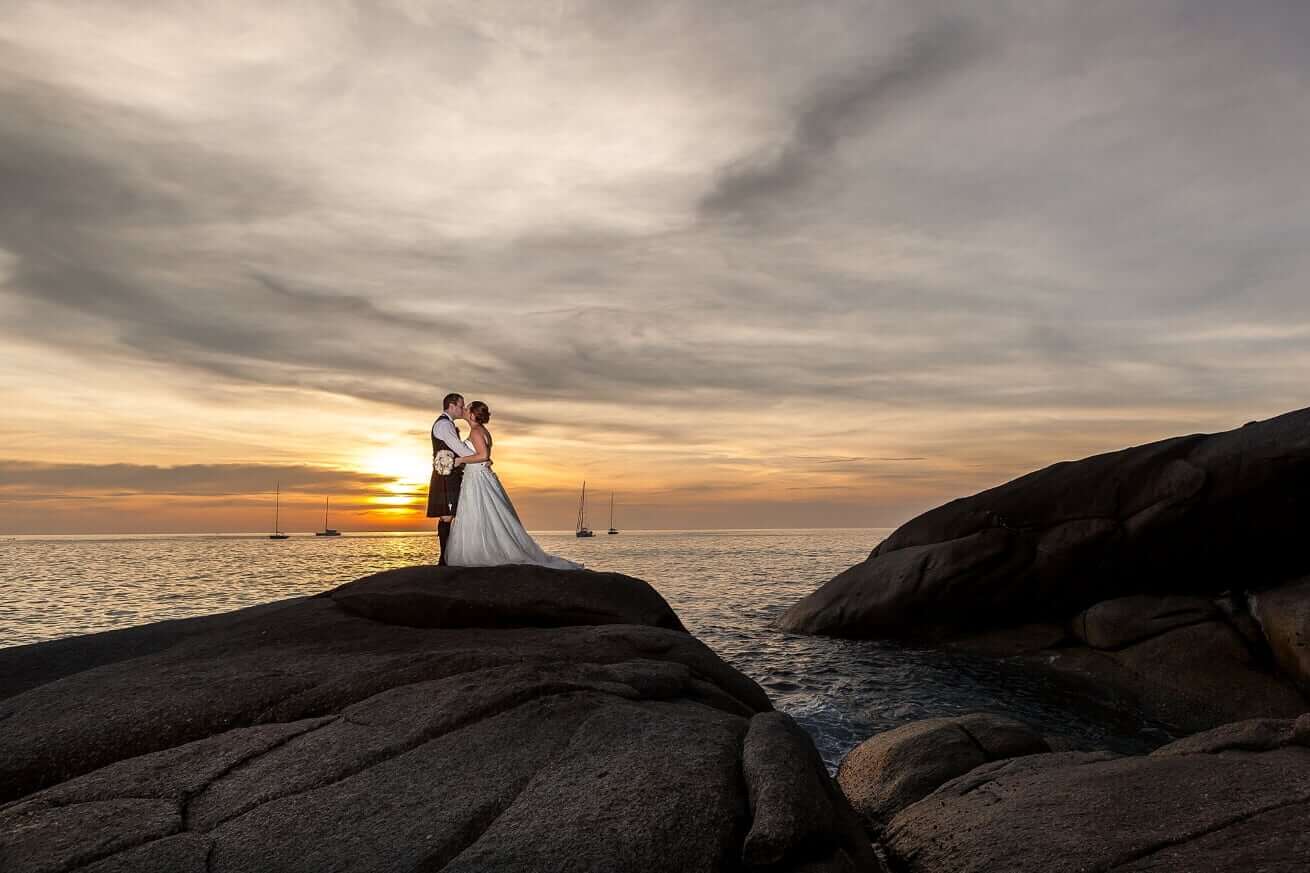 Picture courtesy of Jaran Images



Recommended Professional Phuket Wedding Photographer
There are many wedding photographers in Phuket to choose from however we can highly recommend the professional services of Jaran Images.
If your planning a wedding in Phuket, Jaran is available for stunning beach weddings, romantic garden weddings, exquisite resort weddings and spectacular villa weddings. 

About Jaran Images
Jaran was born in Trang Province in Southern Thailand and has been operating as a professional photographer throughout Phuket since 2009.
Jaran specialises in Wedding Photography, engagement photos and family portraits with over 15 years' experience working with clients from around the globe.
Jaran has a passion to create stunning natural images using an artistic approach, he aims to create wedding days that will remain captured in time.
His style is soft and romantic as he loves to capture candid moments with the finest of detail whilst providing you the best experience both before, during and after your wedding day.
If you're looking for a professional Phuket wedding photographer for your most important day, you can be assured that Jaran will cover your wedding day seamlessly, capturing priceless images, precious family portraits and he will also incorporate spontaneous and fun photos of your special day.
Whilst Jaran specialises in wedding photography he is also available for a range of photo shoots that will suit all occasions and budgets.
Below is a snapshot of the packages that are available:
Surprise Wedding Proposal Package
Pre-Wedding Package
Wedding Packages
Studio Photo Shoots
Family Portraits 
Lifestyle Photo Shoots
Anniversary Photo Shoot 
Friends Photo Shoot
Spiritual Photo Shoot
Pregnancy Photo Shoot
Couples Portraits
Honeymoon Photo Shoot 
Fun Photo Shoot
Common questions to ask the photographer / videographer
Do you have my date available
How far in advance do I need to book with you?
Do you have a portfolio I can view?
Do you shoot in colour, black & white and or sepia?
Have you worked with my wedding planner and florist before?
What is your style of Photography?
Are your packages flexible?
What post production do you use?
How and when can I get the photos and videos?
Do I need to pay a deposit?

To answer these questions or for further information, prices and availability please use the contact form below.
If you enjoyed this article and found it helpful for your travels in Phuket, let us know by following us on Facebook. 

Save Time: Search Phuket Travel Secrets