Krabi Beaches and Offshore Islands 
Guide to the best Krabi Beaches and Offshore Islands
Krabi Beaches and the offshore Islands are magnificent, the golden sandy beaches and towering limestone cliffs provide the perfect backdrop for a relaxing holiday vacation in Southern Thailand.
As an avid lover of the beaches in Phuket, I must admit that the beaches in Krabi are somewhat special, the natural beauty of these unspoiled beaches is second to none.
From the rugged beauty of the towering limestone cliffs that frame the beaches to the clear waters that surround them is simply breathtaking.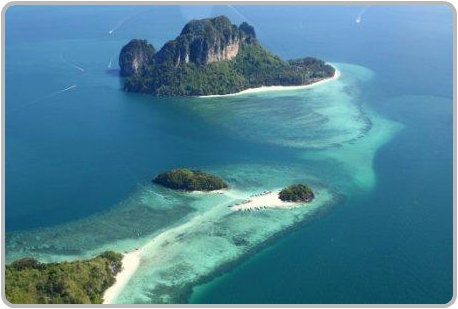 During our travels we spent a lot of time exploring the beaches and enjoyed taking the kids island hopping to some of the most amazing offshore islands around Krabi.
We spent relaxing day trips immersing ourselves in adventurous and fun activities such as snorkeling, kayaking and swimming with sharks.
Krabi Beaches are distinctly different to the main tourist beaches in Phuket.
The main tourist beaches in Phuket are lined with rows of sun beds and umbrellas and are a constant buzz with activities such as para sailing and jet skis.
In comparison the beaches in Krabi are kept free of sun beds, umbrellas, parasailing and jet skis.
Below is a list of the best Krabi beaches and the amazing offshore islands we explored on our family vacation in Krabi Thailand.




Krabi Beaches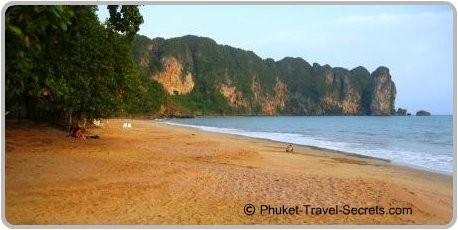 Ao Nang Beach
Ao Nang is one of the most popular tourist destination in Krabi and a gateway to the beautiful offshore islands and some of the best Krabi beaches that are only accessible by boat. Read more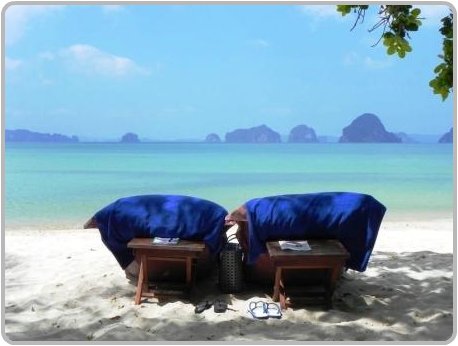 Tubkaak Beach
Tubkaak is one of the most tranquil destinations in Krabi, this long beach overlooks Koh Hong Island and is located just north of Klong Muang Beach. Read More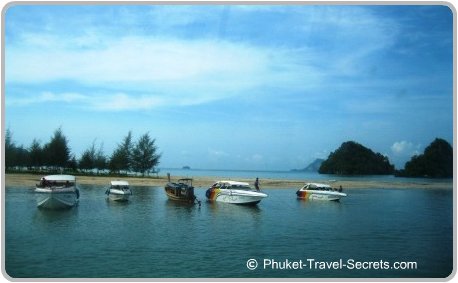 Nopparat Thara Beach
Nopparat Thara is a popular spot for locals and is located just around the headland from Ao Nang. The beach is lined with casuarina trees, on low tide you can walk from the beach across to Koh Kao Pak Klong Island which is located just offshore. Read More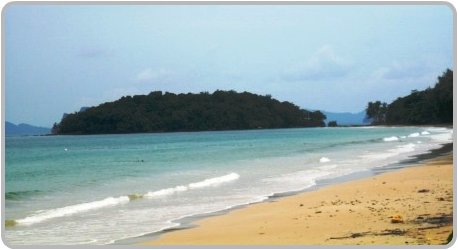 Klong Muang Beach
Klong Muang is unspoilt and home to upmarket Krabi hotels and resorts, an ideal destination for romantic getaways or family beach vacations away from the main tourist areas in Krabi. Read More
Note: Railay Beach is actually a series of four beaches, of which all are only accessible by boat.
West Railay Beach
West Railay is also known as Railay Sunset beach is one of the best beaches in Krabi, a pathway across the peninsula from West Railay beach links to East Railay beach. Read More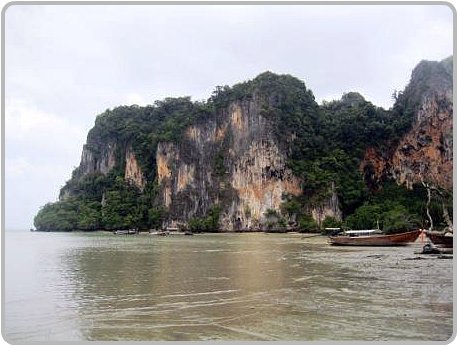 East Railay Beach
East Railay is not what I would call a swimming beach, but there are amazing views from this side of the peninsular, rock climbing and a range of cheap hotel rooms. Read More
Phra Nang Beach
Phra Nang is on the southernmost tip of Railay and is by far the most beautiful of all Krabi beaches. Read More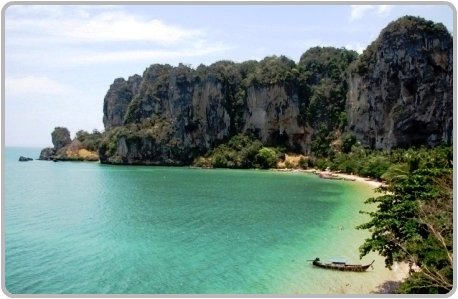 Tonsai Beach

This is the place to go for rock climbing, a five minute boat ride from Railay West or a twenty minute walk through the jungle. Read More


Offshore Islands near Krabi
It is said that there are around 130 or so islands around the Krabi coastline, which are grouped into four archipelagos called the Hong Islands, Poda Islands, Phi Phi Islands, and Lanta Islands.
Many of which are just small rocky outcrops that ascend from the surrounding waters, then there are the larger, uninhabited islands, that are top spots for scuba diving and other fun activities such as snorkeling or kayaking.
Krabi Day trips and tours can be booked through our friends at Easy Day Thailand, if you would like prices or further information you can use this contact form to get in touch with them.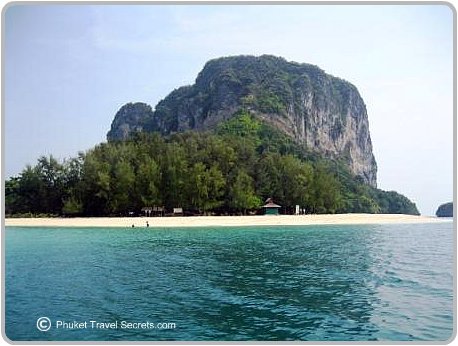 Koh Poda
Koh Poda is a small limestone island located about 30 minutes by boat from Krabi beaches. The island is covered in pine trees and encircled by soft white sand. A coral reef lies just offshore, the beach is excellent for snorkeling, making this one of our favorite beaches in Krabi. Read More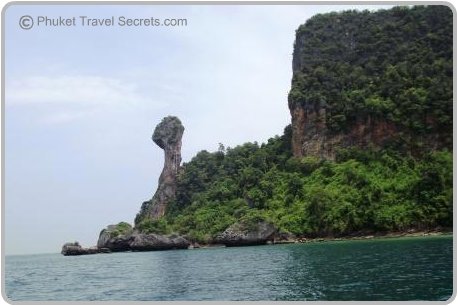 Chicken Island
Chicken Island is also known as Koh Khai or Hua Khwan, it got its name from a bizarre rock formation which resembles the head of a chicken. One end of the island consists of steep cliffs, while the other end has beautiful beaches along a peninsula. Read More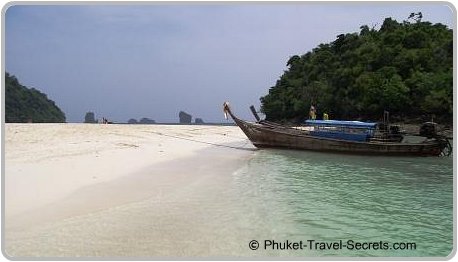 Tup Island
Tup Island is also known as Tub Island, Koh Tap or Koh Thap and is one of the most popular islands around Krabi for day trips and tours. At low tide Tup Island and Chicken Island are joined by a sand bar which is commonly referred to as Talay Waek. Read More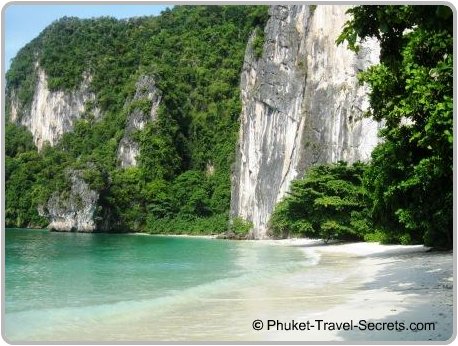 Koh Hong
Hong Island is part of a group of islands located about an hour north of Krabi at the edge of the Than Bokkhorani National Park. The largest island is Hong Island which comprises of a spectacular beach, clear waters and a hidden lagoon with a staggering amount of colourful fish. Read More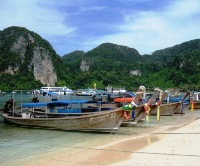 Phi Phi Islands
The Phi Phi islands are Krabi's main attraction, and are often listed in the top ten of beautiful islands around the world.
The twin islands of Ko Phi Phi Don and its smaller sister Phi Phi Ley are part of the Hat Noppharat Thara-Ko Phi Phi National Marine Park which lies in Krabi province, at an equal distance from both Krabi and Phuket.
The beauty of the islands is unmatched, even in a region of the world that is renowned for its stunning limestone cliffs and clear turquoise waters.
Ko Phi Phi is an ideal destination for all age groups as it offers exciting and fun activities for kids and adults and is one of the best honeymoon spots offshore from Krabi or Phuket. Read More
Koh Yao Islands
Koh Yao is made up of two large islands, located in the middle of Phang Nga Bay, halfway between Phuket and Krabi. They are known as Koh Yao Yai, which is the bigger of the two islands and Koh Yao Noi which is the smaller Island. Read More
Please Note: Some links on this page are affiliate links, which means that if you purchase a product or service through them we receive a very small commission. There is no extra cost to you. This helps us keep the information on our website for all to enjoy. Because our integrity and your satisfaction are very important to us, we only recommend products or services that we have purchased or would purchase ourselves and which we believe would benefit you. To learn more please see our affiliate disclosure.
---
---