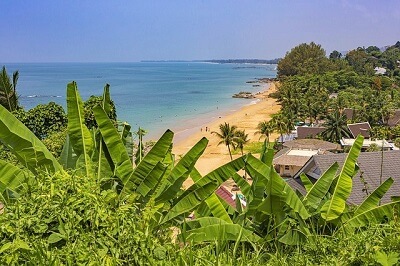 Khao Lak is another fantastic destination nearby Phuket where you can enjoy a relaxing beach-side vacation in Thailand.
Khao Lak is located in Phang Nga Province and is just over an hour's drive north from Phuket International Airport.
Whilst most people go to Khao Lak to relax and enjoy the unspoilt beaches and live it up at the ever growing list of boutique hotels and spa resorts, we found that we barely had enough time to scratch ourselves.
I must admit that Khao Lak is much quieter than its Island neighbour of Phuket; however there are loads of things to see and do around the area.
One of the best things we found to do while in Khao Lak was our day trip by speedboat to the beautiful Similan Islands.
We loved every moment of the tour and can't wait to go again, next time we plan to take a live-aboard so we can spend more time exploring the beautiful clear blue waters around the Similans.
As we had hired a car, getting around was relatively easy and gave us the freedom to be able to visit other interesting attractions within Phang Nga Province as well as the local attractions in Khao Lak.
During our travels throughout Phang Nga Province we saw lots of interesting sights, beautiful scenery and impressive temples; one temple that really stood out is Wat Bang Riang.
We also went to visit a couple of the Tsunami Memorial Sites in Khao Lak, as well as the Tsunami Museum, where we were able to watch videos of the tsunami impacting the coast and the destruction that was left in its wake.
Nightlife in Khao Lak is limited however we did discover Khao Lak's version of Phuket's Simon Cabaret Show at Mr Moo Moo Cabaret Show and Bar.

Our main aim of going to Khao Lak was to do some eco tours around Phang Nga Province taking in places like Koh Sok National Park, but as we decided to spend more time seeing the local sights in Khao Lak we decided to leave Khao Sok for our next Thailand vacation.

Khao Lak Tours & Transfers
There are loads of amazing places to explore around Khao Lak and Phang Nga Province. 

To get the most out of your holiday, I suggest you contact our friends at Easy Day Thailand, they have a range of private tours and can organise your transfer from Phuket Airport to your hotel in Khao Lak.   

We stayed beachfront at Khao Lak Diamond Beach Resort, which we found comfortable and had everything we needed, however there are many beautiful resorts in Khao Lak to choose from.