Romantic Wedding Locations in Phuket 
By Paula Parker


Phuket Villa Wedding Package
The most romantic wedding locations in Phuket, that can offer you and your partner the ultimate in luxury and privacy for your wedding day are on the grounds of your very own private wedding villa.
A villa wedding in Phuket will ensure that you're once in a life time experience is truly unique with unparalleled privacy so that you and your partner can enjoy your wedding in the exclusive company of your family and friends.
The villa wedding package can be organized to incorporate your wedding ceremony and reception, at a villa of your choice in Phuket or the wedding planner can assist with finding a villa for you.
Special features of the villa wedding package include, beautiful wedding decorations such as fresh flower stands for the terrace area, satin covered chairs draped with coloured bows of your choice, fresh flower arrangements along the aisle, decorated alter and hair and makeup for the bride and her bridesmaids.
Some villas in Phuket are better suited then others.
When looking for a wedding villa in Phuket you will need to ensure that it is set in the most romantic wedding location, offering you the best backdrop for your memorable wedding photo's.
A villa wedding not only provides the perfect wedding venue for your Phuket wedding. It combines an on-site reception area along with luxury accommodation for the couple and their family or friends.
The best advantage of a Phuket villa wedding is that there is no need to worry about your honeymoon.
As soon as the wedding ceremony and reception is over, the happy couple can retreat to their private suite or share their time with family and friends.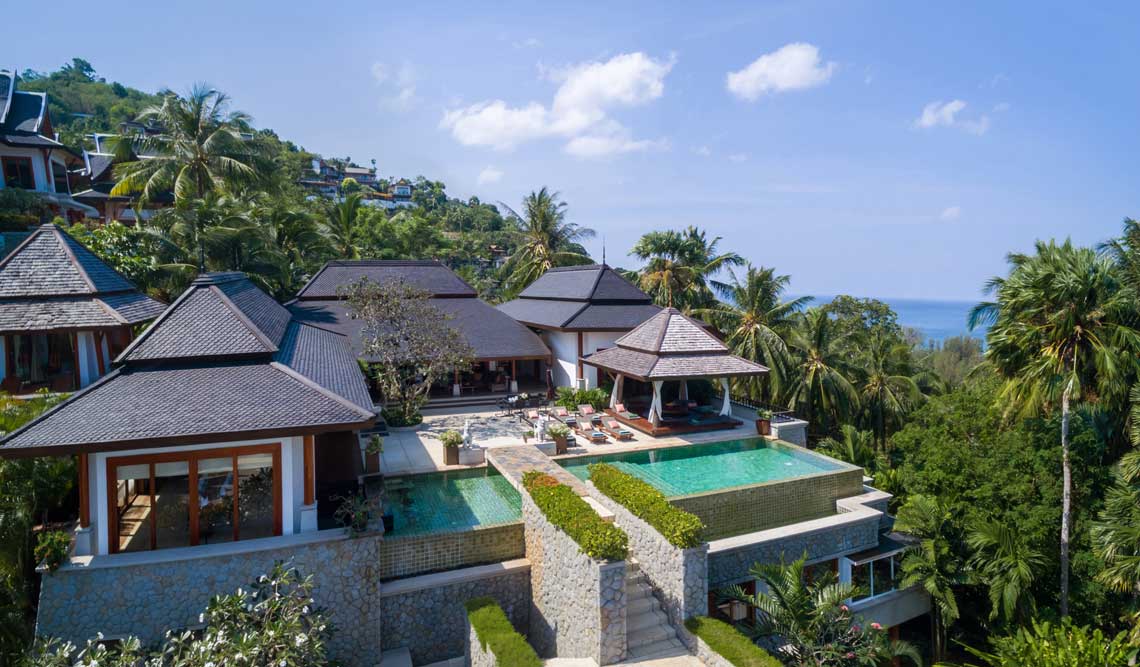 This is just one of the many beautiful villas in Phuket that you can choose for your wedding.
This Villa is located near Surin Beach, with stunning views of both Surin & Bangtao Beach from the terrace.
The villa accommodates up to 20 people with 7 bedrooms and bathrooms.


Phuket Villa Wedding Package
Inclusions:
Hair & Make-up for bride at the villa
Wedding Bouquet for the bride
Corsage for the groom
Decorated chairs 
Fresh Flower arrangement for aisle
Fresh Flower stands around the terrace area
Decorated Altar
Ceremony with Wedding Celebrant
Wedding Cake
Champagne
Soft drinks, water & beer throughout ceremony for 2 hours
Professional Wedding Photographer
Non official Wedding certificate
Photo CD with all your wedding photos plus online link
The price of the rental villa is not included in this package.

If you would like more information and up to date prices about the Villa Wedding Package or information about other romantic wedding locations in Phuket, please complete the following contact form.
Please Note
By completing this contact form your details and any questions you may have will be sent onto our preferred, professional wedding planner in Phuket. 
---
---