Traditional Thailand Wedding Ceremony in Phuket
By Paula Parker


Thai Wedding Package
A traditional Thailand wedding in Phuket is a spectacular display of colours, sounds and rituals that reflects the rich Thai culture.
The Buddhist blessing ceremony has evolved over hundreds of years, and is the most spiritual and symbolic of all marriages.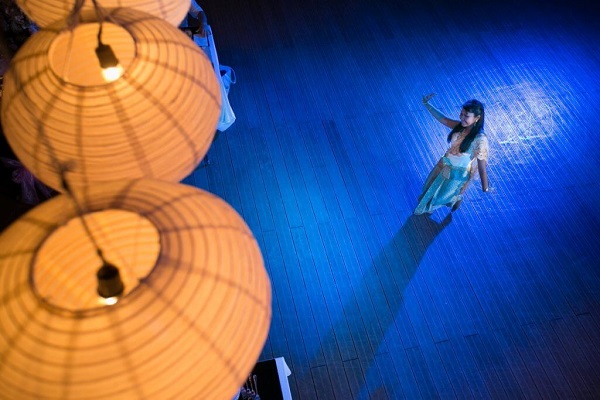 For those who have an attraction to the rituals of Buddhism, or simply want to experience a little of the local Thai culture and traditions of Thailand.
The Thai wedding package is ideal and the memories will be something you will both treasure.
Combined with the intimacy of a secluded and peaceful setting, this traditional Thai wedding package will ensure that your wedding day in Phuket will remain forever etched in your hearts and minds.
This traditional Thailand wedding can be organized at any location you wish, however keep in mind that certain surroundings are more appropriate than others.
There are various beautiful locations in and around Phuket that are perfect for your Thai wedding ceremony.
One in particular is Wat Chalong, Phuket's most visited temple.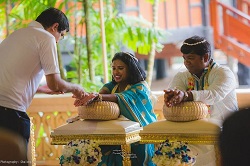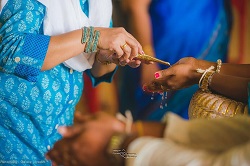 The ceremony historically begins with the groom leading the "Long Drum Parade" with dancers and musicians.
The groom performs several traditional Thai rituals before meeting the bride, who will be dressed in traditional Thai dress and waiting for the groom in a secret place.
Once the two join they will receive the monks Buddhist blessing.
Following the Buddhist blessing by the monks the two will move to the  altar, where they kneel together, and a holy string is draped from one persons head to the other, forming a circle to connect the two.
Following this ritual all guest will pour holy water over the couple's hands for good luck.
After the water blessing ceremony the couple will sign the wedding certificate.


 Thailand Wedding Package
Inclusions:

Briefing with wedding planner about all ceremony steps
Hair and make-up for the bride
Traditional Thai costumes for both the Bride and the Groom
Flower garlands for the couple
Flower bouquet for bride
Traditional Thai Dancers and musicians
Decorations and large flower arrangement
Thai wedding ceremonial table with traditional flowers
Traditional "Kan Mark" Procession
Blessing by Monks
Ring exchange ceremony
Water blessing ceremony
Wedding Cake
Champagne 
Professional Wedding Photographer
CD with all your wedding photos plus online link

If you would like information about other wedding packages that are available for your Thailand wedding in Phuket.
Or more information and up to date prices about the Thai Wedding Package, please complete the following contact form.
Please Note
By completing this contact form your details and any questions you may have will be sent onto our preferred wedding planner in Phuket.
---
---