Garden Weddings In Phuket

By Paula Parker


Garden weddings in Phuket are romantic and timeless and are just as exquisite as a beach ceremony.
Some couples choose to have a garden wedding because of the relaxing and intimate atmosphere they evoke. While other couples opt for a garden setting as they prefer to say their "I do's" without the feel of sand beneath their feet.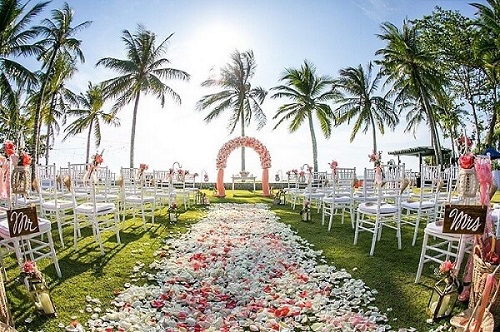 Bring your dreams to life and imagine the tranquil sounds of the ocean combined with lush gardens and breathtaking scenery for your dream wedding in Phuket.

You can add simple touches and small wedding ideas to enhance the theme of your garden ceremony.

For example you may like to include lanterns to add a magical touch, or you may like the idea of a butterfly releasing ceremony or decorative balloons tailored to suit your chosen colour scheme.


"The sky is the limit when it comes to creating your most special day"


Other ideas to enhance your garden ceremony could be to include:
Baby elephant 
Traditional Thai Dancers
Monks Blessing 
Fireworks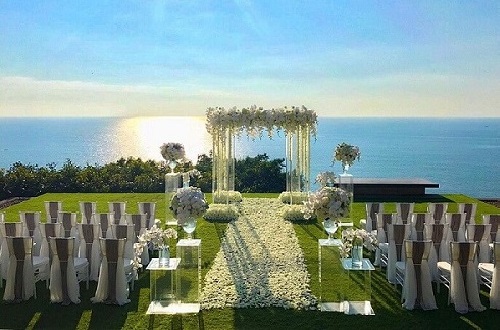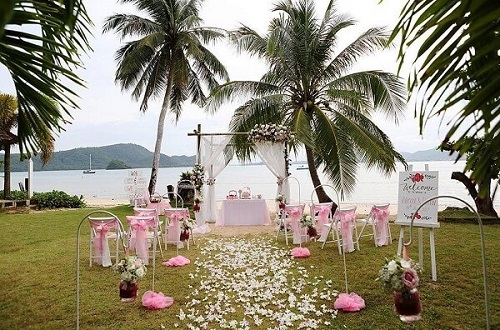 Garden Wedding Venues in Phuket
There is a fantastic selection of tranquil garden venues available for your ceremony in Phuket.
Some of the best venues for a garden ceremony in Phuket are within the grounds of stunning beachfront resorts and the ever-growing number of beach clubs.
If you prefer to say your "I do's" without sand between your toes, contact our specialist wedding planner on the form below to help you source the perfect venue for your romantic garden wedding in Phuket.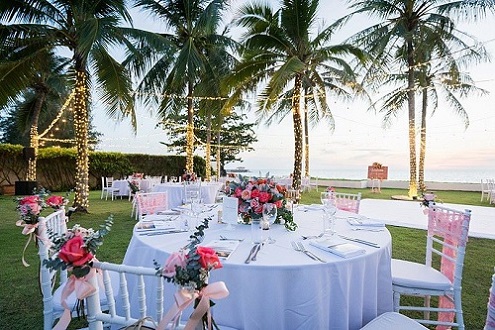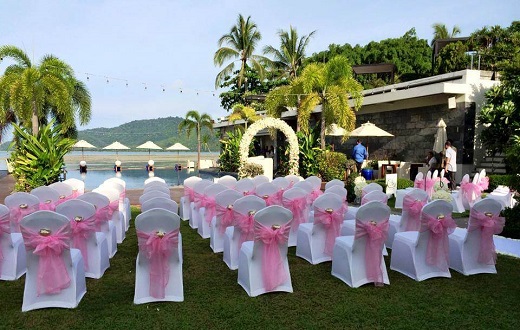 Garden Wedding Package
Inclusions:

Hair and Make-up for the Bride & Bridesmaids
Transfers for Bride & Groom and their Guests to the garden venue 
Bouquet for the Bride & Bridesmaids
Corsage for the Groom & Groomsmen
Decorated Chairs
Decorated Fresh Flower stands along the aisle
Flower Arch and decorated altar
Marriage Celebrant
Unity Ceremony
 Background Music
Wedding Cake
Sparkling Wine 
Soft drinks, water and beer 
Professional Photographer
Non official Wedding certificate
Photos

Benefits of a Garden Wedding in Phuket
Garden weddings provide a natural picturesque backdrop allowing you and your guests to enjoy the beautiful surroundings in a relaxed setting.
The venues available for garden weddings in Phuket offer various benefits that are sometimes unavailable with some beach weddings.
Depending of your venue, you and your guests will have direct access to a range of facilities, including:
Reception Dinner & Bar
Guest Rooms
Bathroom Facilities
A garden package can also be arranged to be held on the grounds of a private villa.
This romantic and relaxed garden package comes complete with stunning decorations and an abundance of floral arrangements.
Chairs for your ceremony will be draped with sashes of your chosen colour.
Flower poles line the aisle and a four-legged flower arch of your choice of colour.
The ceremony will include several poems and vows, a ring ceremony and a unity ceremony, where you will pour sand out of two glasses into one bottle to symbolize your union to one another.
The garden wedding ceremony is followed by the signing of the certificate, the cake cutting ceremony and a toast of Champagne.
The professional photographer will be there to capture precious memories during the ceremony and afterwards he will be available to take portraits including group shots of your family and friends.

Optional Extras 
This package does not include reception meals or accommodation.
If you would like to include a sit-down dinner after your ceremony or would like the wedding planner to source the best accommodation for you and your guests, please note this in the contact form below.

Please Note: By completing this contact form your details and any questions you may have will be sent onto our preferred and highly sought after specialist wedding planner in Phuket.
If you enjoyed this article and found it helpful for your travels in Phuket, let us know by following us on Facebook. 

Save Time: Search Phuket Travel Secrets