Wat Rong Khun: the "White Temple" in Chiang Rai
By Paula Parker


Wat Rong Khun also known as the "White Temple" is a must see attraction for anyone planning a vacation to Chiang Rai or Chiang Mai in Northern Thailand.  
The White temple is quite different from any other Buddhist temple that we have visited in Thailand and personally I think it would have to be one of the most spectacular if not one of the best temples that we have seen so far.
From the moment you enter the grounds of the temple complex, you can't help but admire the magnificent structures that stand before you.
Wat Rong Khun is unique and stands out from any other temple in Thailand with its vivid white exterior and embossed mirror mosaics that glisten in the sunlight.
To enter the White Temple you make your way along a walkway that leads you past the up reaching hands from the pit of hell.
The path then leads you to a bridge which is guarded by two enormous guardian statues. Once you cross over the bridge you reach the gates of heaven.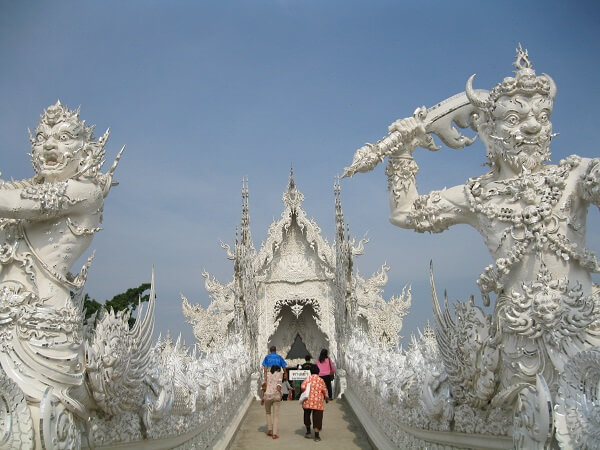 Inside the temple you will see these Buddha images and a life-like statue of a revered monk situated at the far end of the temple.

Along the back and side walls of the temple are murals with images that are not what you would normally associate with religion.

From what we could work out they represent "good and evil".
Some of the images on the mural display modern influences including the likes of Superman, Batman, Michael Jackson and Keanu Reeves as Neo from The Matrix.
On one wall there is an image of a plane flying into the World Trade Centre and on another there is a mural of a Demon with George W Bush and Osama Bin Laden intricately painted in each of the Demon's eyes.
The murals were still in the process of being painted, and on the day of our visit we were able to watch one of the artist's at work.
Unfortunately we don't have clear photos from inside the White Temple as you are not permitted to take photos inside.
You are also able to view other pieces of art created by Chalermchai Kositipipat, at his art gallery which is located within the temple complex.
As you wander around the grounds you will find lots of other interesting sculptures, including these unusual looking mask sculptures that we found hanging in the trees.
Even the toilets at Wat Rong Khun are a work of art!
On first glance we assumed that this all gold building was another temple, but as we got closer we soon realised that it was actually the restrooms.
I am pretty sure after watching many others tourists lining up to take photos that this would have to be the most impressive and photographed toilet in Thailand if not the World.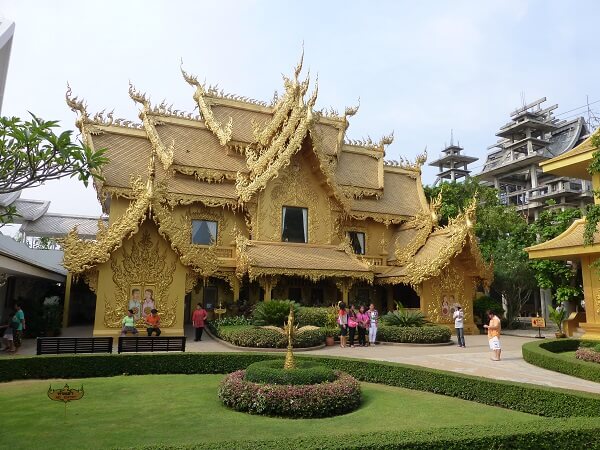 Wat Rong Khun is an ongoing project that began back in 1997; the temple was designed and funded by a local Thai artist, and is not expected to be completed for many years to come.
There is a souvenir shop if you want to purchase gifts and a coffee shop directly in-front of the temple where you can sit and take in this incredible work of art.
The White Temple is open daily from 8.00am – 6.00pm
Admission fee is 100 Baht.
Wat Rong Khun Tours
We highly recommend a visit to Wat Rong Khun when planning your holiday in Northern Thailand, there are a range of day trips and private tours available from Chiang Mai.
For further information about tours to the White temple we recommend that you contact our friends at Easy Day Thailand.

Wat Rong Khun Travel Tips
If you are planning a trip to Chiang Mai and would like to see the White Temple we would suggest that you also include a night or two in Chiang Rai.
We found the best time to visit Wat Rong Khun and to avoid the crowds was to go either early in the morning or late in the afternoon.
If you go through the middle of the day there will be a lot of tour groups.
We enjoyed a two night stay in Chiang Rai which gave us time to explore other local sights as well as a day trip to the Golden Triangle.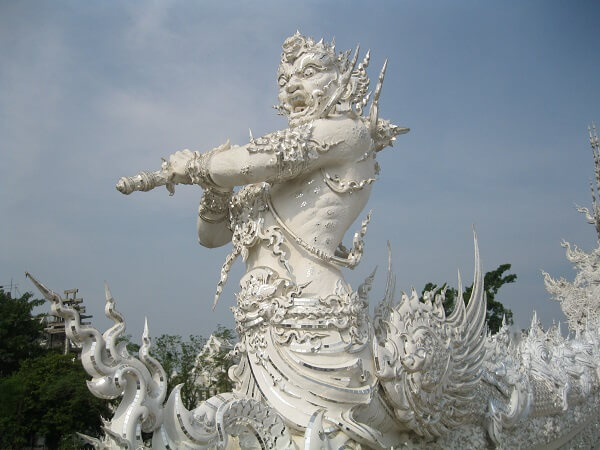 Location of Wat Rong Khun

Wat Rong Khun is located around 13km south of Chiang Rai and 170km north of Chiang Mai, if you plan on hiring a car or motorbike there is ample parking onsite.
---
---
If you enjoyed this article and found it helpful for your travels in Phuket, let us know by following us on Facebook. 
---

Save Time: Search Phuket Travel Secrets