Wat Bang Riang Temple in Phang Nga

By Paula Parker


Wat Bang Riang is an amazing hillside temple which is perched high in the mountains in Phang Nga Province.
I must admit Wat Bang Riang, also known as Wat Rat Uppatham was not on the top of our list of things to see when we were travelling around Phang Nga.

However my other half had other ideas and was quite excited about seeing this temple.
To explain why this temple, or any temple for that matter was not on my list of things to see, was because we had just spent weeks exploring temples in Laos, followed by a stopover to see more temples in Chiang Mai and I was what you could say "templed out".
We decided to combine our visit to the temple and surrounding sights in Phang Nga Province on the same day we were to leave Khao Lak to drive south to Phuket.
The drive from Khao Lak to Wat Bang Riang took us well over an hour; the roads were good, just a little windy and narrow in parts but very scenic.
After getting lost a couple of times we eventually found the temple and to our amazement there was only one other car in the carpark.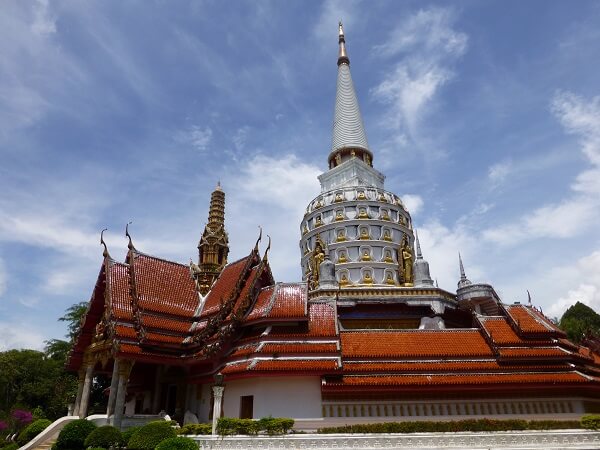 The temple complex is large and well spread out; as you make your way from the carpark to the entrance you will see a large bell shaped Chedi which is called "Phra Mahathat Chedi Phutthathambanlue".

The base of this massive Chedi is surrounded by niches of golden Buddha images.
Inside the temple is just as impressive as the outside, so don't forget to go in and have a look around.
On the right hand side of the temple is a large viewing area where you can take in the stunning scenery of Phang Nga and the remarkable images of "Kwan Yin"  and the massive seated Buddha further in the distance.


Kwan Yin who is pictured below is the Goddess of Mercy or Compassion and is very popular in Thailand because she is said to bring good luck.


Just beyond the image of Kwan Yin is yet another impressive image, this image is of Phra Nak Prok a large Golden Buddha which is in a seated position under the seven headed serpent Naga.

While the views of the surrounding mountains are absolutely stunning from the top, to fully appreciate the size of both these structures you will need to take a walk down the stairs.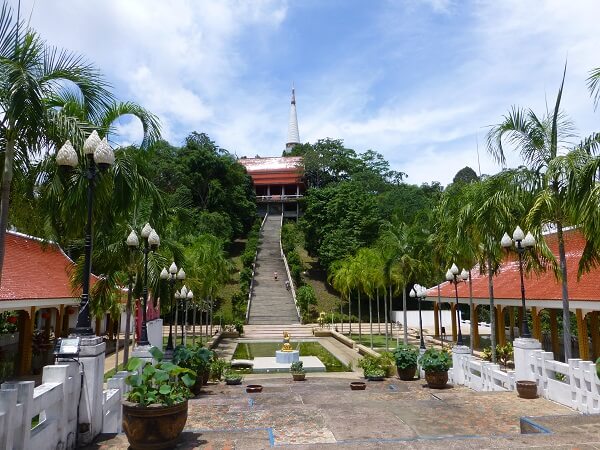 Going down the stairs was not to bad, but the climb back to the top is rather strenuous, especially the last section which are quite steep, but well worth the effort.
We spent at least an hour or more wandering around the temple grounds and can highly recommend it to other travellers.
Wat Bang Riang is around one and a half hours drive from Khao Lak, or Krabi and around 2 hours from Phuket.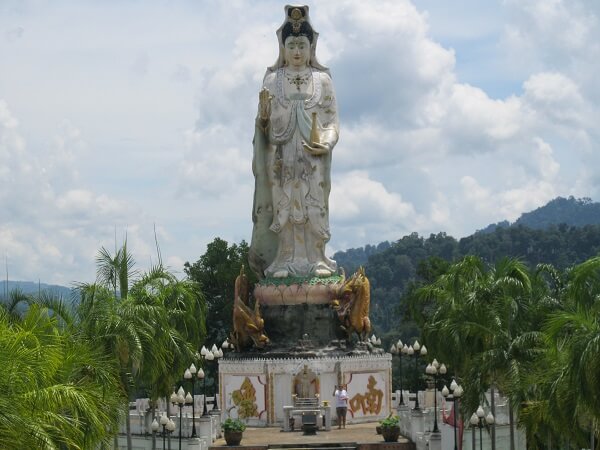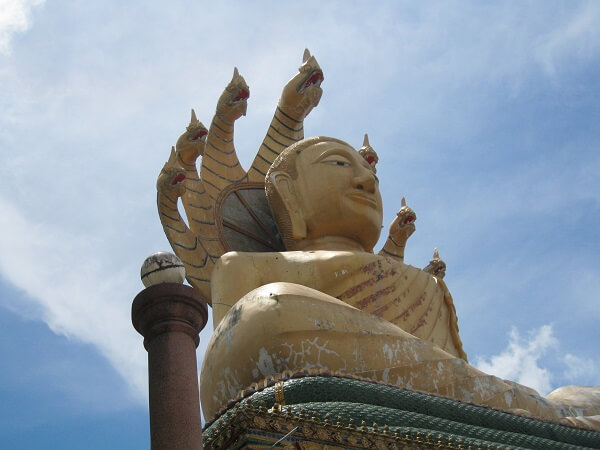 Wat Bang Riang information
In the car park you will find a restaurant, were you can grab some lunch or a cold drink. Sorry I can't comment on what the food was like, as we didn't stop here for lunch. You will find toilet facilities available near the restaurant.
Wat Bang Riang is open daily from 9.00am to 5.00pm.
There is a 20 Baht entry fee to go inside the Pagoda.
---
---
If you enjoyed this article and found it helpful for your travels in Phuket, let us know by following us on Facebook. 
---

Save Time: Search Phuket Travel Secrets