Koh Mak Island Escape
By Paula Parker


Koh Mak is a wonderful destination for an island escape, and more so if you are in search for somewhere to relax that so far hasn't been overdeveloped or overrun with mass tourism.
The small, picturesque Island of Koh Mak is situated in the eastern Gulf of Thailand between the larger islands of Koh Chang and Ko Kut.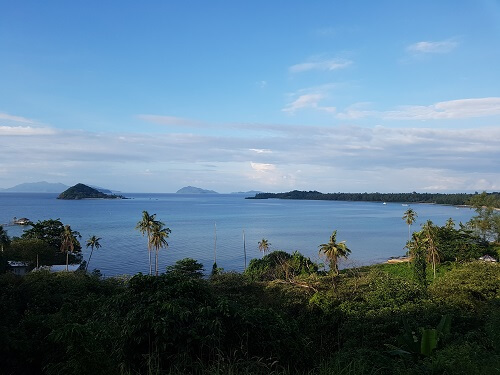 After an incredible journey through Cambodia we were looking for a peaceful island escape, a place where we could relax and recoup before making our way back to Phuket. 
We looked at staying at the larger Islands of Koh Chang or Koh Kut, but after doing some research we finally decided that the smaller Island of Koh Mak was what we needed.
Koh Mak is not a party island like Phuket, Koh Samui, Koh Tao, Koh Phangan or Ko Phi Phi, so if you are looking for full moon parties, nonstop nightlife, girly bars, noisy jet skis, banana boat rides this may not be the type of Island escape you are looking for.
What you will find at Koh Mak is an island paradise, a peaceful oasis with unspoiled and mostly deserted palm fringed beaches, scenic beach bars and restaurants and throughout the interior coconut groves and rubber plantations.
Koh Mak Beaches
Whilst there are many hidden beaches at Koh Mak, the three nicest beaches are Ao Suan Yai Beach, Ao Phra Beach and Ao Kao Beach.
Ao Suan Yai Beach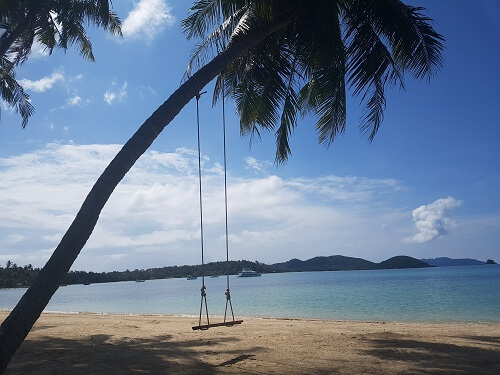 Ao Suan Yai Beach is located on the northwest coast with stunning views across to the picturesque island of Koh Kham.

The long-curved bay is one of the best beaches on Koh Mak for sunset views.
Ao Phra Beach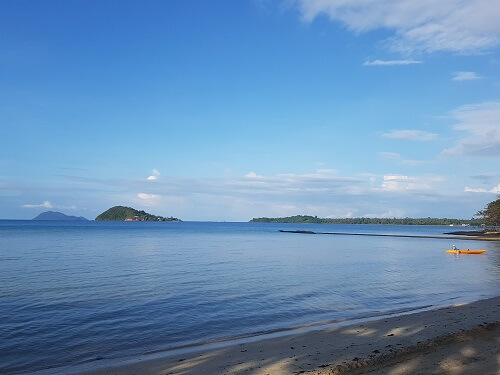 Ao Phra Beach is also located on the northwest coast, at the eastern end of Ao Suan Yai.

There is a headland and the Cococape Resort which separates the two beaches. Whilst this beach is not one of the two main beaches, we found it to be one of the best beaches at Koh Mak.
Ao Kao Beach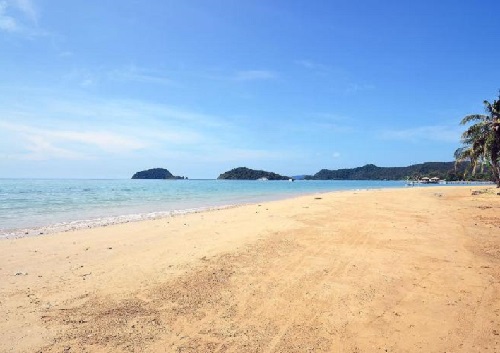 Ao Kao Beach is located on the southwest coast with views across to Ko Rayang Nai and Ko Rayang Nok.

Ao Kao is the most popular and liveliest areas at Koh Mak as it has the highest concentration of accommodation, restaurants, and cafes.

Koh Mak has a variety of accommodation options from basic bungalows to boutique resorts. 

The beachfront at Ao Suan Yai is home to some very good accommodation, including the boutique Seavana Resort and Koh Mak Resort, these two resorts takes up the majority of the beachfront and at the northern end of the beach you will find beachfront bungalows of Happy Days Resort.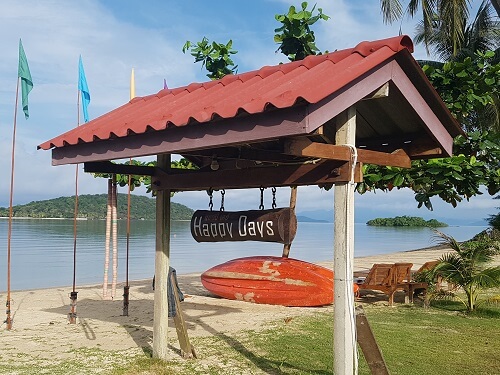 This page contains affiliate links, which means if you make a purchase through a link, we may receive a very small commission at no additional cost to you, you can read our affiliate disclosure.



Ao Kao has a lot more accommodation options to choose from to suit all budgets, you can see the full list of resort and bungalows on Koh Mak here.

Overall, our personal favorite and the best resort on Koh Mak is Mira Montra The Beachfront Resort, which is located on Ao Phra Beach. The resort is ideal for couples or for those travelling with kids.

Getting around Koh Mak
Ko Mak can be explored by motorbike or bicycle; the island is relatively flat with lots of paved pathways which are ideal for either motorbike or bicycles.
Because of the heat we decided to hire a motorbike, we didn't have too many issues navigating our way around the island. However, I must admit we did get lost a couple of times but on the upside by getting lost we found so many amazing places, enjoyed incredible views, found hidden beaches, and came across the most unusual sculptures.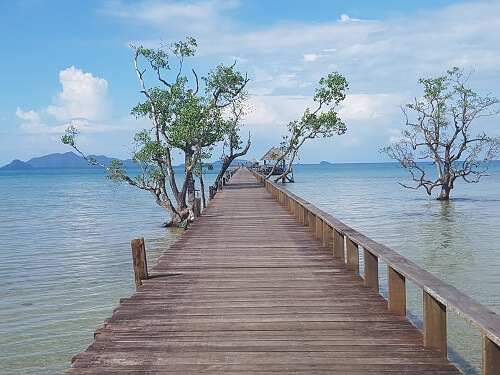 Cinnamon Boardwalk at Ao Taan Beach, Koh Mak

Things to do and see at Koh Mak



The best thing to do at Koh Mak is to relax and enjoy the peace and tranquility, but if that gets a little too much there are a few activities and places to explore.
Koh Kham
A must do when staying at Koh Mak is to explore the small, picturesque island of Koh Kham with its powder soft white sand and crystal-clear water. The island is great for swimming, snorkelling, and sunbathing.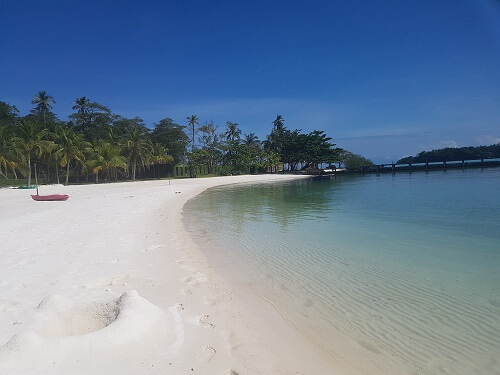 There is no accommodation on Koh Kham, just an unfinished resort, which is interesting to walk through. There is also a small beach hut that sells soft drinks and water.

To enter Koh Kham you will have to pay an entrance fee of 200 Baht per person on arrival which includes a complimentary drink.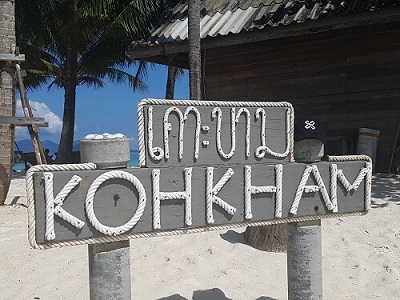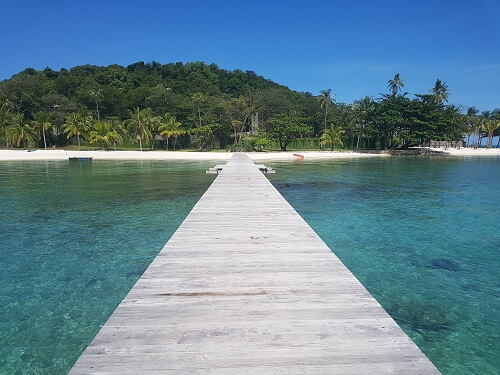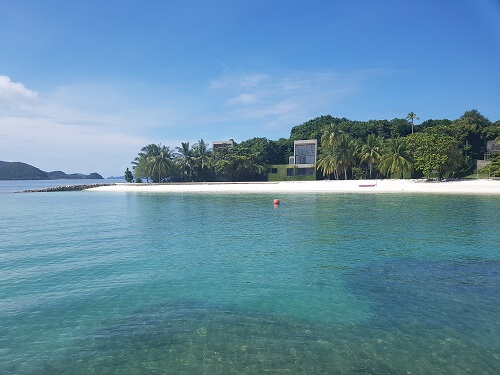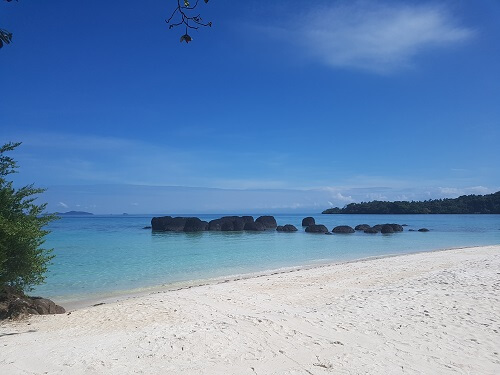 Koh Kham can be easily reached by kayak from Ao Suan Yai Beach in less than 20 minutes, however if you are not up to kayaking you can take a boat from Koh Mak Resort.
Kingdom of Somchai's Affection at Koh Mak
During our time exploring Koh Mak we came across some unexpected and very graphic sculptures.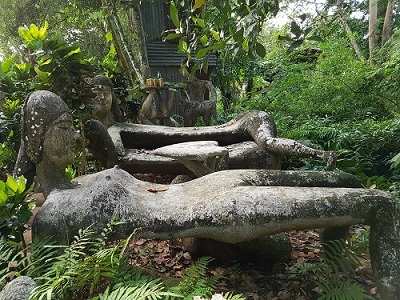 We later found out from a local what we had found was an abandoned art garden known as the Kingdom of Somchai's Affection.

The art garden is not far from Koh Mak Resort on the road that leads to Happy Days Resort. This is worth checking out but make sure you wear some mosquito repellent, or you will get eaten alive. 

Activities at Koh Mak
There is also quiet a few activities available at Koh Mak, here's a few suggestions
hire bicycles or a motorbike to explore the island
Take a bicycle tour
Visit Koh Mak Temple
Muay Thai Classes
Diving or Snorkelling Tours
Stand up paddle boarding
Kayaking
Windsurfing
Thai cooking classes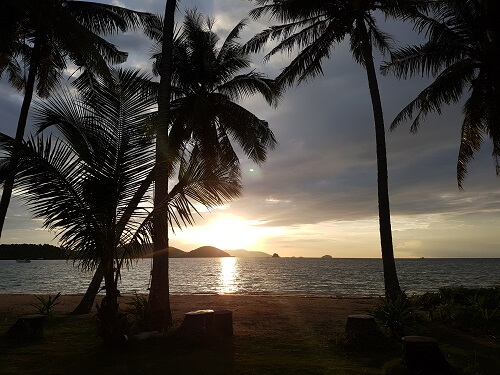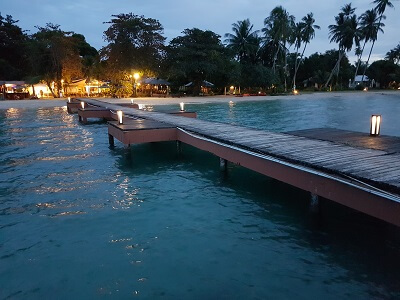 Koh Mak Travel Tips
There are no 7-Elevens on Koh Mak but there are a couple of small local convenience stores that sell basic supplies such as water, snacks, toothpaste, sunblock, and mosquito repellent.
There is one ATM's at Koh Mak, but apparently is hardly ever works, so take enough cash for your entire stay. Some of the larger resorts take credit cards but always check before you arrive.
Sandflies and mosquitoes can be a problem on Koh Mak. However just remember to use mosquito repellent and coconut oil which we found stopped us from getting any bites.
How to get to Koh Mak
Speedboats travel between the Krom Luang Pier in Laem Ngop near Trat to Koh Mak.
One-way tickets are 450 baht and the boat ride will take around 45 minutes depending on the conditions.
Departures start from 10.30am through to 4.00pm daily during the high season. For more information about the timetable click here.
Or contact our friends at Easy Day Thailand to help you with flights, buses and connecting speedboat transfers.


---
---
If you enjoyed this article and found it helpful for your travels in Phuket, let us know by following us on Facebook. 
---

Save Time: Search Phuket Travel Secrets