Koh Nang Yuan Island
By Paula Parker


Koh Nang Yuan in the Gulf of Thailand is absolutely stunning.
The island is surrounded by crystal clear waters which are renowned for great diving spots and snorkeling day trips from Koh Samui, Koh Tao and Koh Phangan.
This small picturesque island is located just off the west coast of Koh Tao, and only a short 15 minute longtail boat ride from Koh Tao's Mae Haad and Sairee Beaches.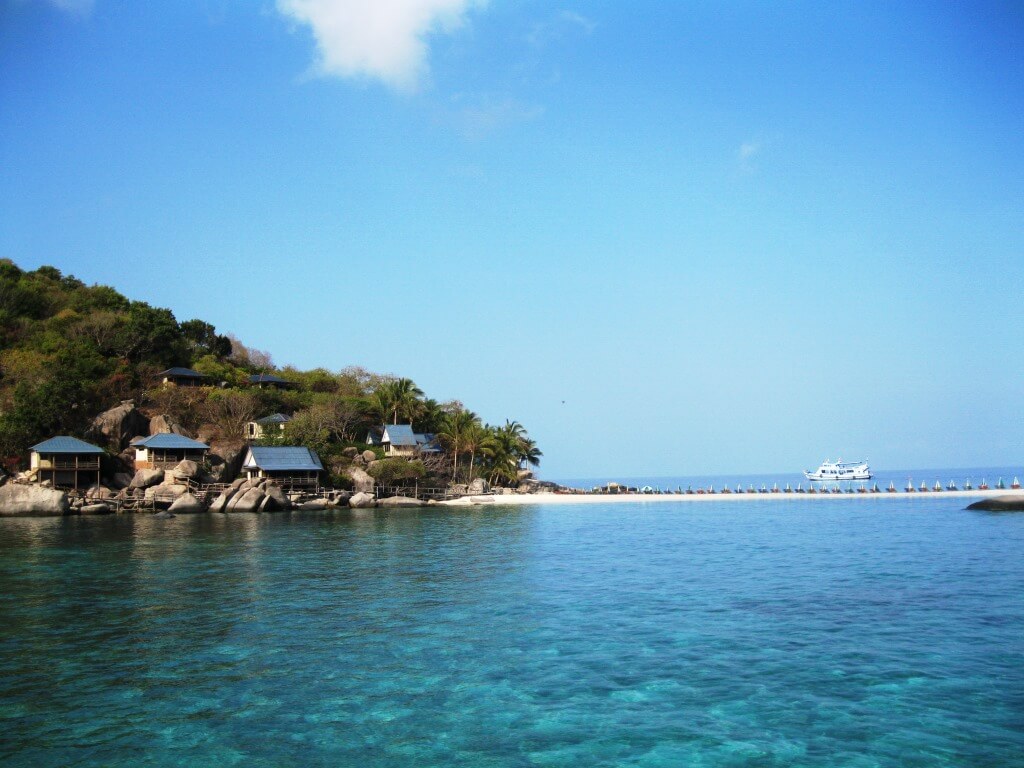 The island is a well-worn travel path, with boat loads of day trippers arriving daily from the neighboring Islands.
The Island of Koh Nang Yuan is actually made up of three islands which are connected by sand bars.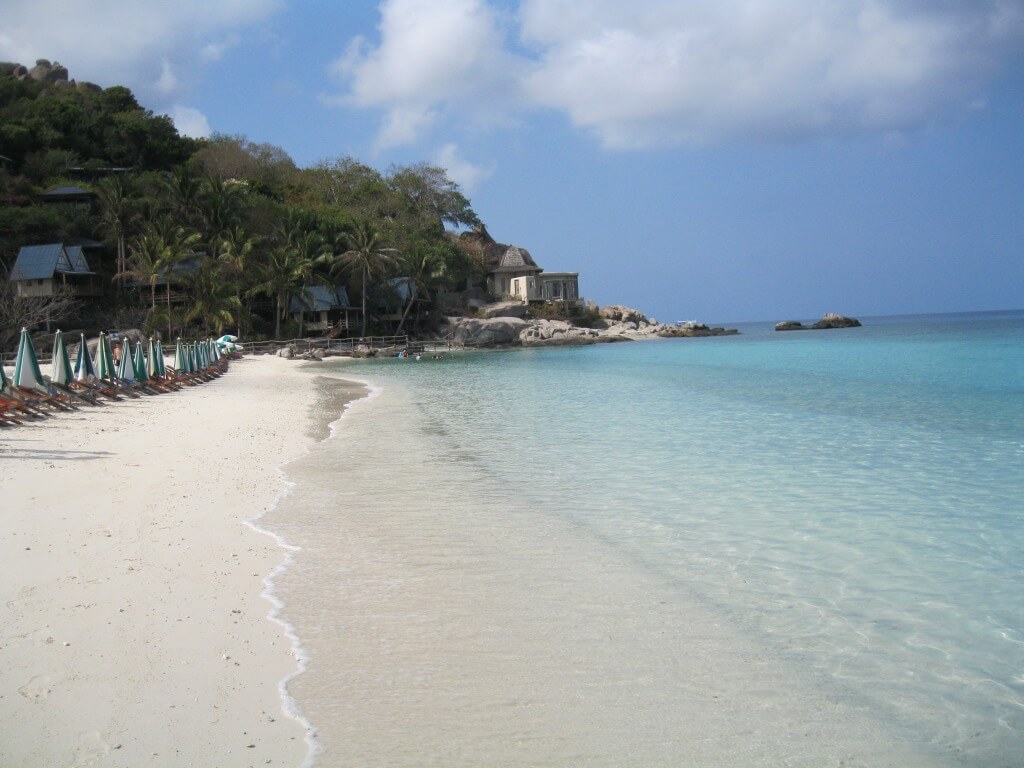 To access the best view of the interconnecting Islands you will have to make your way to the viewpoint.
The walk to the top is not to difficult, even for a pair of oldies like us.
Just follow the stairs up, it does get a little steep and once you're at the top there is a bit of a climb to get onto the rock.  

Check out the view

The island is occupied by the Nangyuan Island Dive Resort.
Throughout the day the resort allows day-trippers to visit the Island from 10.00am to 5.00pm.
Entry fee to the island is 100 Baht per person.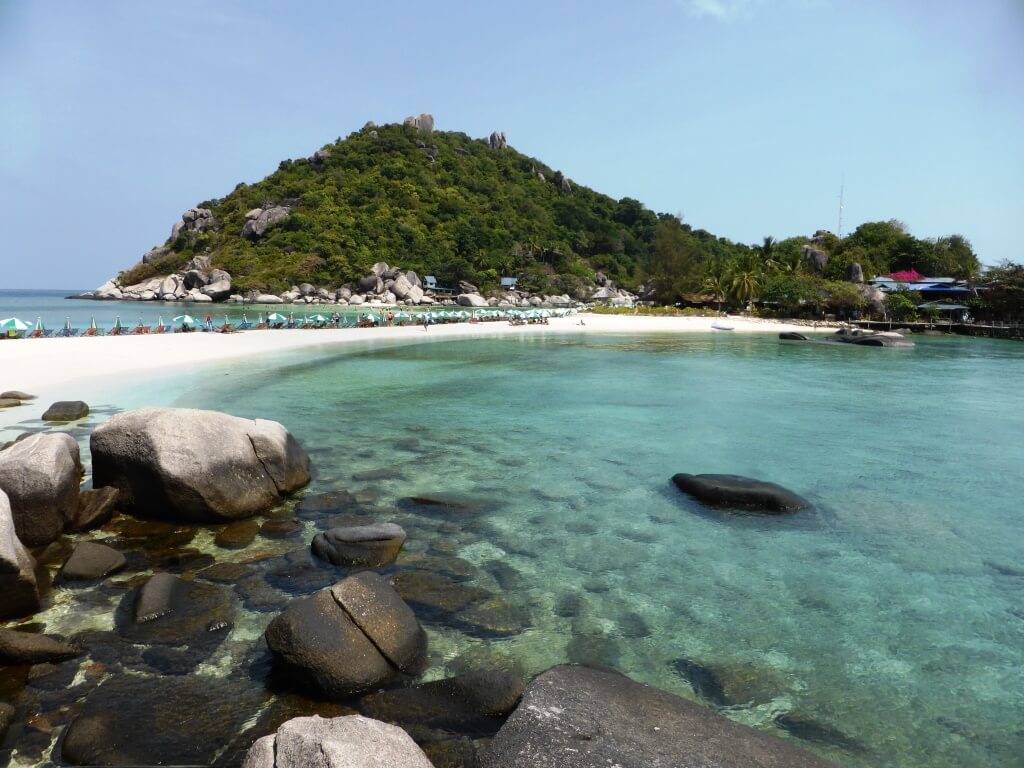 Koh Nang Yuan has both good and bad reviews and prior to going we were advised by an expat living on Koh Tao, not to waste our time as it's just too busy.
I am pleased we didn't heed their advice as the Island is absolutely stunning.

How to get to Koh Nang Yuan from Koh Tao
If you're staying at Koh Tao, access to the Island is easy and you can choose what time of the day you would like to visit.
The best time to go is either early morning, from memory we arrived around 9.30am, they didn't allow us access until around 9.45am but we still beat the crowds as the majority of day-trippers started arriving around 10.30am.
Another option is to go mid-afternoon, there will still be lots of people but most of the day trip tours from Koh Samui will start to depart around 3.00pm.
You can join organised tours from Koh Tao but we found it just as easy to catch a longtail taxi boat, the cost was 500 baht for the return journey for two people.
You will have to advise your taxi boat driver what time you want to be picked up from the island for your return to Koh Tao in advance.
I wouldn't recommend staying an entire day on the Island as it gets extremely hot and overcrowded.

You can read more about the Island of Koh Tao here

How to get to Koh Nang Yuan f
rom Koh Samui
If you are staying at Koh Samui you can book a Koh Samui snorkeling tour which includes a visit to some amazing snorkeling spots around Koh Tao, like Mango Bay and a couple of hours exploring Koh Nang Yuan.
This Tour includes:
Land transfers to and from your hotel in Koh Samui to the pier
A Light breakfast at the pier
Transfer by high speed catamaran
Drinking water on board catamaran
Entrance fee to Koh Nang Yuan
Buffet lunch at Nang Yuan Island Resort
Life Vest and snorkeling equipment
Insurance
Tour Price
Adult - 2,800 Baht | Child 1,400 Baht
For more information about this tour you can contact our friends from Easy Day Thailand who will be able to assist you with your booking.
 Nang Yuan Island Image Gallery

Click on the images to enlarge



Everything you need to know before you go to Koh Nang Yuan
Plastic bottles and cans are not allowed on Koh Nang Yuan and forget about taking your fins as these are not allowed either.
The resort doesn't like you to place your towel on the sand to sun-bake as they have beach chairs and umbrellas lining the entire stretch of beach that they prefer you to use.
The chairs are not free and the resort will charge a fee of 150 Baht per day for two beach chairs which includes the use of an umbrella.
Don't fed the fish, there are signs posted around the island.

---
---
If you enjoyed this article and found it helpful for your travels in Phuket, let us know by following us on Facebook. 

Save Time: Search Phuket Travel Secrets