Getting To Kanchanaburi Thailand
Travel Tips On Getting Around Kanchanaburi
Here are some easy and affordable ways of getting to Kanchanaburi from Bangkok.
Kanchanaburi is located roughly 2 to 3 hours west of Bangkok.
This however will greatly depend on the type of transport you take and off course navigating through the busy streets and traffic in Bangkok.
Getting To Kanchanaburi By Bus

Buses from Bangkok depart daily from both the Northern Bus Terminal and the Southern Bus Terminal in Bangkok.
Or alternatively you can get a mini bus from Khaosan Road.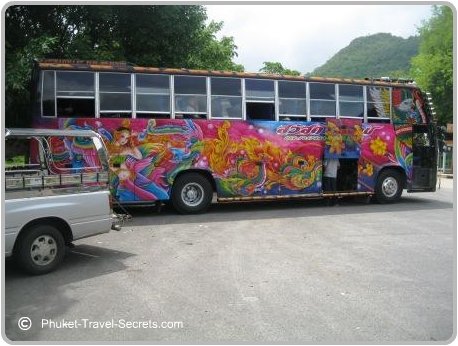 Buses depart Bangkok's Southern Bus Terminal every 15 to 20 minutes and run from around 5.00 am to 10.00 pm daily.
There are two types of buses available, first class and second class, both types of buses are air conditioned.
Prices for a bus from the southern bus terminal to Kanchanaburi will depend on what class bus you take but expect to pay around 100 baht per person for a first class bus.
Buses running from Bangkok's Northern Bus Terminal to Kanchanaburi depart every hour, however they only run from 5.00 am to 4.00 pm daily.
The prices are a little higher from the northern bus terminal due to the longer distance, and you should expect to pay around 120 Baht for a first class bus.
From the bus station in Kanchanaburi you can get a local songthaew to take you to your hotel.
Getting To Kanchanaburi By Train

There is a third class train that runs twice a day from Bangkok's Thon Buri Train Station to Kanchanaburi.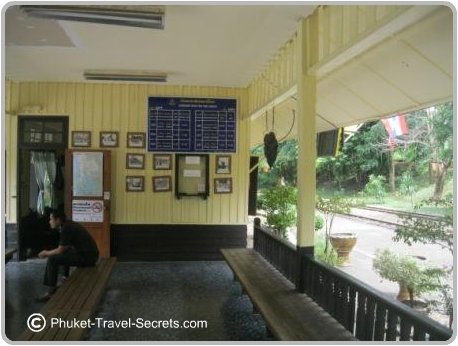 On weekends and public holidays there is a second class air conditioned train that departs from Hua Lamphong railway station.
We can't really comment on the views from the train or the train ride itself as we didn't travel by train.
However from what we were told by our very knowledgeable taxi driver come guide, was the best way of getting to Kanchanaburi was by bus, unless you prefer to drive yourself.

Getting Around Kanchanaburi

As with anywhere in Thailand you can easily hire a motorbike or car to get around.
For short trips around the city area many of the hotels and resorts hire out pushbikes, or alternatively you can catch a motorbike taxi to get around.
The motorbike taxi in the picture above cost around 100 baht per person for a short trip and can carry four people.
If you are interested in hiring a car when visiting Kanchanaburi or for a personalized tour or day trip to the interesting and historical sites around Kanchanaburi.
We can highly recommend the services of Wisut, a local retired police officer who has a wealth of knowledge about the local area and speaks fluent English.
We intended on catching a bus from Kanchanaburi back to Bangkok, however as we were extremely happy with the service that Wisut provided we ended up getting him to drive us to Bangkok in his very comfortable 4 wheel drive.
To contact Wisut call 08 9800 9225
---
---
If you enjoyed this article and found it helpful for your travels in Phuket, let us know by following us on Facebook. 
---