Phuket Airport

By Paula Parker

Guide to Phuket International Airport
Phuket Airport is one of Thailand's busiest airports, with millions of passengers arriving each year.

As a result of incoming passenger numbers Phuket International Airport is having a major upgrade and should be completed by mid 2015. 

The airport is located about 32 kilometres from Phuket Town on the Northern end of the island.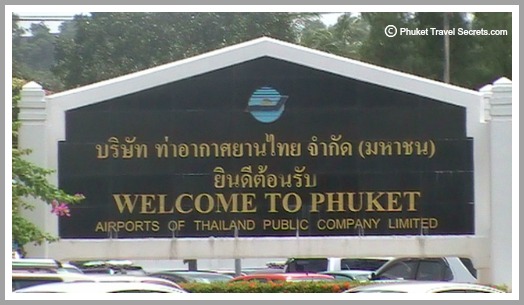 This page contains affiliate links, which means if you make a purchase through a link, we may receive a very small commission at no additional cost to you, you can read our affiliate disclosure.


The main terminal at Phuket International Airport can accommodate up to 10 flights an hour, so it gets quite busy at times.
If you do get caught with the crowds just go with the flow and fit into the Thai way of not being rushed.

Phuket Airport Arrivals
On your arrival you will go through the standard customs etc, before heading out to the main arrivals lounge, where you will find that last minute Duty Free shopping.
From here you will head out into the main passenger hall area where you will find Currency exchange, ATM's, information counters, etc.


Check the official Phuket Airport Website for a detailed map.
If you are on a later flight and you are not comfortable using airport ATM's it may pay to get some currency exchanged from were you are departing from.

Getting To Your Hotel
Once outside the airport departure hall you will be welcomed by all the local transport operators.

These transport options include:

Pre arranged airport transfers 
Airport bus
Limousines
Local Taxi's
Red and Yellow Metered taxi's


We recommend using a reliable company for pre arranged airport transfers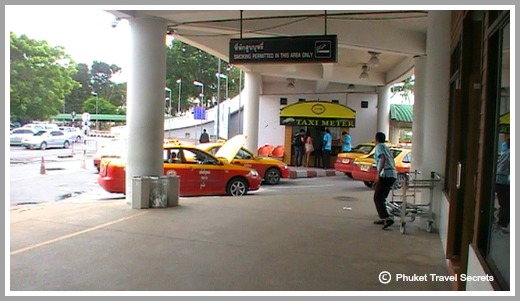 For many years we would catch the Yellow and Red Taxi's, which are located to your right as you walk out of the Departure hall.
The red and yellow taxi's are metered and will cost you around 500 baht including a 100 baht booking fee. 
If you choose to take one of the local Taxi's that are not metered beware that the driver's may side track you from your original path.

We have more information about why we choose not to use taxis any more to get to or from Phuket International Airport on our Airport transfer page.

Below is a short video of the metered taxi stand at Phuket International Airport.
If you are backpacking there are buses that run from the airport into Phuket Town.


Phuket Airport Departures


If you have remembered to keep your VAT receipts, you will be able to claim the VAT refund just before you head into the departure lounge.

Below is a short video of the departure hall.


Departure Lounge
Once in the Departure lounge you will find the usual light refreshments, coffee shops, subway, newsagents and Duty Free shops.
Below is a short video of the departure lounge at Phuket International Airport.
If you are prepared to do some research you can find some cheap flights to Phuket with budget airlines like Air Asia to Phuket via KL, but more on that in our Travel Information page.

If you enjoyed this article and found it helpful for your travels in Phuket, let us know by following us on Facebook. 

Save Time: Search Phuket Travel Secrets