Patong Beach the Most Popular Tourist Destination in Phuket
By Paula Parker


What to do & where to stay in Patong  
Patong Beach is well developed and remains by far the most popular tourist destination in Phuket, Thailand.
For many visitors to Phuket, especially for the young party goers, Patong is perceived as the ideal holiday destination.

A place to go where you can shop till you drop; enjoy a range of fun beach activities and when the sun goes down experience the colourful, exciting and naughty nightlife in Bangla Road.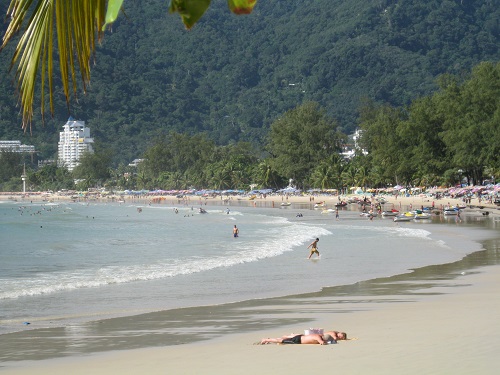 For others, especially for the first time visitor to Phuket, the crowded beach, busy streets and constant buzz can at times be somewhat overwhelming.
The beach at Patong is alive with sounds, there is a constant buzz of speedboats and jet skis.
The busiest section is definitely in the centre, while the quieter areas are towards the northern or southern ends of the beach.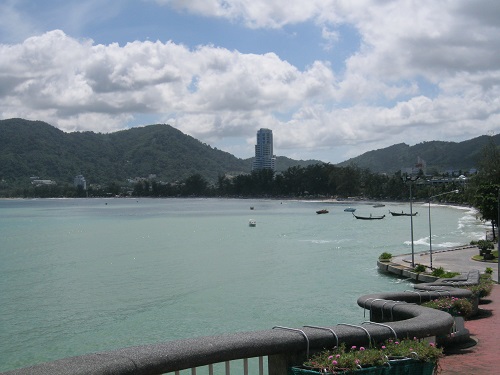 Whilst the beach is ok, Patong is by far the busiest beach in Phuket.
During the peak months from November through to February it is crazy busy, throughout the rest of the year it sees a constant flow of tourists.
Patong Beach is not for everyone, it's a tourist destination that you will either love or loathe, but for some return visitors like ourselves it lies somewhere in between.
The bonus of staying in Patong is that nearly everything is within walking distance; it has the largest selection of bars, nightlife, shopping, restaurants and a very good selection of hotels and resorts to choose from.

Patong Beach Hotels & Resorts



Patong offers a great range of accommodation options, there is something here to suit all budgets including cheap guesthouses, budget hotels and luxury resorts.
This page contains affiliate links, which means if you make a purchase through a link, we may receive a very small commission at no additional cost to you, you can read our affiliate disclosure.


Holiday Inn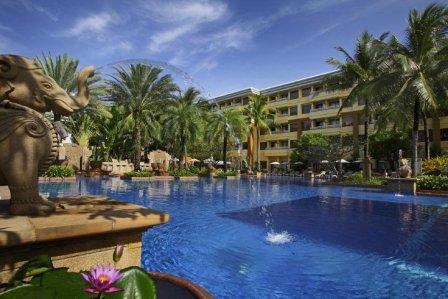 The Holiday Inn has long been one of our favorite resorts in Patong.
The resort is set in a perfect location close to the beach, and within walking distance to both Bangla Road and Jungceylon Shopping Mall.
The Holiday Inn caters for a range of travellers and is ideal for couples as well as being a top spot for a family vacation. Read more

Amari Phuket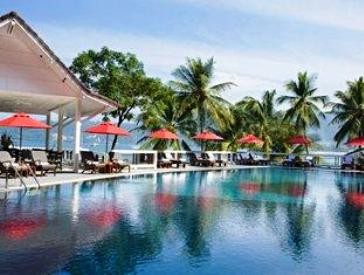 Amari Coral Beach Resort is situated directly on the beachfront at the far southern end of Patong.
The location is excellent, far enough away from the crowds, but still within walking distance to all the entertainment. Read more

Kee Resort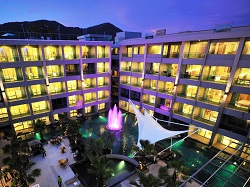 The Kee Resort & Spa is set in a prime location close to Bangla Road and only a short stroll from the beach.
There is a good selection of room types available including pool access rooms; all rooms at the resort are spacious and well designed. Read more

Graceland Resort & Spa
Graceland Resort & Spa is located at the quieter northern end of Patong.
This large resort is a popular spot with Australians and among the best resorts for a family vacation, boasting a range of facilities perfect for the kids. Read more

BDY Lofts & Serviced Apartments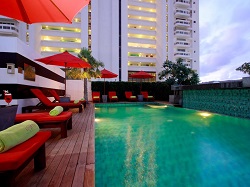 BYD Lofts & Serviced Apartments are in a fantastic location only a five minute walk to the beach.
The rooms are clean and comfortable. Read More
The above are just a few of the hotels and resorts that are available at Patong.
Click on "search" in the box below for a more detailed list.


Activities at Patong Beach 
Patong Beach is a popular spot for those who are looking for fun beach activities, but I certainly wouldn't say that it is a relaxing or a secluded beach, far from it.
On the upside you will never be bored at Patong as there is a range of water activities, like parasailing, jet skis and banana boat rides to name a few.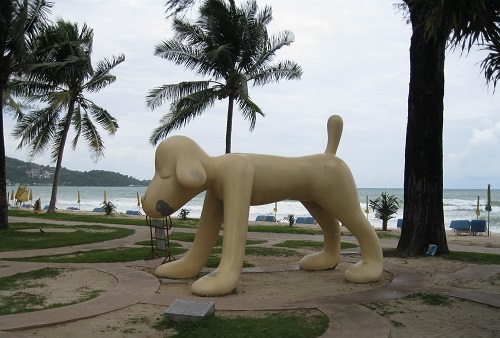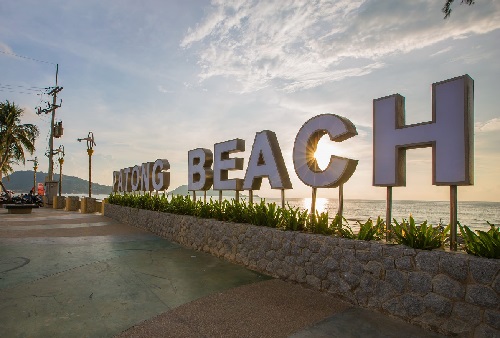 Towards the southern end of the beach you can hire longtail boats to take you to Tri Tra, Paradise or Freedom Beach.
These are quieter, nicer and much more relaxing beaches that are all located in the headland just south of Patong.
At the bottom of this page you will find a video clip that we have posted if your keen to go para-sailing.




Nightlife at Patong
Patong Beach is definitely the main hub for nightlife in Phuket, in particular around Bangla Road also known as Soi Bangla.
Bangla Road throughout the day is just like any other road in Patong but once the sun goes down the go-go bars come alive, and the lady boys and pole dancing Thai girls come out to party.

There are also other places to go that are more up market, or maybe you would enjoy a drink and like to listen to live bands .




Where to eat in Patong
Patong Beach has a great selection of restaurants to choose from with a good mix of international cuisines including German, Scandinavian, Austrian, Mexican, French, English, Japanese, Indian, Italian, Thai, seafood and lots of Western style fast food.
Along the Beach Road you will find many international restaurants and an abundance of seafood restaurants.
For a delicious evening meal make your way to Rat-U-Thit Road where there is a selection of eateries, these restaurants are much cheaper and nicer than some of the more upmarket restaurants.
Make sure that you try the corn cobs and kebabs cooked on the carts in the street; they are cheap but taste great.

For the kids, you will find three McDonald's restaurants in Patong, one is located in Bangla Road, another on the Beach Road and one in Jungceylon, where you can also get Subway.


Shopping at Patong
You won't have to venture to far to go shopping in Patong, there are shops everywhere.
In Rat- U-Thit Road opposite Soi Bangla you will find Jungceylon International Shopping and Leisure Complex , the shopping complex houses Robinsons and Carrefour a french based supermarket, as well as over 200 other shops.
Patong Beach also has two Ocean Department stores, one is located in Bangla Road and the other is located on the Beach Road near the Holiday Inn.
Along the Beach Road at Patong you will find shops and stalls selling bikini's and beach wear, billabong shorts and shirts, Diesel shirts, dresses, shoes, bags, sunglasses, DVD's as well as souvenirs.
The beach vendors walking along the beach sell everything from beer, ice-cream and donuts to clothes and bed linen.
If you are after a suit or you would like to get a dress made there are tailor shops everywhere, you won't even have to go looking they will find you.
When shopping at the roadside stalls and shops remember to haggle.
For more information and tips about shopping check out our shopping guide.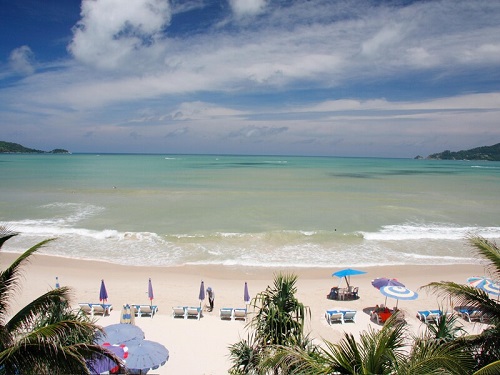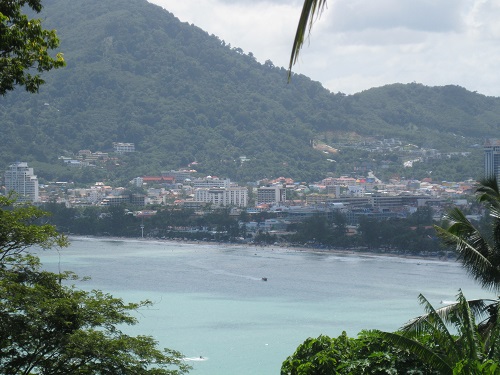 Patong Travel Tips
Patong Beach is lively and fun; and if you do choose to base yourself here ensure that you take the time to get out and explore some of the other beautiful areas on the Island.
Just to the south of Patong lies Karon, Kata and Kata Noi, these 3 beaches are much more laid back; they can at times be busy but have a more relaxed atmosphere.
Or head north for a day and explore some of smaller beaches like Banana or Laem Singh.
What Patong Beach looked like in 1990 
Below is a couple of old photos of Patong Beach that maybe of interest, we took these on our first trip to Phuket back in 1990.
Amazing how different Patong was back then.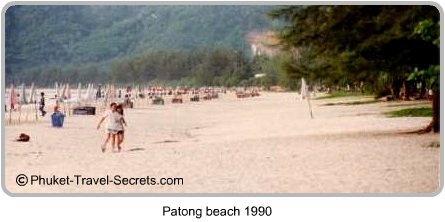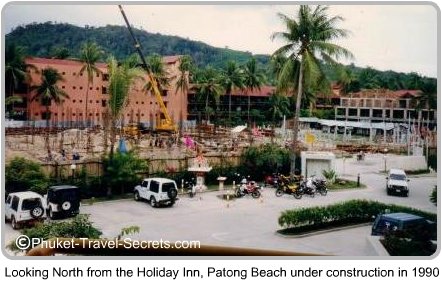 What to do at Patong Beach at a glance
Chill out on the beach
Explore the sights and sounds of Bangla Road
Shop till you drop at Jungceylon Shopping Centre
Catch some waves at Surf Day Phuket Flow rider

Shop and dine at Patong Beach Markets
Explore stunning beaches nearby to Patong
Take in a Ladyboy show at Simon Cabaret

Watch Muay Thai at Bangla Boxing Stadium
Go Kart Racing
Zorb Balling
Jet Ski around Patong Bay - (not recommended)
Parasailing along Patong Beach (done it, but do at your own risk )

Parasailing at Patong Beach Video

Parasailing at Patong with views of the beach.




How to get to Patong
Patong is located 35kms south of Phuket international Airport; depending on your mode of transport and driver the travel time from the airport will take around 45 minutes. You can read more about transfers from the airport here.
Location Map of Patong Beach, Phuket, Thailand



If you enjoyed this article and found it helpful for your travels in Phuket, let us know by following us on Facebook. 

Save Time: Search Phuket Travel Secrets