Kata Beach Phuket: what to do and where to stay
By Paula Parker


Kata is an ideal destination for family vacations in Phuket
Kata Beach Phuket is a top spot if you're in search of a relaxing getaway or a family vacation in Phuket. The area around Kata is much more laid back and relaxing then the busy streets of Patong.
Kata Beach is also known as Kata Bay or Kata Yai, is located just a few minutes south of Karon on the south west coast of Phuket.
This page contains affiliate links, which means if you make a purchase through a link, we may receive a very small commission at no additional cost to you, you can read our affiliate disclosure.


The beach at Kata is lined with beautiful trees, providing shade which is a welcome relief during the heat of the day.
Located under the trees you will find vendors selling a variety of goods including drinks, food and souvenirs.
Or you can simply relax in the shade and enjoy a beach massage.
The village atmosphere of Kata is more appealing for many visitors and is one of the more popular destinations for family beach vacations in Phuket.
As a result, there has been an increased number of visitors and during the high season the beach can be rather busy, but nowhere as busy and hectic as Patong.
Not only is Kata Beach Phuket one of the most popular travel destinations for families, it is also a perfect location for couples who are looking for somewhere a bit quieter to enjoy a romantic getaway, but without feeling secluded.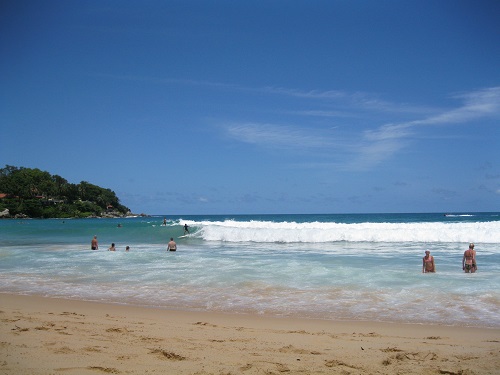 Visitors that stay at Kata Beach Phuket enjoy spectacular sunsets, fun beach activities and the ever growing facilities that are available in Kata.
Activities on Kata Beach
There is a variety of beach activities available at Kata during the high season, such as sailing, jet-skis, banana boat rides, para sailing and windsurfing.
Towards the northern end of the beach there is a small Island called Koh Pu or Pu Island, this coral reef provides a perfect spot for snorkeling.
Throughout the low season Kata Beach is also one of the best surfing beaches in Phuket.
Surfboards and bogie boards can be hired along the beach, if you don't know how to surf you can also have a couple of surfing lessons.
Sunbeds are available for rent and can be hired from the vendors for around 100 baht per day, but you will have to get there early in the high season.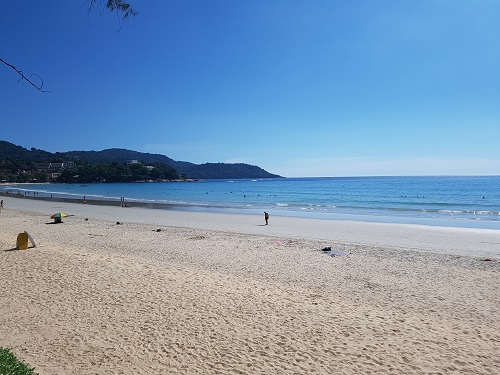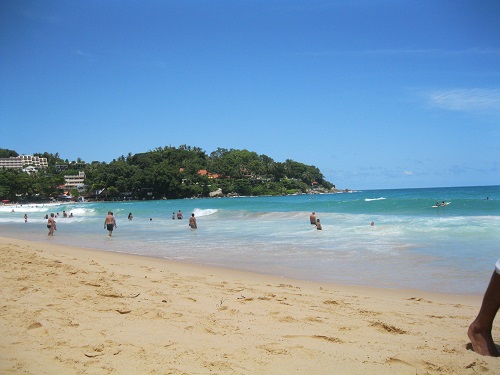 During the high season there is no waves in Phuket, however if your keen for a surf you can try out your surfing skills at Supa Surf. This is a great activity for all age groups and is located near the beach.

Kata Beach Hotels & Resorts - where to stay 



Kata Beach has some excellent accommodation choices, from guesthouses and apartments to a range of hotels, resorts, and luxury villas.
Club Med occupies the area closest to the beach, however in the streets just back from the beach there are lots of boutique hotels and guesthouses that are very appealing.
Below are just a few of our favorite places to stay in Kata.




Beach Boutique Hotel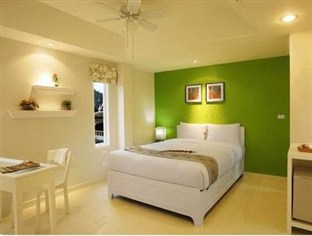 The Beach Boutique Hotel is located 10 minutes walk from Kata Beach.
The rooms at the hotel are spacious, clean and well furnished. The hotel has a range of facilities including 3 small swimming pools and 2 pool bars. Check price and read reviews on Agoda.




Kata Poolside Resort

Kata Poolside Resort is in a good location set back from the road and only 3 minutes walk to Kata Beach.
The resort consists of two buildings with a pool set in the middle. Rooms are clean, spacious and well maintained. Read more




Centara Kata Resort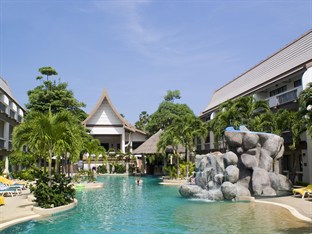 Centara Kata Resort is located in the heart of Kata.

This is a great family friendly resort, with three swimming  pools and a fantastic kids club. Read more about this resort on Agoda.



Beyond Resort Kata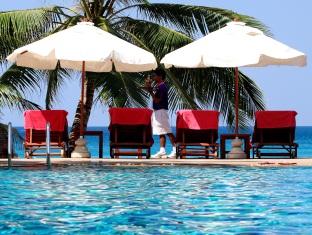 Beyond Resort Kata is set in a great location right on the beachfront towards the southern end of Kata.

This resort is ideal for beach-lovers and for those wanting to be close to all the amenities in Kata.  Read our review.




Malisa Villa Suites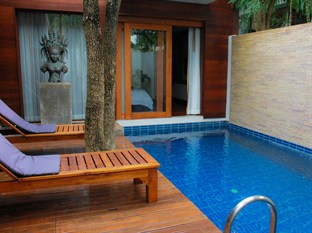 Malisa Villa Suites is an ideal spot for honeymooners or those looking for a romantic getaway. The villas are spacious and well designed.
Located right in the centre of Kata and only a 10 minute walk to the beach. Read more about the resort on Agoda.



Chanalai Garden Resort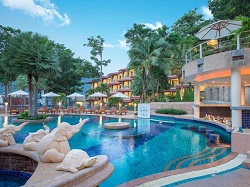 Chanalai Garden Resort has beautiful ocean views. This resort was formally known as the Tropical Garden Resort.
Rooms are clean and comfortable and the room rates are very affordable. Read our review



Peach Hill Resort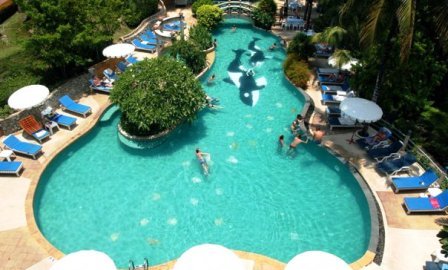 Peach Hill Resort is only a 5 minute walk to either Kata or Karon beaches. The resort features 3 beautiful swimming pools. Read More 




Metadee Resort & Villa's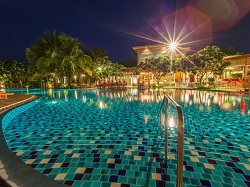 Metadee Resort & Villas is a fantastic choice, located 10 minutes walk from Kata Beach. Read more about this resort on Agoda.
Kata Beach also has an impressive range of villas, these include privately owned luxury villas that are available for short and long term rent.
If your interested in staying in a villa have a look at our tips about hiring a villa in Phuket.
Closer to the beach you will find some lovely budget hotels and five star resorts, click search below to find your preferred hotel at Kata Beach.


Shopping at Kata Beach Phuket
Kata Beach Phuket is an easy walk from Karon, along the way you will find handicraft shops and stalls selling a range of goods including cushion covers, cheap jewelry, DVD's, CD's, sunglasses, billabong shirts, billabong shorts and bikinis.
Towards the southern end of Kata there is Kata Plaza, here you can buy more billabong shorts and shirts, shoes, fake watches and sunglasses.
Just over the hill from Karon at the northern end of Kata just passed Starbucks is a T Junction, here you will find an air conditioned fixed price store called Udomagg.

Udomagg is heaven for shoe lovers, they also have a large variety of handbags, wallets, suitcases and handicrafts.
If you are looking for genuine sportswear head to the Adidas and Nike Outlet that is located opposite the Kata Beach Resort Phuket on Kata Road, it is open daily from 10.00am to 11.00pm.
We were amazed at how many Opticians there are in Kata, so if you are looking for some nice genuine frames maybe it is worth while checking out the prices.
There is also many tailors located in Kata, ensure that you get a couple of quotes and always bargain with them to get the best price and remember to allow enough time for fittings.
Mini -Marts, 7 Elevens and pharmacy's are scattered throughout the area.
Shopping in Phuket is wonderful, so make sure that you make time to spend a few hours exploring the shops.


Nightlife at Kata Beach Phuket
The nightlife in Kata Beach Phuket is very laid back and relaxing.
As Kata mainly attracts couples and families the bar scene is a lot quieter than Patong or Karon, although there is still a good selection of bars.
Most of these bars can be found around Taina and Patak Roads.
At the southern end of Kata Beach Phuket you will find a popular nightspot called the Ska Bar, here you can listen to some reggae and hip hop.
The bar stays open until late and if you are lucky you may get to see the bar staff do their nightly fire show.
If you are looking for a pool table the Mellow Bar has one and a collection of music including Jazz, Blues and R'n'B.
Phuket has an abundance of nightlife, and you will find that you just haven't enough time to go everywhere you want to go.
Restaurants at Kata Beach Phuket
Kata has a large selection of restaurants, most of which are reasonably priced, especially around Kata Centre.
You will find cuisines from all over the world and there is no shortage of Thai restaurants in Kata.
Some of the best restaurants in Kata Beach we found were the Two Chef's Restaurant here you can enjoy juicy steaks, Thai food, fresh seafood and Mexican specials.
Horn Grill is located opposite Kata Beach Resort, serving imported Australian beef and lamb, seafood and Thai food.
For a romantic evening and superb food make your way to The Boathouse Wine & Grill, located directly on Kata Beach.
Overall we have found Kata Beach Phuket to be a top spot for both family vacations and a fantastic destination for a romantic getaway.
How to get to Kata Beach Phuket
From Karon drive south along the beach until you get to an intersection, turn right into Pak Bang Road.
Location Map of Kata Beach Phuket, Thailand
If you enjoyed this article and found it helpful for your travels in Phuket, let us know by following us on Facebook. 

Save Time: Search Phuket Travel Secrets