Freedom Beach
By Paula Parker
Freedom is the Best unseen Beach in Phuket
Freedom Beach is one of the most beautiful beaches in Phuket, with soft white sand and crystal clear water that is surrounded by lush green mountains.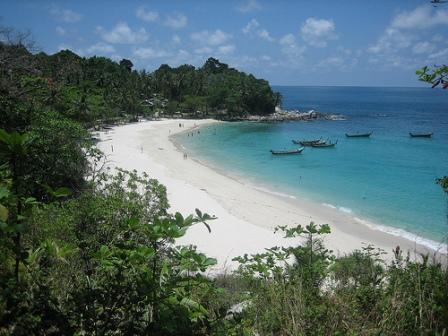 Freedom beach is a small private cove, located just south of Patong on the west coast of Phuket,
A short longtail boat ride from Patong will see you on this popular private beach for some of the best snorkeling in Phuket.

Activities at Freedom Beach
The beach is cordoned off into sections, the middle is were the long-tail boats come ashore to drop beach goers off and to pick them up.
The southern end of Freedom is one of the best locations in Phuket for snorkeling, here you will find lots of spectacular coloured fish swimming close to the shore, unfortunately most of the coral around Freedom has died.
We found the northern end of the cove was the best area of the beach to go swimming.
Freedom is a secluded beach where you can go to completely unwind, unlike the major tourist beaches in Phuket you won't find any motorised water-activities.
Jet skis are not welcome at Freedom and you won't be bothered by vendors trying to sell their goods.
To enjoy this stunning beach you will have to pay an entrance fee of 200 Baht per person.

There are sunbeds set further back under the shade of the palm trees that you can hire for around 140 baht per chair.


This page contains affiliate links, which means if you make a purchase through a link, we may receive a very small commission at no additional cost to you, you can read our affiliate disclosure.


We recommend this beach as an ideal location were the whole family can enjoy a fun day on the beach swimming and snorkeling.
You will also find a volleyball net and a set of football goals along the beachfront.



Restaurants at Freedom Beach



There is a small restaurant located at the southern end of the beach, serving a selection of Thai food.
The meals might be slightly more expensive, however the food is extremely good.
Freedom Beach Amenities
Showers and toilets are available on Freedom Beach.
You can hire snorkelling gear at the restaurant and if you forget to bring a towel you can hire one for 200 baht.
This is definitely one of the cleanest beaches we have visited in Phuket.
Accommodation near Freedom Beach
There is no accommodation available directly along the beachfront at Freedom beach, however there are a couple of resorts located close by that you may like to have a look at.
Le Meridien Beach Resort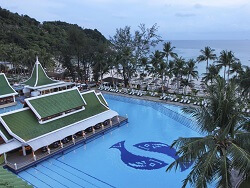 Le Meridien Beach Resort is a five star resort located directly on the beachfront at Relax Bay. The resort has two swimming pools, an onsite mini golf course, restaurants and bars. A perfect spot to get away from it all. Read more


Marriott Merlin Beach Resort
Marriott Merlin Beach Resort is located on the beachfront at Tri Trang.
The resort boast 3 swimming pools and is an ideal destination for a relaxing vacation in a secluded area but close enough to the action of Patong. Read more


How to get to Freedom Beach
Not so many years ago the only way to gain access to Freedom Beach was by longtail boat...
Nowadays you can also catch a tuk tuk, just be aware that the tuk tuk won't take you to the beach, they will drop you off near a steep track that leads down to the beach.
Just be warned the trek down is one thing but the hike back is worse.
The easiest and probably the safest way to get to Freedom is to hire a long-tail boat.
Long-tail boats are available from the southern end of Patong, just near the pier. Depending on the number of people expect to pay around 1,200 to 1,500 baht per boat for the return journey.
The long-tail boat ride from Patong to Freedom will take around 15 minutes, your journey will take you past a couple of other beautiful beaches such as Tri Tra, Paradise and Tri Trang beaches.
You can also hire long-tail boats from Tri Trang to Freedom which will cost around 500 baht.
Long-tail boats are also available from Kata or Karon beaches.
Location Map of Freedom Beach, Phuket, Thailand




If you enjoyed this article and found it helpful for your travels in Phuket, let us know by following us on Facebook. 

Save Time: Search Phuket Travel Secrets