Laem Singh Beach

Laem Singh the Best Secret Beach in Phuket 
Laem Singh Beach is one of the most beautiful little beaches in Phuket, it is located 20 minutes north of Patong, nestled between Kamala and Surin Beach on the West Coast of Phuket.
Laem Singh is a small hidden cape, only 280 meters long with rocky headlands at the northern and southern points.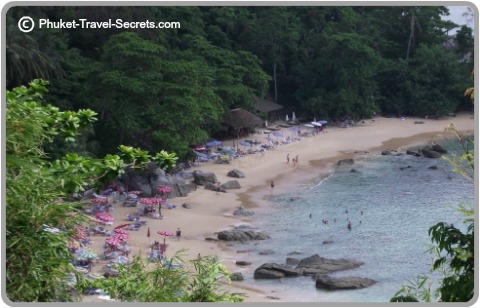 Over the last few years the secret beach at Laem Singh has become more and more popular, and is a well liked destination for many visitors holidaying in Phuket.
Most weekends especially during the high season Laem Sing Beach remains packed with tourists.
The beach is not easily visible from the road but there are two small parking areas, just look for the signs along the road and lots of parked cars and bikes.
Laem Sing Beach is one of the undeveloped beaches in Phuket, which is frequently missed by visitors who are unaware of its location.
Its a five minute walk down a fairly steep path to reach this hidden little beach.

The natural setting of Laem Singh is what makes this beach so popular and the fact that you haven't got the noise of the tuk tuks, cars and trucks.
This is a peaceful beach, that is not always felt on some of the more developed beaches in Phuket.
On your way down to the beach you will see the remains of a fort that was built during the reign of King Rama 111.



Once you are on the beach you will notice interesting rock formations along the beach, if you walk to the southern tip of Laem Singh you can see the Kamala Beach headland.
Beach Activities at Laem Singh

Laem Singh has some of the best snorkeling in Phuket, in particular around the headlands, here you will find beautiful coloured fish.
We found the southern end of the beach around the rocks is the best spot for snorkeling, were we seen some nice coral and lots of fish.

While the northern end of the beach is the best area for swimming and body boarding.
Kayaks, body boards and inflatable boats and snorkeling equipment can also hired from the restaurants on the beach.
During the high season banana boats and jet skis are also available.
Our day at Laem Singh beach included snorkeling and swimming with the kids, lunch on the beach and a relaxing Thai beach massage under the shade of the trees. The massage cost around 300 baht per hour.
As with a lot of beaches in Phuket, this beach can also have dangerous currents during the monsoon season.

Accommodation At Laem Singh

There is no accommodation directly on the beach at Laem Singh, although there is a range of hotels, resorts and budget hotels located close by. Below is one of our favourite resorts which is located at the nearby Surin Beach.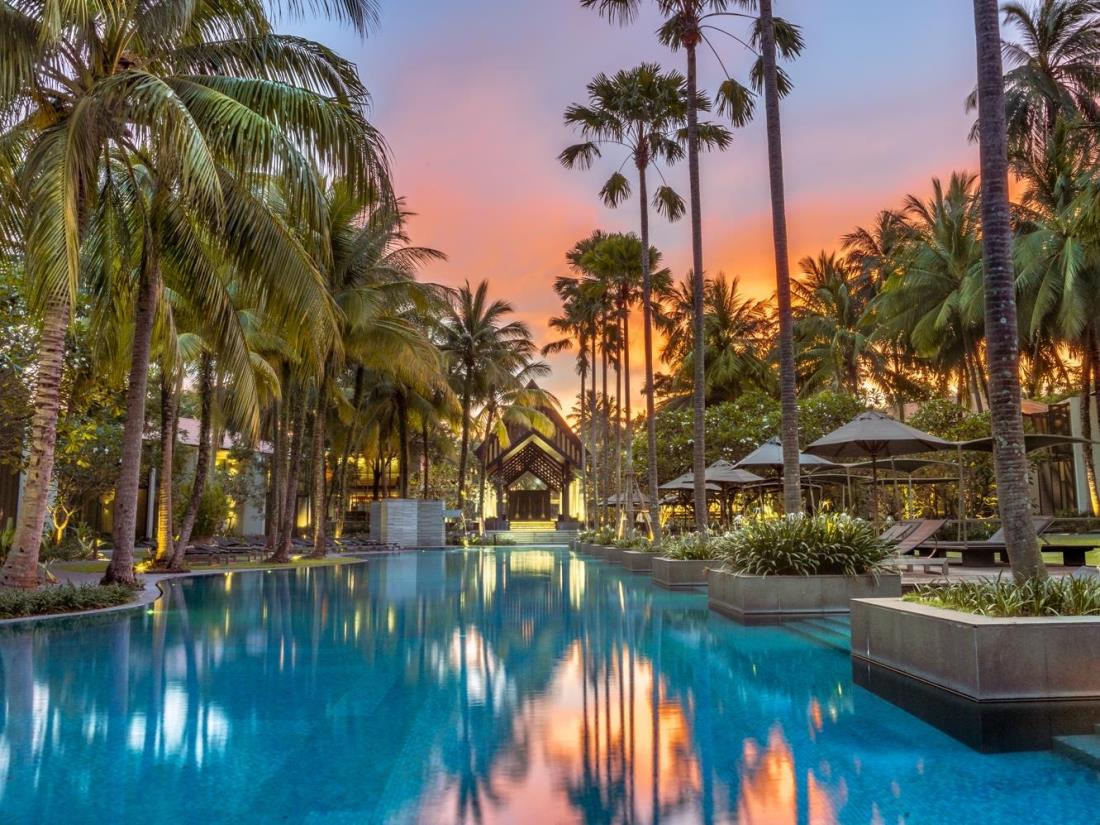 Twinpalms Hotel is a stylish five star resort, located at Surin not far from Laem Singh.
The resort features a good selection of rooms and pool suites and features a beautifully landscaped swimming pool, restaurants and spa. Read more
There are other hotels and resorts located near Laem Singh beach to choose from, see the full list below.

Restaurants on Laem Singh Beach

At the bottom of the hill, you will find a few beach restaurants under the trees, along the beach. They will serve your meal to you either inside the restaurant or outside on the beach.
The food served at the beachfront restaurants is mostly Thai and seafood, although I did notice some Italian dishes as well.
At the southern end of the beach are a couple of beer bars, if you are after a nice cold beer.
Shopping At Laem Singh

There are no shops as such on the beach, although you can still manage to do a bit of shopping.
The beach vendors that work the beach have a variety of goods that they will try to sell you from sarongs to silk bed covers.
Nightlife At Laem Singh 

Yes, this well hidden little beach does have it's own form of nightlife.
But only from November through to May, every Sunday from mid afternoon at the Laem Singh Lounge Bar, located at the southern end of the beach.
A beach party called Soundwave Sunday a popular destination for tourists and expat's, where you can drink and dance the night away.

How To Get To Laem Singh

From Patong follow the beach road through Kamala and before you reach Surin, you will see two parking areas just off the road.
Use the second carpark as this trail as it is not as steep. Parking here will cost 20 baht for motor bikes and 40 baht for a car.
From here it is a sharp descent down to the beach, the trail is rocky and can be muddy after rain. Definitely worth the walk.
A taxi from Phuket Town to Laem Singh Beach will cost around 500 baht, if you arrive by taxi you may want to arrange with the driver a time for him to pick you up.
Location Map Of Laem Singh Beach, Phuket
Some links on this page are affiliate links, which means that if you purchase a product or service through them we may receive a very small commission at no extra cost to you.
Because our integrity and your satisfaction are very important to us, we only recommend products or services that we have purchased and or used ourselves, which we believe would benefit you. To learn more please see our affiliate disclosure.

---
---