Banana Beach: best kept secret beach in Phuket

Banana Beach in Phuket would have to be one of the best kept secret beaches and is definitely one of our favourite beaches that we love to visit.
The hardest thing is finding where it is!

The Banana Beach we talk about here is not to be confused with the beach at Koh Hae (Coral Island).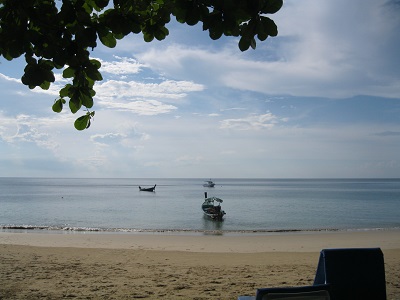 As we love to share our travel tips with other travelers to Phuket, we will let you in on where this secluded and somewhat secret beach can be found.
Banana Beach is located on the north west coast of Phuket, hiding between Bang Tao and Nai Thon beaches, just south of the Andaman White Beach Resort and around 500 metres north of Trisara Villas.
This beautiful secluded beach is also known as Banana Rock Beach, due to the rocky formations that divides the beachfront into two.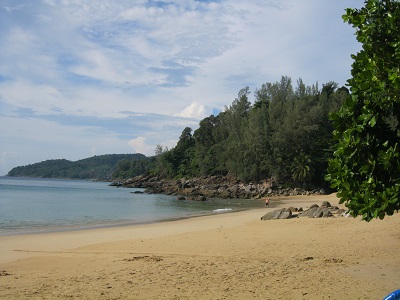 The beach is around 180 metres long and is never crowded, one can only hope that it stays this way.
In saying that we highly recommend that you do get out and explore the hidden beaches in Phuket and this one is definitely worthy of a morning or afternoon visit. 
On high tide the waves have been known to wash up as far as the tree line, so just check that you don't put your belongings to close to the waters edge.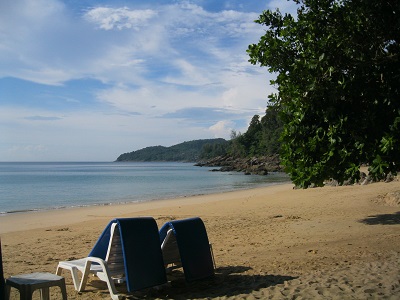 Activities at Banana Rock Beach

From November through to April the water is calm and crystal clear, and this beach is a top spot for swimming and snorkeling.
At either ends of the beach are rocks, which are great if you want to go snorkeling.
The best area we found to go snorkeling was towards the southern end, where you will see beautiful coloured fish.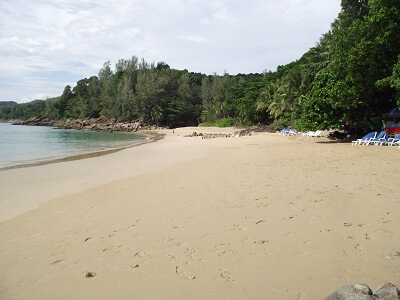 Please Note:
From May through to October it is best to avoid swimming at Banana Beach as it can become too dangerous.

Where to eat at Banana Beach

At the southern end of the beach during the high season months you will find a make shift Thai and seafood restaurant that serves fresh and delicious seafood, and beautiful fruit platters, that we can highly recommend.

The prices might be slightly higher than what you would pay in and around Patong but the food is super fresh and look at the location, it doesn't get much better than this.

They also have icy cold beers... Chang beer will cost 60 baht.

This beach takes me back to what most beaches in Phuket once were..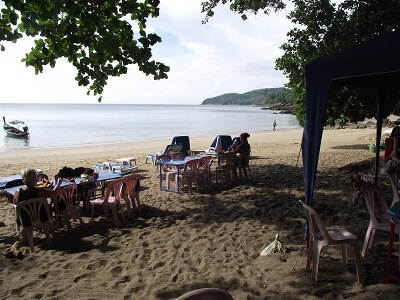 Facilities at Banana Beach

You will find sunbeds and umbrellas located at the southern end of the beach, of which can be hired for around 100 baht a day or 200 baht per set.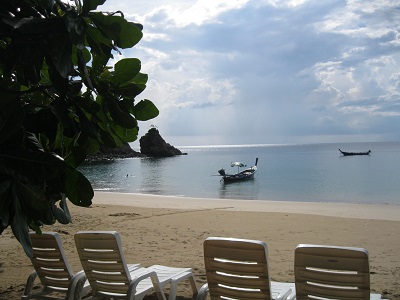 During the high season you can also hire a longtail boat and driver from the people who own the restaurant to go exploring.
They also had an area set up for massages under the shade of the trees.


5 best things to do at Banana Beach
Swimming
Snorkeling
Lunch at the restaurant
Relaxing Massage
Chill out on the secluded beach

Accommodation at Banana Rock Beach

This page contains affiliate links, which means if you make a purchase through a link, we may receive a very small commission at no additional cost to you, you can read our affiliate disclosure.


There is no accommodation directly on the beachfront.

Although close by you will find the Trisara Hotel or the upmarket and very luxurious Phuket Pavilions.
Both these resorts have private pool villas and are located in the hills with stunning views over the sea.
Just to the north of Banana Beach is the very private five star Andaman White Beach Resort.


How to get to Banana Beach

Many visitors arrive by longtail boat from one of the nearby beaches. However, you can also use the trail that leads down to the beach from the coast road.
Phuket's best hidden beach can be found just through these tree's.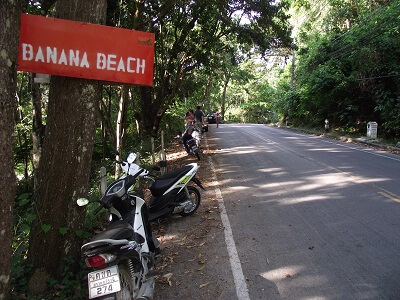 Heading north just past the Trisara Resort you will see a small parking area.

Keep an eye out for a small sign that is posted on a tree along the right hand side of the road. There isn't really any parking except for along the side of the road.

Don't blink or you could miss the sign and the track that leads through the tree's onto one of Phuket's best beaches.

From here head down the trail which is a little steep, although you won't need much more than flip flops on your feet.
Banana beach is so secluded, not many people ever find this hidden treasure.


Location Map Banana Rock Beach in Phuket

If you enjoyed this article and found it helpful for your travels in Phuket, let us know by following us on Facebook. 

Save Time: Search Phuket Travel Secrets