Tri Tra Beach

Also Known as Emerald Beach
Tri Tra Beach is located in a coral bay and is the first of four beautiful beaches in the rocky headland just south of Patong.
This north facing 500 metre long picturesque beach is also known to many as Emerald Beach or 'Hat Tri Tra', that overlooks Patong Bay.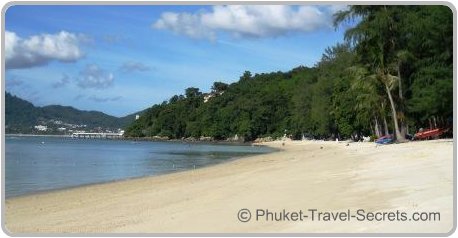 The beachfront is stunning lined with casaurina trees and fine sand.
The three other beaches in this headland are Paradise Beach, Tri Trang Beach and Freedom Beach.
For some reason this beach also gets called Tri Trang Beach, maybe because the Tri Trang Beach Resort is located at one end of the beach.
Tri Trang is located further along in the headland in a nice quiet bay in front of the four star Merlin Beach Resort.
Tri Tra Beach is a place where you can come to truly relax and unwind away from the crowds of Patong.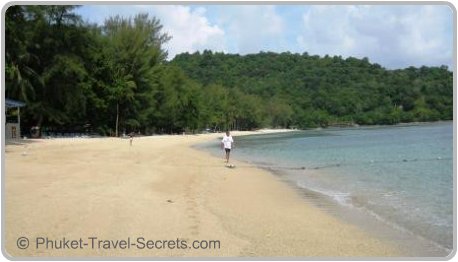 The bay offers calm clean waters and is a great spot to spoil yourself for a day or enjoy a week long vacation.
During a recent visit to Phuket we spent four relaxing days at Tri Tra and can highly recommend not only the location.

But the fantastic facilities that are on the beachfront, not forgetting to mention where we stayed at the beautiful Tri Trang Resort.
Located on the beachfront in front of the Tri Trang Resort is a restaurant and a massage hut, outdoor shower and toilets.
The massage hut on the beachfront is where we enjoyed one of the best massages in Phuket.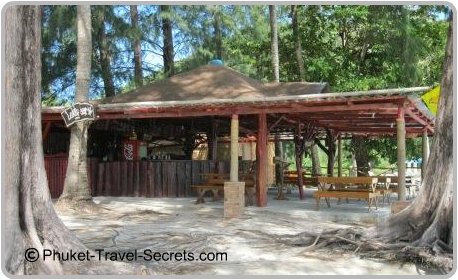 Towards the other end of Tri Tra is where guests that stay at the nearby Merlin Beach Resort prefer to spend their days basking in the sun.
At this end of the beach there was a massage hut as well as the Windsurf Restaurant, unfortunately both have now been demolished.


Activities at Tri Tra
On high tide the beach is great for swimming and snorkeling and is safe all year round, with areas sectioned off with buoys so that boats and jet ski's stay away from the swimming area's.
We found the best area for swimming is in front of the Tri Trang Resort.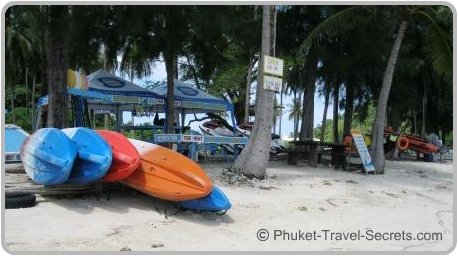 In the middle of the beach between 9.00 am and 5.00 pm you can hire snorkeling gear and kayaks to go exploring around the bay.
There is also motorized beach activities which include banana boat rides, para-sailing or jet ski's.
You can even hire jet ski taxi's into Patong or longtail boats.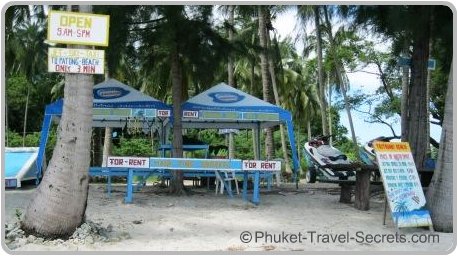 Prices of water-sports at Tri Tra
30 minutes on a small jet ski - 1,400 baht

30 minutes on a big jet ski - 1,700 baht

Para-sail 1 person - 1,300 baht

Banana Boat 1 person - 800 baht
The prices are generally a little higher here than Patong, but well worth it.
The best time to go to Tri Tra beach is on high tide, if you are there on low tide wear a pair of reef shoes or joggers and go exploring.
If walking isn't your thing indulge yourself with a massage at the hut in front of the Tri Trang Resort, one of the best massages we have had in Phuket.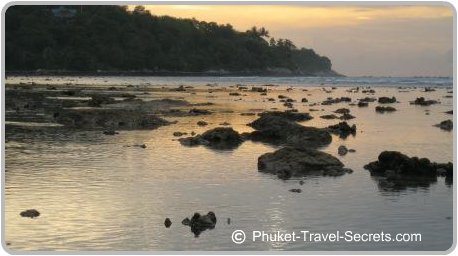 None of the facilities on the beach including the restaurants, bars or massage huts are owned or operated by the Tri Trang Resort or the Merlin Beach Resort and the prices are cheaper then what you will pay in the resorts.
The only downside, is that on low tide the bay is quite rocky with several small corals and it is just too shallow to go for a swim or snorkeling.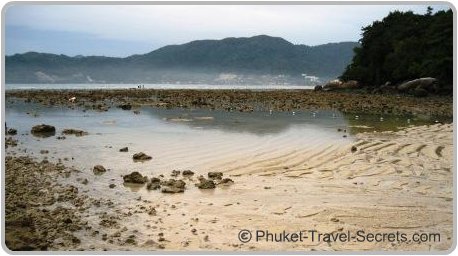 Tri Tra Restaurants
The Windsurf Restaurant was located at the far end of the beach closer to the Merlin Beach Resort serving both Thai and Western food. 
Update: The Windsurf restaurant was demolished in 2014.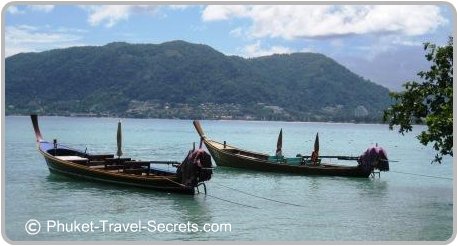 The other restaurant is located at Tri Trang Resort catering for all with Thai, seafood and western food and is open daily until 10.00 pm.


Accommodation on Tri Tra Beach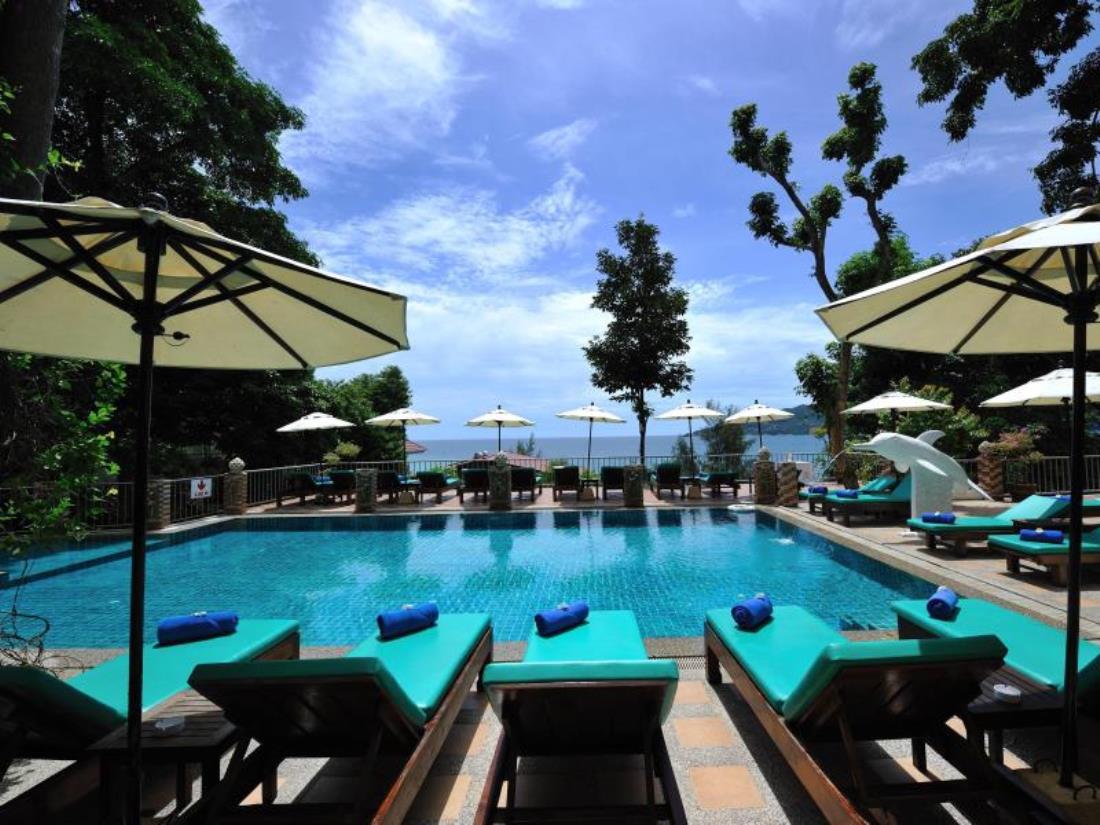 Tri Trang Beach Resort is wonderful and provides guests a relaxing holiday in Phuket that is close to all the amenities and nightlife of Patong.
If you are travelling in the low season keep an eye out for their low season rates, as we stayed here during the low season and picked up our room on the top floor for $25.00 a night. Read More
 Use the search box below to view other resorts near Tri Tra & Tri Trang.


How to get to Tri Tra Beach

At the far south end of Patong, drive across the Patong River Bridge and follow the Muan-Ngern Road for around 3 kilometres.
On the way you will pass the Amari Coral Beach Resort, Baan Yin Dee Resort and continue until you reach the turn off to the Tri Trang Resort.
Follow this road to the car park located near the beachfront.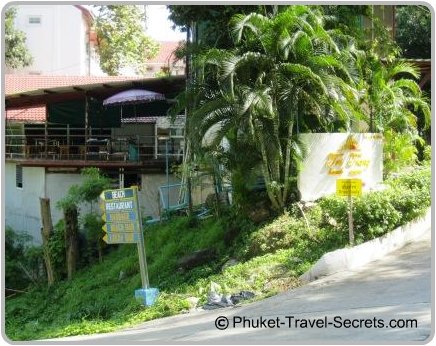 Whatever the beach is called whether it be Emerald Beach, Tri Tra Beach or Tri Trang Beach or even Crystal beach we would have to rate it as one of the most relaxing and enjoyable beaches in Phuket.
Location Map of Tri Tra Beach in Phuket
Some links on this page are affiliate links, which means that if you purchase a product or service through them we may receive a very small commission at no extra cost to you.
Because our integrity and your satisfaction are very important to us, we only recommend products or services that we have purchased and or used ourselves, which we believe would benefit you. To learn more please see our affiliate disclosure.

---
---