Karon Beach Phuket: what to do & where to stay

By Paula Parker


Karon Beach Phuket is one of the best beaches in Phuket, and personally one of our favorites.

Although the beach can still be busy throughout the high season, it has a more relaxed feel then Patong.
The far northern end of Karon beach is the quieter area and there are not as many tourists, making it a a perfect spot if you want the beach to yourself.
If your planning a family beach vacation in Phuket, Karon Beach is an ideal choice offering a central location which makes exploring the Island easy.


Karon Beach is the second major beach destination in Phuket after Patong, but due to the length of the beachfront you will never feel as though it's overcrowded.
Towards the southern headland of Karon beach there is a fine coral reef stretching towards Kata Beach and Pu Island.
The far northern headland at Karon beach is usually much quieter then the southern end.



Beach Activities at Karon Beach Phuket



Just like Patong, there is a wide variety of water activities available throughout the high season at Karon beach including 

jet-skis
para sailing
banana boat rides
The southern end of Karon Beach is the best area for snorkeling.
From November through to April the water is crystal clear, calm and great for swimming.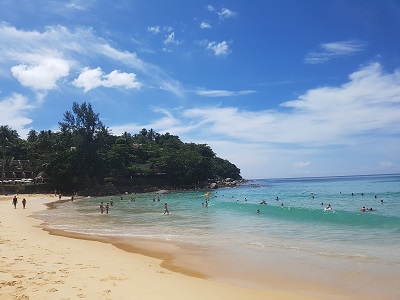 However if your planning a holiday from May to October, Karon Beach Phuket can be very dangerous and unsuitable for swimming.
Sadly there has been a number of tourists drown at Karon Beach, along with other popular beaches in Phuket.
So if your planning to travel to Phuket during the monsoon season always check to see if there is a red flag and if there is don't go in the water.
If the red flag is flying, find a masseuse, they are set up in the shaded areas at the back of the beach and enjoy a Thai massage or foot massage, or swim in your resorts swimming pool.

You can check the latest beach conditions at Karon Beach Phuket from the live webcam that is located at the Rocks Restaurant at the Marine Phuket Resort.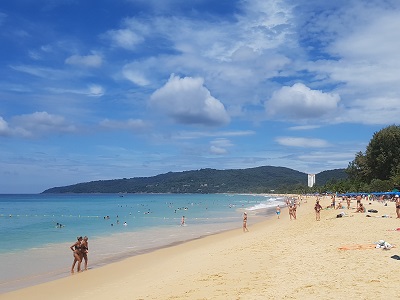 This page contains affiliate links, which means if you make a purchase through a link, we may receive a very small commission at no additional cost to you, you can read our affiliate disclosure.



Hotels and Resorts at Karon Beach Phuket



There is a fantastic selection of places to stay around Karon Beach Phuket, ranging from budget hotels to family friendly hotels and resorts including an adults only resort and a couple of luxury five star hotels.

Most resorts and hotels at Karon Beach are located across the road from the beach with only a couple of resorts situated directly on the beach.


Five Star Resorts at Karon Beach Phuket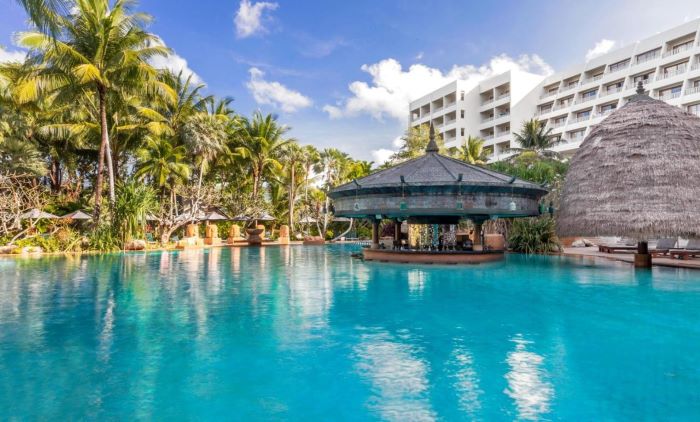 The Paradox Resort Phuket is a popular spot for a romantic getaway and is also one of the best resorts at Karon Beach for family beach vacations.
The resort is set over 22 acres and features a range of luxury rooms, villas and suites.
Resort Facilities
4 swimming pools-2 pools for all guests whilst the other 2 are reserved for villa and suite guests
Waterslide for the kids
Pool Bar 
Fitness Centre 
Kids Club
Games Room
2 Restaurants
If you are looking for a five star luxury hotel or resort at Karon Beach you won't need to look any further.
 
Location - Across the road from Karon Beach
Centara Grand Beach Resort is in a perfect spot directly on the sand at Karon beach.
This stunning absolute beachfront resort caters for all travelers, with a range of rooms, spa and pool suites, and one- or two-bedroom villas.
The resort offers a host of superb luxury facilities and has its very own beach-side water park, making it a top spot for fun family beach vacations.
Resort Facilities
Water Sports Centre
4 Swimming Pools
Kids Club | Kids Pool | Playground & Activities
Water Park
Games Room
Spa
Sauna
Steam Room
Fitness Centre
Coast Beach Club
Pool Bar
Onsite Restaurants
Location – Direct Beachfront Access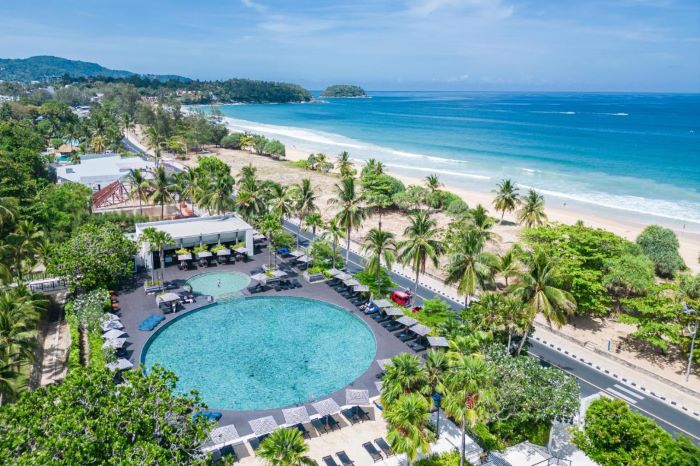 The Pullman Phuket Arcadia Resort at Karon Beach is a large sprawling resort set over 75 acres surrounded by tropical gardens.

Whilst the Pullman is not located directly on Karon Beach, it is only a short walk across the road. There is a good selection of rooms and suites available, some with Seaview's and some have garden views.
The resort is centrally located and within walking distance to Karon Circle.
Resort Facilities
Onsite Restaurants & Bars
Tennis Courts
Squash Courts
5 Swimming Pools | one with a water slide for the kids
Fitness Centre
Spa
Kids Club
Location - Across the road from the beach


Beyond Resort Karon is set in the best location directly on the sands of the southern end of Karon Beach, within walking distance to a range of restaurants, shops and bars.
 
This 4-star adults only absolute beachfront resort is ideal for romantic getaways at Karon Beach Phuket.

All the rooms and suites at Beyond Resort have stunning ocean views overlooking Karon Beach, the best views are from the higher floors.
Resort Facilities
2 beachfront adults only swimming pools
Swim up bar
Spa Treatments
Cooking Classes
Onsite Restaurant | Beach Bar | Cafe
Stunning Ocean views
Location - Direct Beach access to Karon Beach

If you are still unsure where to stay then feel free to have a look at the detailed list of all resorts and hotels near Karon Beach Phuket in the search box below.



Night Life at Karon Beach

Night life around Karon is similar to that of Patong, although a lot quieter.
Karon has its own version of Patong's Soi Bangla with a range of bars, but on a much smaller scale.
Most of the nightlife in Karon can be found around the bars that are located off Patak Road near the Karon Circle and south off Luang Poh Chuan Road. It is here that you will find the majority of beer bars.
For a great family fun, and a night out with the kids, visit Dino Park at the southern end of Karon, where you can play mini golf, enjoy a nice cold drink or enjoy a scrumptious dino burger.
The side soi's are worth exploring, in particular the one leading to a small art community, where Thai painters have built a complex of huts, pubs and art galleries.

Karon Beach Phuket has two new Beach Clubs, Coast Beach Club can be found at the northern end of the beach and Tann Terrace can be found at the southern end of the beach. Both offering nightly entertainment.



Where to eat at Karon Beach

We have found some fantastic restaurants, the majority are located around Karon Circle and towards the southern end of the beach.

Located just down the road from Karon stadium is a row of Thai style seafood restaurants. These restaurants are all reasonably priced with some of the best Thai food in Phuket, they may not look much but the food is great. They also have some western dishes.
If your looking for somewhere to go on the beachfront head to Coast Beach Club & Bistro located at the Centara Grand Beach Resort at the northern end of Karon Beach, the beach club is open daily from Midday till 11.00pm.
If you would prefer somewhere at the southern end of Karon Beach, head to On the Rocks Restaurant which is located at the Marina Phuket Resort or try out Tann Terrace Beach Club, they are open daily from Midday to Midnight.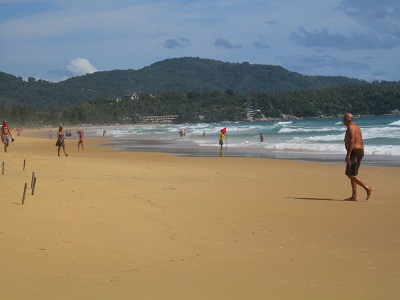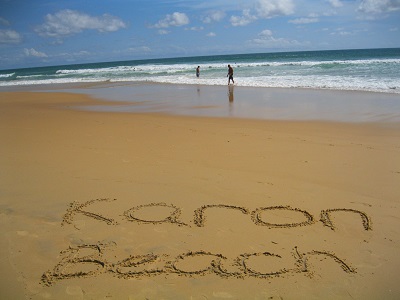 Shopping at Karon Beach

Shopping at Karon is by far more relaxed than shopping in Patong.
If you are looking for a supermarket you will find one at the Karon Circle, along with a range of other shops including pharmacies and lots of tailors.
There is also a large selection of souvenirs like wooden handicrafts, Thai silk cushion covers as well as shoes, sunglasses, suitcases and bags.
Karon has many opticians that have a great selection of genuine sunglasses and reading glasses much cheaper than you will find in Western countries.
Along the beach road you will find Karon Bazaar, a shoppers dream. The bazaar is actually a market, where you will find everything that you will need all under the one roof.
We recommend that you shop here at night as it gets extremely hot inside the bazaar during daylight hours. Within the bazaar you will find an assortment of DVD's, CD's, sunglasses, hats as well as fake billabong shorts and shirts.
Don't forget to haggle.


What to do at Karon Beach at a glance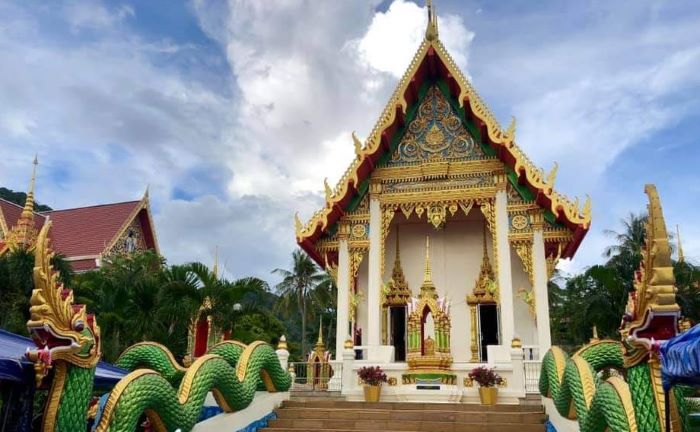 Relax on the beach
Enjoy a range of beach activities
Visit Karon Temple
Enjoy the views from Karon/Kata Viewpoint
Play mini golf at Dino Park Mini Golf
Shop, eat and explore Karon Temple Markets every Tuesday and Friday from 4 pm to 10 pm
Enjoy stunning ocean views and a delicious meal at On the Rock Restaurant
Chill out and enjoy sunset views at Coast Beach Club 
Shop at Karon Bazaar

How to get to Karon Beach

Karon Beach is located only 6kms south of Patong.
Just follow the beach road through Patong and turn to the left into Prachanukhro Road.
Then turn to the right into Sirirat Road which will turn into Patak road, follow it around past the Nong Han lake and onto Karon road that runs parallel to the beach.
Location Map Karon Beach, Phuket Thailand

If you enjoyed this article and found it helpful for your travels in Phuket, let us know by following us on Facebook. 

Save Time: Search Phuket Travel Secrets