How To Plan A Group Trip During The Xmas/New Years Holiday 2014
by Crystal
(Atlanta, Ga.)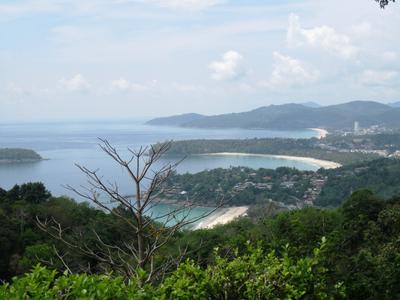 Karon, Kata & Kata Noi Beaches in Phuket
Question

First, thank you for this wonderful site!

I want to plan a 'destination-50th birthday bash' that happens to be on New Years' day 2014!

I wonder if you can suggest ideas that I might be able to use to offer the trip to my friends so we can start reserving our accommodation either rooms or villas that are together or separate.

I would like to combine adventure, leisure & cultural activities.

I am pleasantly overwhelmed by all that I've read, but now I don't know how to begin! LOL!

Our group will be all adults ranging in age from 20 something's to active 60 year olds.

This question may be too vague and I may have to gather info in small bits, and piece it together myself but I'd love it if you can help!!!

Thank you so much!



Answer

Hi Crystal,

Thankyou so much for your kind words about our website.

We would love to help you out with ideas for you to suggest to your friends for the 50th Birthday Party you are planning in Phuket.

As you have seen there is a lot to do and see in Phuket.

And it can be a little overwhelming for the first time visitor and even more so when you are planning an occasion such as a "50th birthday".

To help you out with your planning, we can put you in touch with reliable and friendly people to contact about organising your tours, daytrips and special events.

As well as suggesting a range of activities that you and your group might like to do while in Phuket.


My first suggestion would be to organise something really special for the big day!

Personally if I was to celebrate my 50th Birthday in Phuket and I certainly hope I do.

I would love to spend a day on the water on- board a private speedboat to one of the offshore islands, followed by an evening of celebrations and dinner on a private beach in Phuket with family and friends.

I have checked with the manager who charters the speedboats to see if he could arrange a special occasion such as yours on New Years Day followed by an evening dinner and celebrations on their private beach and he assured me that they can organize this for you.

For more information and prices, you can contact the manager via the contact form on our private speedboat page .

Below is a list of activities that your family and friends may enjoy.

Adventurous Activities
Scuba Diving and or snorkeling is fun for all ages and if anyone in your group would like to go scuba diving or snorkeling.
I would recommend you contact
Phuket Scuba Club
, who have a range of dive courses that can be done directly off the beach at either Kata or Karon as well as scuba diving daytrips to dive sites offshore from Phuket.
The Flying Hanuman is something I personally haven't experienced as yet, but for the adventurous amongst you and those who are not scarred of heights, this looks fantastic.
This is on top of my list of things to do on our next trip to Phuket. Check out the reviews from other travellers on trip advisor.
Other adventurous activities worth looking into are
Xtreme adventures
, a tree top adventure park, or for the younger ones in the group
Zorb balling
is a fun way to spend a couple of hours.
Cultural Activities
To explore the cultural side of Phuket I would suggest you contact Chaya from
Phuket Heritage Trails
.
Chaya is a Phuket local who knows everything there is to know about Phuket, her tours can be customised with a mix of cultural, historical and natural heritage sites.
Leisurely Activities & Must See Places In Phuket
I could suggest many places that are worth visiting in Phuket, but that could be a bit overwhelming so I will keep it to some of the best places to see.
No visit to Phuket is complete without a trip to Phuket's famous
viewpoints
; a couple of our favourites are Promthep Cape, Big Buddha and Kata- Karon Viewpoint.
For a leisurely daytrip on the water, I would suggest that your group take a daytrip to
Phang Nga Bay
, this is an attraction that everyone of all ages will enjoy.
Most tours to Phang Nga Bay also include kayaking through the hongs, a visit to James Bond Island and Koh Pannyi, a floating sea gypsy village that is built on stilts.
Areas to Stay In Phuket
There are many beautiful spots to stay in Phuket, the most popular beach area for the 20 year olds in your group would definitely be Patong.
However Patong is also the busiest area and not the most scenic or relaxing areas to stay especially for the older members in your group.
We are in our late 40's now, and whilst we still enjoy the occasional night out in Patong and the easy access to shopping there.
We prefer to stay at
Karon
,
Kata
or
Kata Noi
, these beaches are located south of Patong, or alternatively the beaches north of Patong around
Surin
and
Bangtao
are a nice option as well.
We hope this information is helpful and that you and your fellow travellers have a fantastic 50th Birthday Bash and enjoy your travels in Phuket.
Safe Travels
Paula & Jeff
Return to Phuket Travel Secrets Homepage