Bang Tao Beach Phuket
By Paula Parker
Bang Tao Beach is a top spot for a family beach vacation in Phuket
Bang Tao Beach is one of the best locations in Phuket for family vacations, with a fantastic selection of family friendly hotels that are located directly on the beachfront.
The beach is a large open bay, stretching 8kms in length, and is the second longest in Phuket.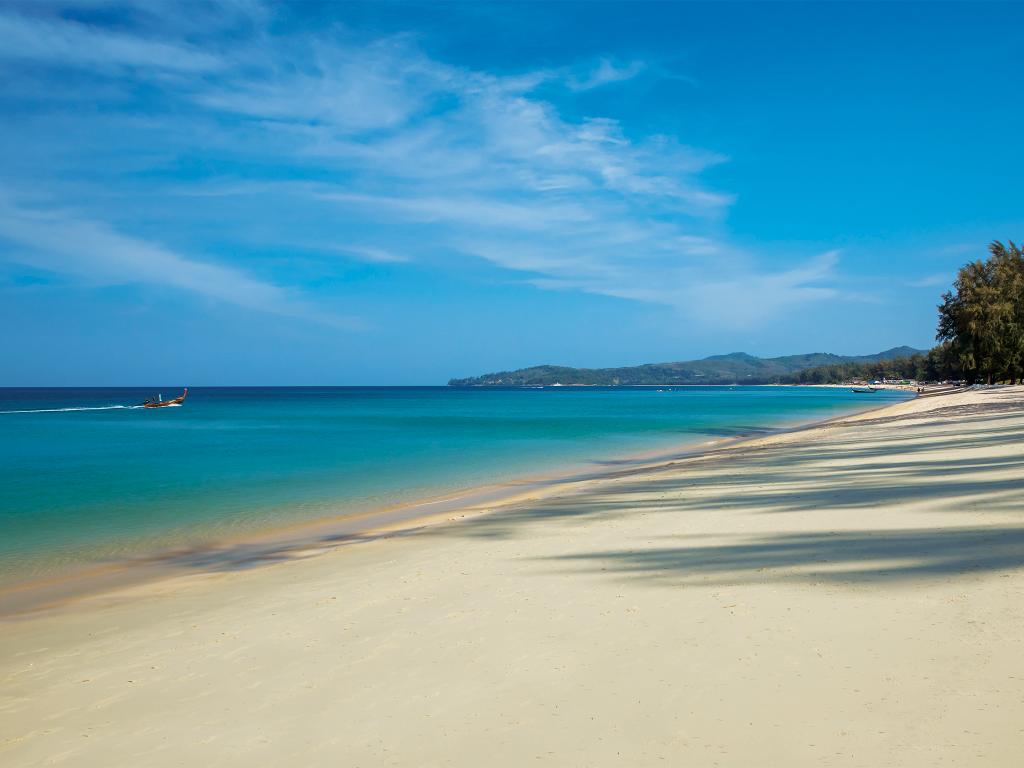 Bang Tao is located between the picturesque Layan and Pansea beaches on the North West coast of Phuket.

Bang Tao Beach is also known as Laguna Beach, the area around here was once used for tin mining, but has been developed into a luxury resort called "The Laguna Phuket Complex".
The Laguna complex is home to a collection of upmarket luxury resorts, hotels and villas which are situated around six picturesque lagoons and the 18 hole Laguna Golf Course.


Bang Tao beach is just a few minutes away from the town of Cherng Talay where you will find local villagers that still make their living by farming, fishing and rubber tapping.
Many expats from around the world choose Bang Tao and the surrounding area to buy their multi million dollar villas.
Southern end of Bang Tao Beach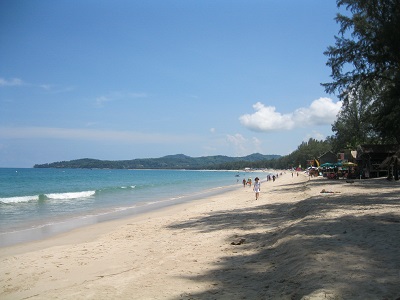 Looking north along Bang Tao Beach
Beach Activities at Bang Tao
You won't find vendors on the beach renting sunbeds as all the sunbeds along Bang Tao beach are provided by the hotels and resorts and they are exclusively for use of their guests.
You will still see the odd vendors that will try to sell their goods along the beach.
From November to April Bang Tao beach has a great selection of beach activities including, paragliding, kitesurfing, banana boat rides and jet skis.
Guests of the resorts are also able to enjoy windsurfing and Hobi cats.
Surfing is pretty good at the northern end of the beach.
Other fun activities for the kids at Bang Tao beach is horse back riding or elephant rides along the beach.
From May to October swimming at Bang Tao beach can be quiet dangerous.
Before you go swimming check to see if there is a red flag, if there is a red flag do not go in the water!

If the ocean is too dangerous you might want to check out Blue Tree Water Park.
Blue Tree Water Park
Blue Tree Phuket Water Park provides endless entertainment for all ages; the water park offers loads of activities, games and of course water-slides.
One of the most popular activities is the Slip N fly, there is also other activities including cliff jumping, rock climbing and much more.
Blue Tree Phuket is located at Cherng Talay about 15 minutes' drive from Bang Tao Beach.


This page contains affiliate links, which means if you make a purchase through a link, we may receive a very small commission at no additional cost to you, you can read our affiliate disclosure.



The 10 best resorts at Bang Tao Beach
 


Most of Bang Tao beach is occupied by the Laguna Resort Complex, which is home to some of the best resorts and villas in Phuket. The following resorts are located within the Laguna Resort Complex.



SAii Laguna
SAii Laguna was originally called the Laguna Beach Resort until recently.  The resort is a perfect spot for an unforgettable family vacation in Phuket.

Facilities at the SAii include a kids club and a water park and an unlimited choice of fun activities for the kids. Read more




Angsana Laguna Resort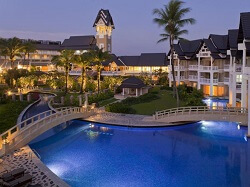 Angsana Laguna Phuket Hotel offers endless recreational facilities with a great choice of accommodation for families, with its own very important kids club.

Here you can see baby elephants stroll through the grounds of the resort. Read more on Agoda.



Dusit Thani Laguna Resort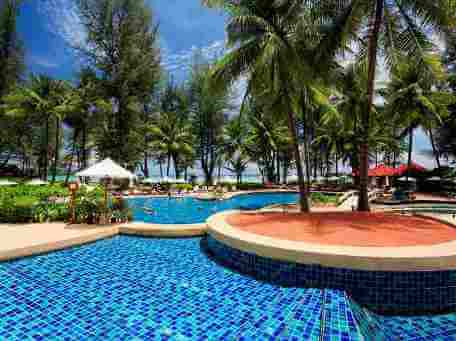 Dusit Thani Laguna Resort is an idyllic retreat with a variety of recreational facilities, including a large swimming pool which overlooking Bang Tao Beach.

Other facilities at the resort include tennis courts, a fitness and recreation centre, Kids' Club, games room, water sports, Spa and more. Read more




Best Western Allamanda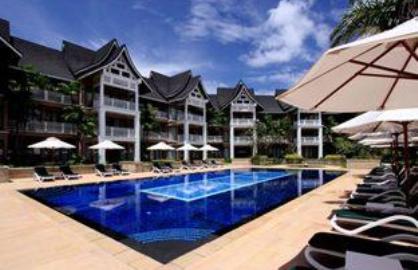 Best Western Allamanda has tastefully decorated rooms and suites that are ideal for families and golf vacations.

All rooms have a fantastic range of facilities and the suites have a kitchenette and a spacious living and dining area. Read more




Laguna Holiday Club
Laguna Holiday Club features 79 spacious suites that are available in three room types with separate living, dining and kitchen areas.

The resort overlooks the beautiful fairways of the Laguna Golf Club. Read more on Agoda.




Banyan Tree Resort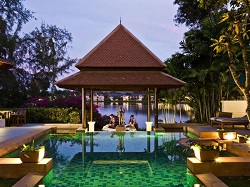 Banyan Tree Resort is the perfect spot for a romantic getaway.

Banyan Tree features a range of villas and pool villas which are ideal if you are after privacy, not to mention the spa facilities are definitely first class. Read more on Agoda.




Cassia Phuket
Cassia Phuket is a perfect holiday destination for couples or families.

The resort has a selection of one and two bedroom suites or lofts available which all feature a kitchen and living space.
The resort is located within the Laguna complex and the room rates are very affordable. Read more about it here.


Other Hotels & Resorts at Bangtao Beach

There are many other resorts and hotels available at Bang Tao Beach outside the Laguna resort complex. Below is a list of some of the resorts that are located outside the Laguna resort complex.
Or alternatively you may choose to stay in the privacy of a villa or apartment. 




Sunwing Resort & Spa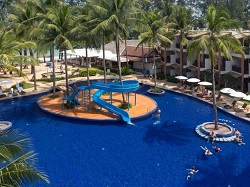 The Sunwing Resort & Spa is located on the beach at Bangtao, a popular resort for families.
Facilities include family rooms, babysitting, poolside bar, restaurant and WiFi.
Recreation facilities include a gym, Jacuzzi, Kids club, spa, pool and kids pool. Read more on Agoda.




Best Western Beach Resort & Spa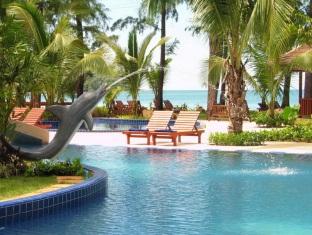 Best Western Beach Resort & Spa is also located on Bangtao Beach, here you can relax and enjoy spacious rooms with private balconies with ocean views or a deluxe bungalow on the beachfront.
A great place to stay if you're travelling with the kids with a range of 2 bedroom family rooms. Read more on Agoda.




Amora Beach Resort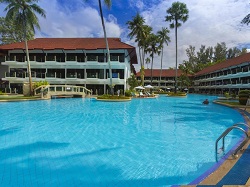 Amora Beach Resort features two large swimming pools with absolute beach frontage.
Water activities at the resort are endless, ensuring that everyone is entertained. Read more on Agoda.

There are many more villas, resorts and hotels located near Bang Tao Beach, priced to suit all budgets. Use the search box below to find your preferred accommodation.


Weddings at Bang Tao Beach
Located within the Laguna Phuket Complex , is a beautiful wedding chapel. The chapel offers 360-degree panoramic views overlooking the beautiful seaside lagoon with Bang Tao beach nearby.
The Laguna Chapel is the perfect venue for a romantic wedding in Phuket.
Restaurants at Bang Tao Beach  
Within the grounds of the Laguna Resort Complex you will find 30 restaurants and bars, with some of the best fine dining restaurants in Phuket.

Located on the road towards the entrance to the Laguna Resort Complex you will find a nice selection of restaurants.
DeDos Restaurant, is where you can try new flavor combinations that capture the best of Mediterranean, Thai, Japanese and French Cuisine. Open daily from 6.00pm to 10.30pm. They also provide a free shuttle service for guests staying in the Laguna area.
Other restaurants worth checking out around Bang Tao are:
Riverside Restaurant is located between Surin & Bang Tao, offering affordable, tasty local food.
Pooh & Friends is another great option, also located at the southern end of Bang Tao Beach.
The Bistro is a little more upmarket, it is located only a 2 minute walk from the Best Western Resort.


Nightlife At Bang Tao Beach 
Nightlife around Bang Tao was mainly within the luxury five star resorts, the resorts all have their own restaurants, clubs and bars and usually some form of entertainment.  However over recent years Beach Clubs are providing nightly entertainment.  
The Siam Supper Club is a popular destination for locals and tourists alike, here you can enjoy a drink and listen to jazz music.
There is also Pepper's Bar which is also located on Lagoon Road. Here you can enjoy a game of pool or watch some sport on the big screen in the comfort of the air-conditioned bar.


Beach Clubs at Bang Tao Beach
Phuket has a host of beach clubs and Bangtao Beach is no exception. 

Blue Siam Beach Club is located at the far southern end of Bang Tao Beach and is open daily from 11 am to midnight.
Xana Beach Club is located at Angsana Laguna Phuket Resort and is open daily from 11.00 am to 10 pm .
Catch Beach Club is one of the best beach clubs in Phuket, located at the southern end of Bang Tao Beach. Catch Beach Club is open daily from 11.00 am till late.
Further north along the beach is Dream Beach Club, which is located at Layan Beach. Dream Beach Club is open daily from 11 am to 8 pm.
Shopping at Bang Tao
The evening market on the main road in the middle of Bang Tao is definitely a place where you can try the local foods and pick up some bargains.
There is also markets heading back towards Surin Beach with fresh food and cooked foods, clothing and shoes.
We brought a lot of billabong shirts at these markets and the price was cheaper than in Patong. But it was the low season and we did buy lots of shirts, so they may have dropped the price to get the sale.
Take a walk along the beach and you will find a few shops, well not shops but shacks that sell beach wear such as dresses, sarongs and sunglasses.
You will also find beach vendors, but not as many as in Patong that sell Billabong shorts and shirts.
We did buy quiet a few pairs of billabong shorts off one of the beach vendors and they were really good quality.
Along the road outside the entrance to the Laguna Resort Complex, you will find a range of shops, that stock household items and furniture.
There is an Asian Art and furniture store that has a collection of Asian Art, such as handmade wooden Budda images and elephant statues.
You will also find an art gallery and a mini mart which is a lot cheaper than the mini mart within the Laguna Complex. If you go into Bang Tao along the Main Road you will find a 7 Eleven that is cheaper again.
Just inside the entrance to the Laguna Phuket is the Canal Village Shopping Centre, that have a range of goods from crafted antiques to designer clothing.
You will also find the Bangkok International clinic, a mini mart, laundry and dry cleaners, currency exchange and the village bakery.
What to do at Bang Tao Beach at a glance
Enjoy the beach and beach activities 
Explore the nearby Layan Beach 
Spend a day at Blue Tree Phuket Waterpark 
Play a round of mini golf at Phuket Adventure Golf 
Enjoy sun-downers at Catch Beach Club | Xana Beach Club | Dream Beach Club | Blue Siam Beach Club 
Treat yourself with a spa treatment at Banyan Tree Spa at Banyan Tree Phuket or an Angsana Spa at the Angsana Laguna Phuket.


How To Get To Bang Tao Beach
Bang Tao Beach is about a 40 minute drive north from Patong, and a taxi will cost around 500 baht or 900 baht return trip.
Try not to use the taxis that are located through the resort complex as they are expensive.
Catch the resort shuttle to the entrance of the complex and then get a taxi from outside the complex, it is cheaper.
Location Map Of Bang Tao Beach in Phuket
If you enjoyed this article and found it helpful for your travels in Phuket, let us know by following us on Facebook. 
---

Save Time: Search Phuket Travel Secrets