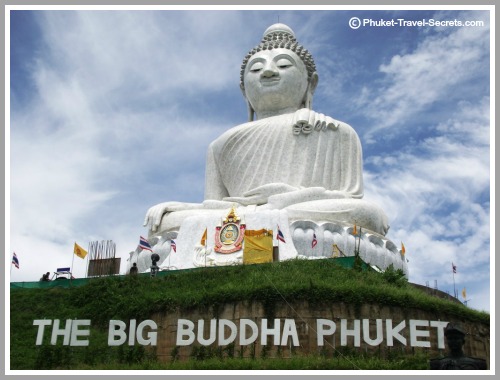 Big Buddha is one of our favorite Phuket viewpoints, located on top of Nakkerd Hill at an altitude of 350 metres.

Big Buddha's proper name is Prahputtamingmongkol Eaknakakeeree.
Not only is the Big Buddha something to be seen, the 360 degree panoramic views from up here are absolutely stunning.
You can look across the Southern Region of Phuket to Chalong Bay and the offshore Islands.
From the other side you can see Rawai and Laem Promthep. 
Big Buddha is the biggest Buddha Image in Thailand standing at 45 metres high, and 25 metres across the base.
The statue is in the "Mara Vichaya posture" meaning "Buddha conquering the demons".
The Big Buddha is layered with white marble, you can easily see the Big Buddha from most areas in southern Phuket.
If you are staying at Karon, look to the hills behind the beach and you will easily see it.
There is also a smaller brass Buddha image which stands at 12 metres high that sits along side the Big Buddha.
When visiting Big Buddha you will need to dress appropriately. There are sarongs that you can use from the site centre free of charge to cover up if you need to.
Big Buddha is fast becoming one of most popular tourist attractions in Phuket, partly because of the amazing views from the top of the hill.
To get to Big Buddha and one of the best Phuket Viewpoints you will find the road leading up the hill between Wat Chalong and Chalong Circle, just follow the red and white signs to the Big Buddha.
Opening hours are from 8.00 - 19.30.
See our video of Big Buddha below.