Phang Nga Bay
Day Trips & Eco Tours to Phang Nga Bay
Phang Nga Bay should be at the top of everyone's list of things to do and places to see when visiting Phuket.
The area has a long history and is famed for its natural beauty and is renowned for being the best in the south of Thailand.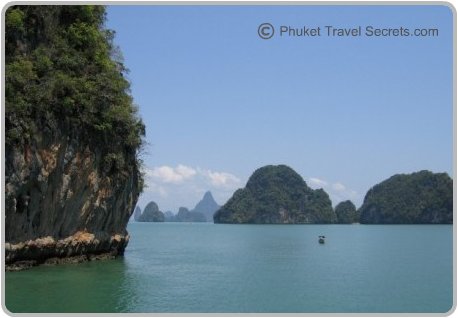 In 1981 the area was declared National Park, covering an area of 400 sq kilometres. Of which 80% of the park is covered by Sea.
Unique features of the Bay are the sheer limestone cliffs, known as carsts that rise vertically up from the sea.
Koh Phingkan and Koh Tapu
Koh Phingkan is better known as James Bond Island, named so after the 1974 movie 'The Man with the Golden Gun'.
Koh Phingkan and Koh Tapu are the most famous and well visited islands within Phang Nga Bay.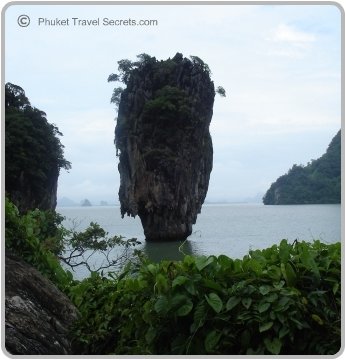 Day trips and tour boats operators from Phuket flock here daily with boat loads of tourists to see Koh Tapu.
This famous and most photographed landmark lies about 150 meters offshore from Koh Phingkan.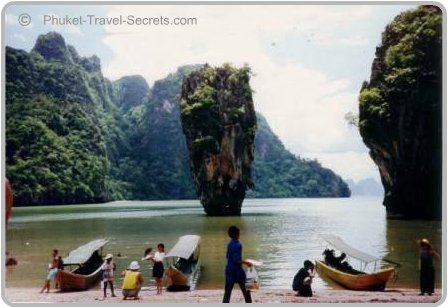 On arrival at James Bond island you will find stalls along the beach selling lots of little trinkets, such as jewelery and shells along with other souvenirs.
Take a walk in behind the stalls, and make your way up the stairs and along the path to explore not only the beautiful scenery but the incredible rock formations as well.
Koh Pannyi
Koh Pannyi is another very popular spot within the Bay and one of our favorites.
This scenic island is actually a floating sea gypsy village that is built on stilts above the water along-side a enormous limestone cliff.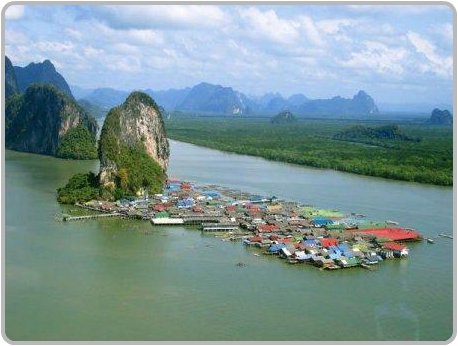 The main industry for this Muslim village was once fishing, these days they also make a living from tourism.
During the day, tour boat operators bring boat loads of day trippers to the village, where you can enjoy a fresh seafood lunch at one of the restaurants overlooking the sea or buy gifts from the many souvenir shops.
The village is located outside of the National Marine Park and is self sufficient with its own school, a health centre, and a mosque.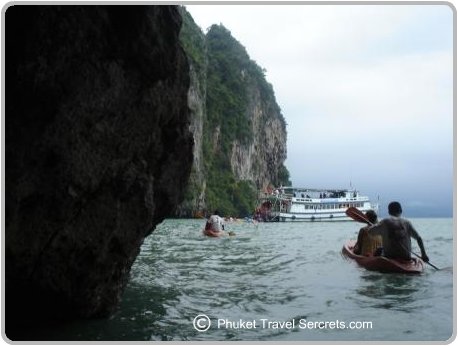 Phang Nga Bay has many other attractions, especially for those interested in outdoor adventure activities such as kayaking through the spectacular and famous caves known in Thai as "hongs".
These collapsed caved systems are open-aired, cliff lined tidal lagoons which are connected to the outside world only through stalactite-filled tunnels.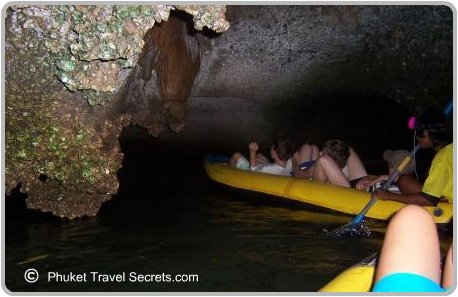 The only way to gain access into these amazing hongs is by inflatable canoes through sea caves at low tide.
Inside the hongs you will find an amazing and unique eco system which is filled with fish and bird life.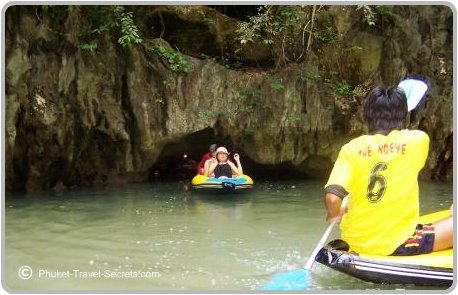 There are a few companies in Phuket that we can suggest for the best day trips to Phang Nga Bay.
John Gray Sea Canoe Tour, runs a few different tours which includes "Hong by Starlight" or "Day in the Islands".
These unique eco tourism sea canoe tours allows visitors the chance to explore the famous caves around the Bay during the day or at night.
See reviews from other travellers who have experienced this amazing day trip from Phuket on Trip Advisor.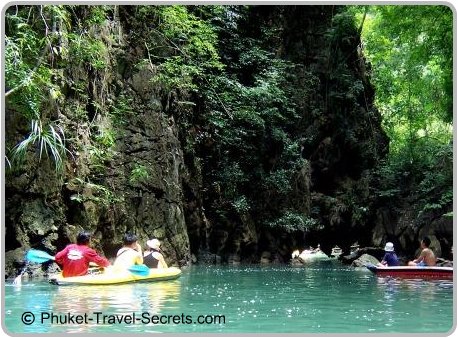 Simba Sea Trips, is a family run company that offers group tours and private charters to Phang Nga.
Guest numbers are limited to 16 people per trip, so it is advisable to book in advance.
Read reviews from other travellers that have also been on a Simba Sea Trip on Trip Advisor.
Sailing Around Phang Nga Bay

Have you ever thought of sailing around Phang Nga Bay?
This is a fantastic and relaxing way to spend a day or maybe a few on board a sail boat.
Did you know you can even charter your own yacht to explore this fantastic area?
Phuket Sail Tours has a range of tours available, including a sunset sail cruise, overnight cruise or Private Charter boats. Read More
Alternatively, you can book your very own private speed boat to explore Phang Nga Bay.
Or if you don't mind you can join other like minded travellers on a speedboat tour.
These tours usually include transfers to and from your hotel, a visit to the Pearl Farm, then onto the spectacular Hong Island and James Bond Island.
Enjoy an all inclusive lunch on Koh Pannyi before heading off for some fun activities like swimming and snorkeling at Khai Nok Island or Naka Yai Island.
As you can see we have enjoyed many repeat visits and can highly recommend a day trip to Phang Nga for all age groups, especially if you are traveling with kids.
The kids will be kept busy with fun things to do and so many interesting things to see that they will want to return to the bay again.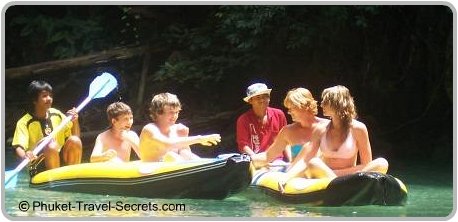 If you're in search of unique wedding ideas, the Bay is an ideal setting, with its stunning scenery as the perfect backdrop for some truly memorable photo shots of you and your loved one. Read More
Accommodation Around Phang Nga Bay
Most of the islands in Phang Nga are uninhabited, the majority of people usually stay in Phuket and take day trips or tours to the bay.
If you are wanting to stay in the Bay there are some budget bungalows at Koh Pannyi or a good range of resorts on the Koh Yao Islands.
See what the weather is like live from the webcam at Kah Yao.

How To Get To Phang Nga Bay
The easiest way to visit Phang Nga is to book one of the day trip we mentioned above.
Or, you may like to hire your own boat and do your own thing.
You can rent boats at one of the piers in Phuket such as Ao Por.
Or alternatively you can hire a car and drive into Phang Nga Province, once there you can rent a longtail boat and driver for a personalized tour of the bay.
This way you can choose where you want to go and avoid the crowds.
A day trip to Phang Nga is a breathtaking and a scenic experience, that shouldn't be missed when visiting Phuket.
Location Map Of Phang Nga Bay, Phuket, Thailand


Some links on this page are affiliate links, which means that if you purchase a product or service through them we may receive a very small commission at no extra cost to you.
Because our integrity and your satisfaction are very important to us, we only recommend products or services that we have purchased and or used ourselves, which we believe would benefit you. To learn more please see our affiliate disclosure.

---
---
If you enjoyed this article and found it helpful for your travels in Phuket, let us know by following us on Facebook. 
---