Surin Beach Phuket
By Paula Parker


What to do and where to stay at Surin Beach
Surin Beach Phuket is a popular tourist destination.

Surin beach is located just 20 kilometres from the Phuket International airport, nestled between Laem Singh and Pansea Beaches on the West Coast of Phuket.

With crystal clear water and beautiful white sand which stretches for almost a kilometre, mixed with the spectacular views are what makes Surin Beach a popular travel destination.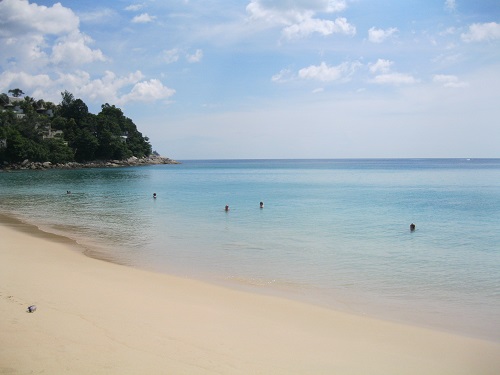 The area around Surin is also one of the best beaches in Thailand not only for tourists but for many local Thai's and expats as well.
Surin is also known as "millionaires row", attracting the rich and famous that choose to stay in the top-end celebrity resorts at Pansea Beach at the northern end of Surin Beach.
The ultra exclusive Amanpuri Resort and the Surin Phuket hotel both share this exclusive private cove.
As well as these luxury resorts, you will find a range of million dollar homes that sit on top of the hills with stunning ocean views.
Although Surin Beach Phuket is very popular with tourists, it is still not as busy as Patong.
Prior to the beach clean up imposed by the military in 2014, Surin Beach Phuket was once lined with a fantastic selection of restaurants, cafes and beach clubs.
These days you won't find any commercial premises on the sand at Surin.

Surin Beach Activities

Snorkelling is good at Surin Beach from October through to April around both the headlands.
If your visiting Surin Beach in the high season, you may still see the occasional speedboat and jet-ski's and yes there are some sunbeds. 

Whilst all the restaurants and beach clubs that once lined the beach are long gone, you can still purchase food and drinks throughout the high season from the food vendors or have a massage.. 

Swimming at Surin Beach can be quiet dangerous during the monsoon season; from May through to October, so if you see a red flag along the beach, it means that the beach is closed.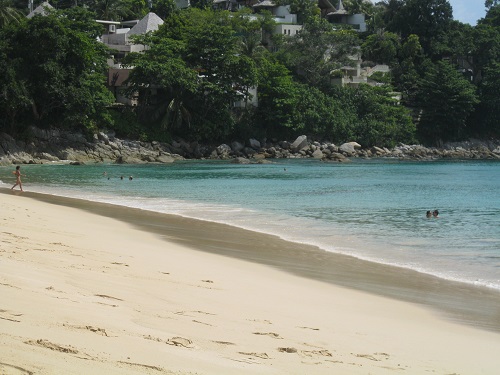 Surfing at Surin Beach Phuket can be good from May to October, at either the southern or northern headlands, it is best to avoid the middle as it is rocky.
You can rent surfboards and boggie boards from the surf shop which is located on the main road.

Hotels & Resorts at Surin Beach 



Some of the best luxury accommodation can be found around Surin Beach Phuket.
There is a couple of beachfront hotels, and many villas that are set back from the beach or in the hills overlooking the beach.
There is a good selection of accommodation choices ranging from small guesthouses to mid-range hotels and boutique resorts to high-end luxury resorts and private Villas.
Below is a list of a couple of our favorite resorts at Surin Beach.


This page contains affiliate links, which means if you make a purchase through a link, we may receive a very small commission at no additional cost to you, you can read our affiliate disclosure.




Twinpalms Hotel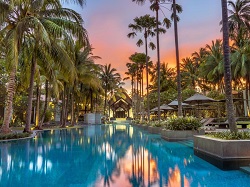 Twinpalms Hotel is an ideal spot for both family vacations or a romantic getaway.
The hotel features an array of rooms and suites from deluxe rooms to pool suites and Penthouses.
There is a range of hotel facilities including spa treatments, restaurants and swimming pools. Read more





Chava Resort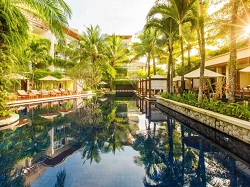 Chava Resort is a five star luxury resort featuring a range of two, three and four bedroom apartments.
Each of the apartments are fitted with all the comforts of home including a fully equipped kitchen, complimentary WIFI and undercover parking.
The Chava has a host of excellent facilities including sunbathing platforms, swimming pool, pool bar and Restaurant. Read more


Surin Beach Resort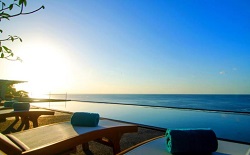 Surin Beach Resort is a 4 star beach resort, featuring spacious guest rooms offering breathtaking views over Surin Beach.
The resort features an on site kids play room and a roof top swimming pool.
Complimentary Wi-Fi is available in all public areas, plus high-speed access in each guest room. Read more
Click on "search" below to see the full list of Surin Beach Hotels
The area around Surin Beach is one of the prime locations in Phuket to invest into the real estate market.
Many new villas are being constructed with excellent views overlooking the beach.
For those who are looking to buy or rent an apartment, Surin Beach Phuket is a great location and much more laid back then the other resort areas in Phuket.


Nightlife at Surin
Beach
Prior to the clean up, Surin was fast becoming the new nightlife hotspot in Phuket, with trendy beach clubs and restaurants.
These days it is much quieter.

Catch Beach Club was definitely one of the best beach clubs to visit at Surin. The Club was located on the beachfront across the road from the Twinpalms Resort, but was removed during the beach clean up.
The good news is that Catch is back, but not at Surin. Catch Beach Club has now reopened at Bangtao Beach.  
Restaurants near Surin Beach 
Whilst all the eateries are now gone from the beachfront there is still an ample supply of restaurants near Surin Beach to choose from.
Below are a few suggestions:

Taste Bar & Grill is located at Cherngtalay about 4 kilometres from Surin Beach. The restaurant is open from 12 noon to Midnight.
Oriental Spoon Grill & Bar can be found within the grounds of the Twinpalms Resort,  the restaurant is open for breakfast & Dinner.
Bocconcino Italian Bakery is located opposite Surin Plaza. Open from 9.00am till 10.00pm daily, except for Sunday as they close at 6.00pm.


Attractions At Surin
Located just behind the beach is a park that was once home to Phuket's first golf club. A nine hole course which was built during the reign of King Prajadhipok Rama VII.
Today the parkland can be enjoyed by locals and visitors alike. You will also find a temple which is called Wat Surin.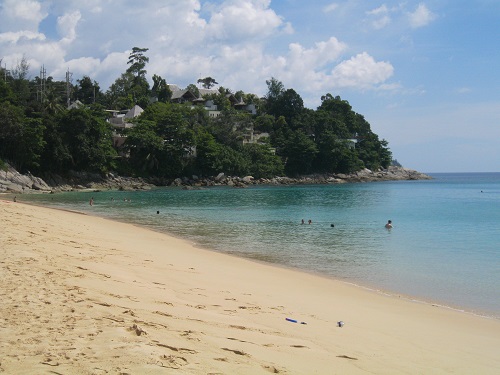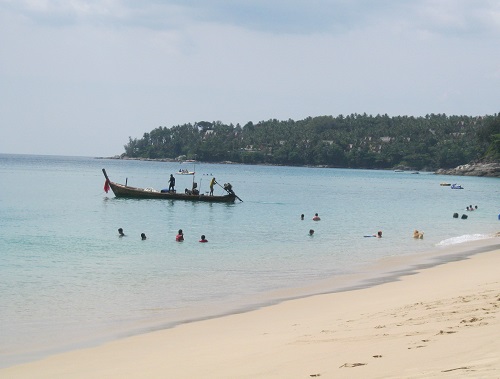 Shopping at Surin
Surin is not known as a great shopping destination but there are some interesting places to stop in at if you're in the area.
The Plaza Surin is one of the more upmarket shopping centres on Phuket. Located on the main road between Bang Tao and Kamala Beaches, the Plaza Surin is set on two levels with a dozen or so stores including fashion, art, décor and dining.
There is also some nice shops with good quality items near the beach itself. Along the beach Road at Surin near the entrance to the Chedi there are some good shops such as tailors, galleries, souvenir and handicraft shops as well as women's clothing boutiques.
The boutiques at Chedi and the TwinPalms Resort are also worth a visit.
More affordable shopping is at the local weekend markets in villages near Surin Beach Phuket.
How to get to Surin Beach
From Patong, Surin beach is about a 25 minute drive north along the coast road.

You will pass Laem Singh Beach, when you reach Surin you will see a three way intersection take the left hand turn to the beach.
Location Map of Surin Beach Phuket



If you enjoyed this article and found it helpful for your travels in Phuket, let us know by following us on Facebook. 

Save Time: Search Phuket Travel Secrets