Ko Phi Phi Don Travel Guide
By Paula Parker


Phi Phi Don Vacation Ideas & Travel Tips
Ko Phi Phi Don is one of the most popular holiday destinations in Thailand, an island paradise for water sport and adventure lovers.
Ko Phi Phi Don is the largest island in the group of islands and the only island with permanent housing for locals and accommodation for the many visitors, that arrive all year round.
The island has two separate mountain ranges which are connected by a narrow strip of land in the middle.
It is this narrow strip of land that is the heart of the main island, with the spectacular twin bays of Tonsai Bay on the south and Loh Dalum Bay on the north.
Tonsai Bay
Tonsai Bay is surrounded by magnificent limestone cliffs and beaches, and is bustling with lots of boating activity.
All the ferries dock at the busy Tonsai Pier bringing with them loads of tourists.
The area around Tonsai pier is hectic with a constant flow of new arrivals, day trippers and of course the touts trying to sell accommodation.
The area to the left of the pier is Tonsai West, this area is less developed and not as busy as Tonsai Village.  It is in this area you will find Phi Phi hospital and some nice looking bungalow style accommodation and a couple of larger hotels and resorts.
In front of the hospital and further around towards the limestone cliffs is one of the better beaches in Tonsai Bay.


West Tonsai
East Tonsai
Tonsai East is located between Tonsai Village and Long Beach.   
The area around Tonsai East and Tonsai West can be busy and noisy but quieter in comparison to staying in Tonsai Village and Loh Dalum Bay on Ko Phi Phi Don.
Tonsai Village
Tonsai Village is the main hub on the island, and is located on the narrow strip of land in between Tonsai Bay and Loh Dalum Bay.
You won't find any roads, only footpaths, with bicycles being the only mode of transport.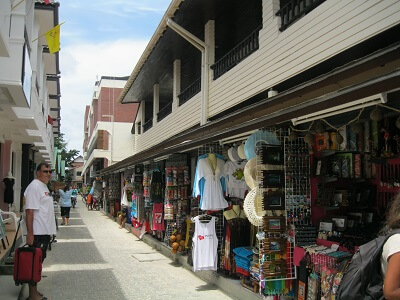 Tonsai Village is fairly compact, there are lots of little alley ways to get yourself lost in for the first day or so until you get your bearings.
In the alley ways there is a treasure trove of shopping, with loads of book stores and coffee shops, pharmacies, dive shops, jewelry stores, boutiques, restaurants, bars, tattoo studios and budget accommodation.

Exchanging money at Tonsai Village is not a problem as there is several banks and ATM's.


Nightlife on Ko Phi Phi Don
The nightlife on Ko Phi Phi Don is diverse and colourful.  The laid back nightlife is totally different to the nightlife in Phuket, with a nice mix of reggae bars, fire dancing shows, Muay Thai boxing matches, beach parties and the occasional buckets of booze.
A nice change from the girly bars of Phuket.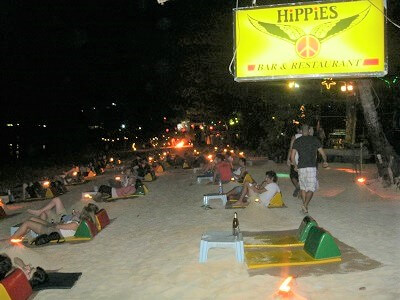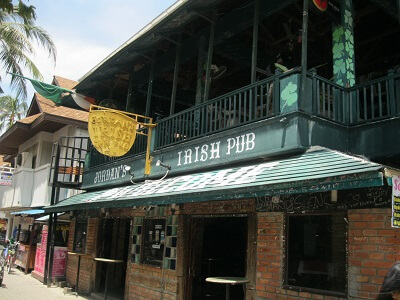 Loh Dalum Bay
Loh Dalum Bay is spectacular and well protected as it is almost entirely enclosed. Loh Dalum Bay is located on the opposite side of the island from where the ferries and boats arrive.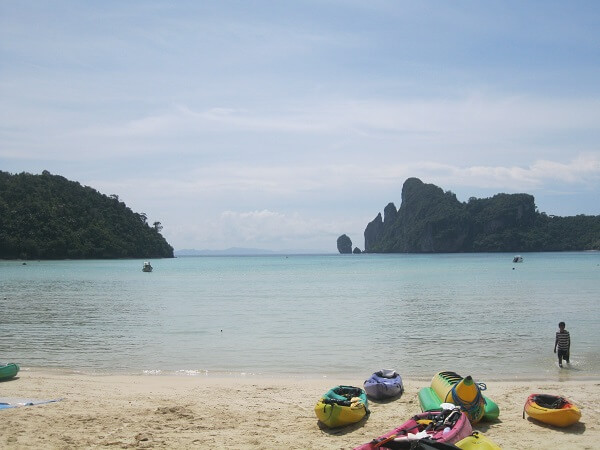 Whether you are visiting Ko Phi Phi on a day trip or staying overnight make sure you take a short walk through Tonsai village to this picturesque Bay to get a taste of the laid back beach atmosphere and natural beauty Ko Phi Phi Don has to offer.

On this side of the island, the water is shallow, however on high tide there is a range of motorised water sports available such as banana boat rides, para sailing and water skiing.
Loh Dalum Bay is also an ideal spot for kayaking, make your way just around the left hand side of the bay to Monkey Beach, a small sandy beach which is only accessible by boat.
While Tonsai Bay and Loh Dalum Bay might be the most popular beaches on Ko Phi Phi Don they are by no means the only or for that matter the best beaches.
Koh Phi Phi Don has some spectacular beaches that are worth exploring such as Lohlanah Bay on the west coast and Tong Cape at the northern most point of the island as well as all the beaches along the east coast.
One of the best ways to see the spectacular scenery of the island, is to take a walk to the Pee Pee Viewpoint, from here the views overlooking the twin bays are simply breathtaking.
For people looking for romantic getaways or tranquil beach side resorts away from the crowds, there are more upmarket resorts on the north east coast of Ko Phi Phi Don, these resort are only accessible by boat.
The island serves as a great base to stay while exploring Phi Phi Ley and the other islands in the group.
There are loads of activities to enjoy and attractions to see on and around the island such as snorkeling, scuba diving, exploring the island by foot or rock climbing just to name a few.
Ko Phi Phi Don Travel Tips
Drink lots of water throughout the day, especially if you plan to drink buckets at night.

If you are staying on the island ensure that you pack your insect repellent or buy some from the pharmacy.
Wear sunscreen when you go exploring the islands on a long-tail boat.

Phi Phi Hospital
After having a minor accident going to Maya Bay, I can personally recommend the services provided by the Doctor and nursing staff at Phi Phi hospital.
If you do need to visit the hospital ensure that you take some cash with you.
At the time there was a hospital service fee of 300 baht, a Doctors fee of 500 baht and if you need a dressing, it was a further 200 baht plus any medication costs.
Emergency Telephone Numbers
Tourist Police 0846 286 428
Police Station 0864 702 602
Phi Phi Hospital 075 660 719
We hope you enjoy your stay on Ko Phi Phi Don as much as we do.
Phi Phi Mini Travel Guide

If you enjoyed this article and found it helpful for your travels in Phuket, let us know by following us on Facebook. 
---

Save Time: Search Phuket Travel Secrets