Phi Phi Activities & Travel Tips
There are loads of Phi Phi activities for visitors to enjoy.

Naturally most of the activities on the Island in some form or another will involve you getting wet.
Below is a list of the best activities on offer at Ko Phi Phi.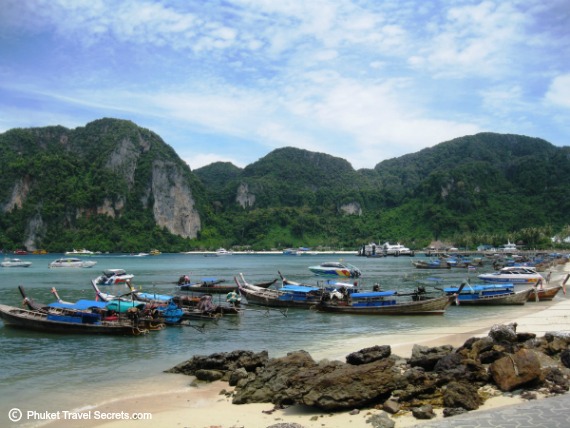 Phi Phi Activities &

Fun Things To Do





1. Scuba Diving at Phi Phi
As the islands are surrounded by water one of the most popular activities is scuba diving.
As you will see there is definitely no shortage of dive spots or for that matter dive school companies to choose from, but we found the service and staff at P P Aquanauts Scuba to be excellent.
Some dive sites are more suitable for beginners, while others are for more advanced divers.


2. Snorkeling at Phi Phi
For non divers, snorkeling is a must and can be done directly off some of the beaches such as Monkey Beach or Long Beach.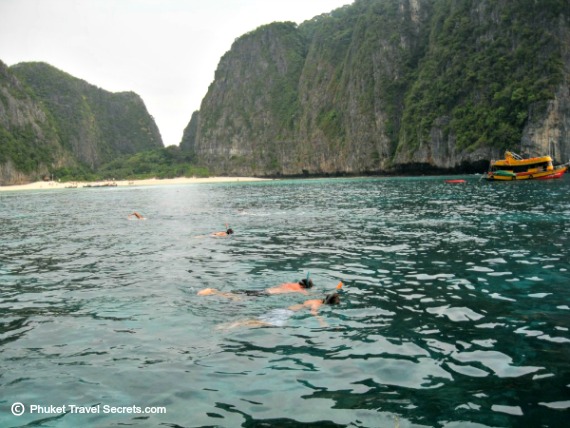 Or alternatively you can rent a kayak and paddle yourself from beach to beach or hire a long-tail boat and go exploring the other beaches and islands in the group.
The price of the longtail boats usually includes the use of snorkelling gear, just check with the boat driver before you leave to ensure that it does.
Other Phi Phi activities include shark watching tours for those who want to go swimming with sharks.
These tours are actually snorkeling tours where you learn how to snorkel and swim with black tip reef sharks.
While most people make use of the long-tail boats to explore the islands there is also a few tracks among the hills for those who want to go hiking.


3. Pee Pee Viewpoint
One of our favorite activities is taking the invigorating walk to the Pee Pee Viewpoint to take in the views at sunset.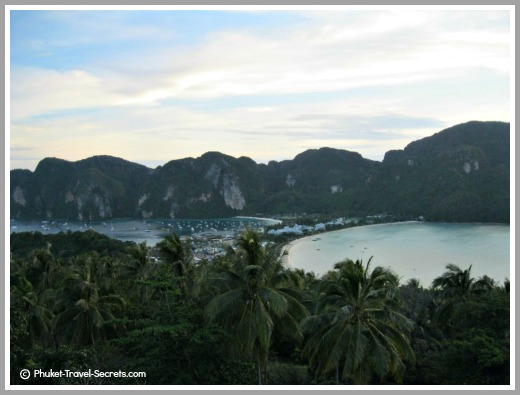 4. Rock Climbing at Phi Phi
There is also adrenaline pumping activities that you may want to try.
The sheer limestone walls on the islands are perfect for rock climbing.
Spidermonkey Climbing offers routes available for beginners as well as advanced climbers.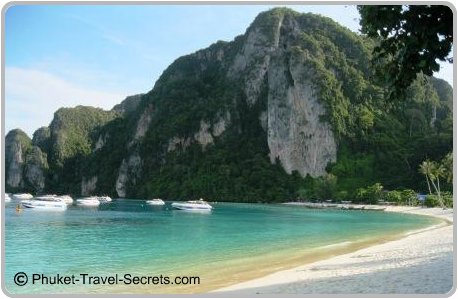 5. Cliff Jumping at Phi Phi
For those who are in search of extreme activities you could also try cliff jumping.
This is not one of my favorite activities and it's definitely not for the faint hearted.
However, the limestone cliffs of the Islands provide the ultimate spot for cliff jumping.
6. Captain Bobs Sailing Booze Cruise
There are lots of activities and things to do on and around the islands including a fascinating trip aboard a sailing booze cruise.
This tour includes a visit to the following locations: 
Monkey Beach
Maya Bay
Loh Samah Bay
Pi Leh Bay
Viking Cave
As well as a range of activities including, cliff jumping, fishing, snorkeling and kayaking and after all that you get to sit back, relax and watch the sunset.
Oh, I nearly forgot to mention that this tour includes an unlimited supply of beer. 
The list of Phi Phi activities and attractions is endless, you can do as much or as little as you like…
And if all the activities we have mentioned above seem like to much, you might prefer to take time out and join in a Yoga class at Keiritas Yoga to unwind and relax.
Or pamper yourself with a relaxing Thai massage, aromatherapy, a facial or reflexology instead!
If you enjoyed this article and found it helpful for your travels in Phuket, let us know by following us on Facebook. 
---