Phi Phi Ley Travel Guide
By Paula Parker


Travel Tips and Vacation Ideas
The picturesque Phi Phi Ley, lies to the south of Koh Phi Phi Don.
With its unspoilt natural beauty, towering limestone cliffs, sandy beaches, rocky coves and famous caves.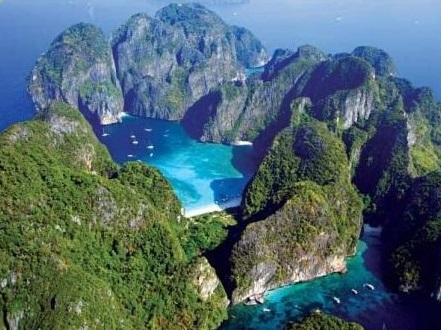 Phi Phi Ley has several stunning bays, the most popular and well known tourist attraction is Maya Bay.
For those that aren't familiar with the area, Maya Bay was made famous from the movie "The Beach" starring Leonardo Di Caprio.

Maya Bay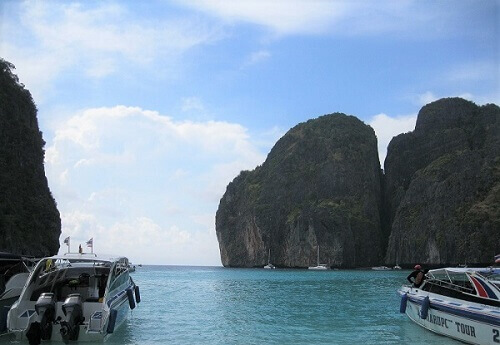 There are several beaches within Maya Bay, most of these beaches are small and are only visible on low tide.
Maya Bay is protected on three sides by soaring limestone cliffs and the beach is absolutely breathtaking. Read more about Maya Bay here.

Loh Samah Bay is now the only entry point to Maya Bay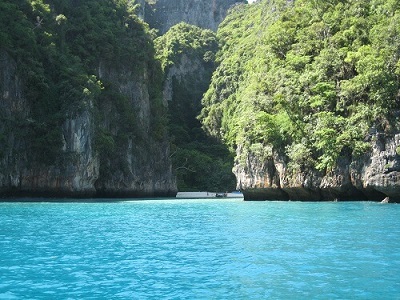 On the south east of Phi Phi Ley is Loh Samah Bay, this bay was an excellent spot for snorkeling and a great spot for night diving.
Loh Samah Bay is now the only entry point for visitors wanting to see Maya Bay. 
Entry is now via a floating pontoon and an elevated walkway.
National Park entry fees are currently 400 Baht per adult and 200 Baht for kids. 


Entering Maya Bay via Loh Samah Bay before the floating pontoon

Below is a picture of the ladder and a maze of ropes you had to negotiate if entering Maya Bay from Loh Samah Bay before construction of the new floating pontoon and walkway..
This picture was taken on high tide, on low tide the rocks are visible and there was also a hole in the rock wall in which you can climb through.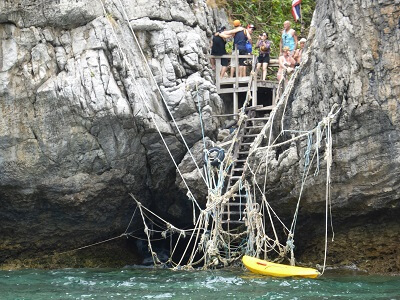 On low tide and during the high season when the seas are calm this was probably quiet safe, however on high tide during low season it was a dangerous entry point.

On a trip a few years back, we were told that we couldn't get to Maya Bay as the seas were too rough and that we would have to go in the back way via Loh Samah Bay.
At first the water in the bay seemed relatively calm, but that changed quickly. As we swam closer to the rock wall where the ladder is positioned the calmness of the bay changed into what felt like being in a washing machine.
It was at this point we realised what the maze of ropes hanging from the rock walls were used for.
The ropes are used to hang on for dear life or alternatively get washed into the rock wall.
Consequently from trying to hold on to the ropes while trying to pull myself closer to the ladder my legs were swept from under me and repeatedly pounded on rocks that were hidden under the surface of the water.
We were not the only people caught unaware of the dangers of entering Maya Bay through Loh Samah Bay that day.
The long-tail boat drivers continued to ferry more unaware passengers, even though the water currents around the area of the ladder hadn't improved..
Below is a short video clip showing what it is like.



Watch to see what it was like entering Phi Phi Ley from Loh Samah Bay before construction of the floating pontoon






Pileh Bay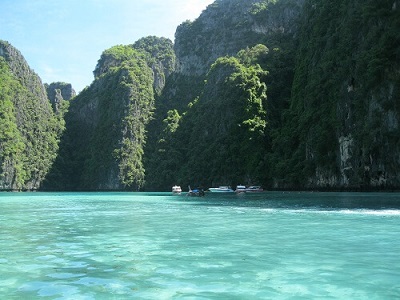 Pileh Bay is located on the opposite side of Maya Bay; the scenery from within this small lagoon like bay is absolutely breathtaking.
The 100 meter cliffs inside the bay rise vertically from the clear, shallow waters.
Entry into Pileh Bay is from the eastern side of Phi Phi Ley. 


Viking Cave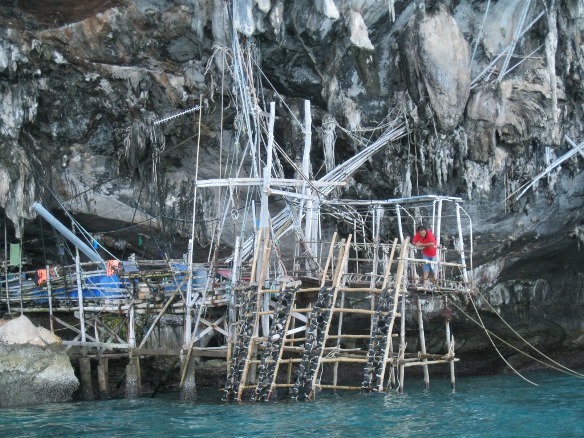 Just north of Piley Bay on the east coast of the island is the famous Viking Cave.
The Viking Cave is also known as Tham Phraya Nak, so called because of pre-historic drawings of viking ships on the walls.
The cave is home to swifts, these birds make their nests out of their saliva, the nests are later sold to make birds nest soup, a Chinese delicacy. Read More 




Phi Phi Ley Travel Tips
On the northwest side of the island is another bay called Palong Bay, this area is an ideal spot for scuba diving.
During the day Phi Phi Ley is a constant buzz of activity with day trippers from Phuket and Krabi coming and going and long-tail boats ferrying people from Phi Phi Don.
Unlike the larger island, Phi Phi Ley is uninhabited; however there are basic facilities available including toilets, a snack bar and park ranger amenities.
Getting to Phi Phi Ley
Getting to Phi Phi Ley is easy!
If you are staying on Phi Phi Don you can rent a long-tail boat for 1,000 baht for three hours or 2,000 baht for a full day.
Speed boats are also available with prices starting from around 3,500 baht.
There is lots of day trips and tours available from both Phuket or Krabi, or you could contact our friends at Easy Day Thailand who will be able to assist you with a range of different tour options.

Phi Phi Mini Travel Guide 


If you enjoyed this article and found it helpful for your travels in Phuket, let us know by following us on Facebook. 

Save Time: Search Phuket Travel Secrets