Ao Nang Beach Guide

Guide to the Best Beaches in Krabi
Ao Nang Beach is one of the most popular holiday destinations in Krabi.
The beach is perfect for family vacations, romantic getaways or as a base for those who want to explore all of Krabi's interesting and beautiful attractions both onshore and offshore.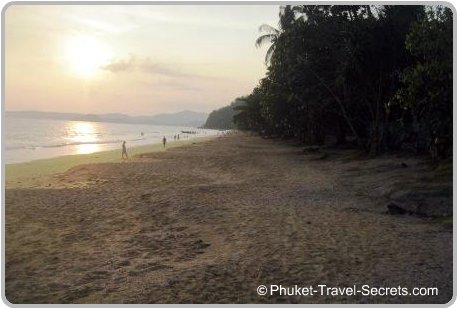 Ao Nang is the gateway to Krabi's beautiful offshore islands and some of the best beaches including the beautiful Railay and Phra Nang Beaches.
The beach at Ao Nang and the surrounding area boasts the most developed facilities in Krabi.
Including a fantastic range of Resorts, affordable and cheap hotels that are priced to suit all budgets.
Just click search in the box below to find your holiday resort in Ao Nang.

The beach is charming with golden sand; the southern end is simply stunning, framed by soaring limestone cliffs.
The best area for swimming and kayaking at Ao Nang is towards the southern end of the beach.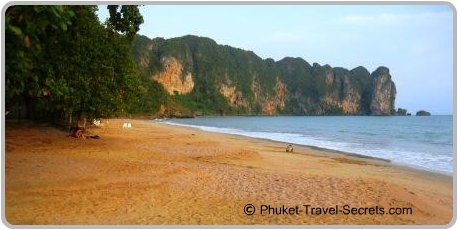 Facilities At Ao Nang

As Ao Nang is the main tourist centre in Krabi, most facilities are centred on the beachfront road, where you will find numerous tailor shops, mini marts, 7 eleven's, pharmacies, souvenirs and cheap clothing shops.
There is also a large range of travel agents, money changers and ATM machines.

Places to Eat at Ao Nang

Ao Nang boasts a good selection of Thai food as well as a wide range of international cuisine, such as Swedish, Italian, French, Swiss, Irish, German and Indian.




One of our favourite spots for a tasty meal is in 'Seafood Street'.


This street is an arcade of seafood restaurants, idyllically situated overlooking the beach at the northern end of Ao Nang Beach.



Try the last restaurant in this arcade, great meals and an ideal spot to sit back, relax and watch the sunset over the water.

There is also a selection of fast food chains along the main road at Ao Nang including McDonald's, Burger King and Subway.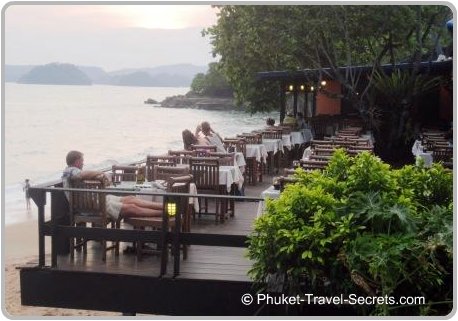 Ao Nang Nightlife

Krabi is more a family orientated holiday destination and even though Ao Nang has plenty of bars, the nightlife here is rather subdued in comparison to that of Phuket.
The beach road at Ao Nang is the main party spot in Krabi, with a selection of bars and restaurants.

| | |
| --- | --- |
| Center Point | Some of the best nightlife can be found at Center Point located in a lane way off the main beach road or follow the road up the hill, where you will find a selection of bars and restaurants. |
| | |
| --- | --- |
| The Fisherman Bar | For a laid back night out, head to the far southern end of the beach where you will find a great restaurant and bar called the Last Fisherman Bar. |
The Last Fisherman Bar is not hard to find, just follow the beach road right to the end then follow the path through an old brick gateway that leads further down the beach.
It is so peaceful here as there are no taxis, motorbikes or loud music another great place to watch the sunset on Ao Nang Beach.

Mr Cocks Street Bar






For a cheap and entertaining night out pull up a stool on the side walk and enjoy an icy cold beer at Mr Cocks Street Bar. 

Updated - April 2016

Mr Cock is no longer at Ao Nang.

| | |
| --- | --- |
| Massage At Ao Nang  | If you are looking for a good massage, at the southern end of Ao Nang Beach you will come across 17 open air massage huts, the hardest part is choosing which one to go to. |
Ao Nang is located only 20km from Krabi Town and only 25km from Krabi International Airport.
You can read more about Ao Nang on TripAdvisor.

Location Map Of Ao Nang Beach, Krabi Thailand
Some links on this page are affiliate links, which means that if you purchase a product or service through them we may receive a very small commission at no extra cost to you.
Because our integrity and your satisfaction are very important to us, we only recommend products or services that we have purchased and or used ourselves, which we believe would benefit you. To learn more please see our affiliate disclosure.

---
---
If you enjoyed this article and found it helpful for your travels in Phuket, let us know by following us on Facebook. 
---