Water Parks in Phuket

Discover the best water parks in Phuket where you and the kids can splash and slide for hours on end. If you love going to water parks than you won't be disappointed with the choice of aquatic playgrounds available in Phuket.

There are three sizable water parks in Phuket, which are great for all ages, boasting slides, wave pools, lazy rivers, flow riders, splash zones and two smaller water parks that provide an aquatic playground for the little kids.



Top Rated Water Parks in Phuket



1. Andamanda Phuket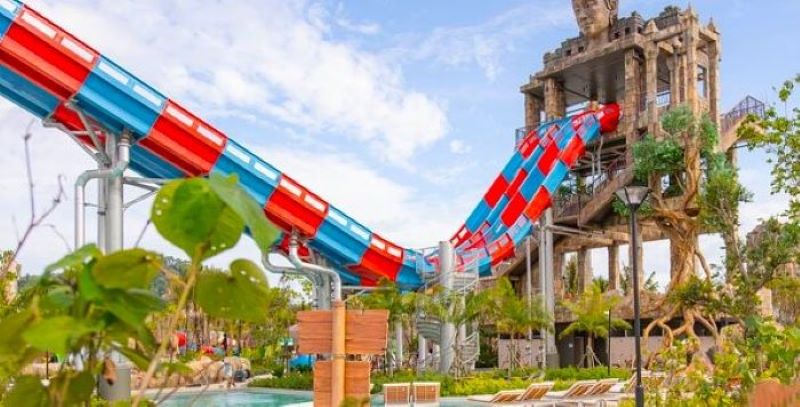 If you're looking for the largest and the newest waterpark in Phuket, the Andamanda Water park is where you need to go. This new and exciting park was opened in 2022.

Within the park there is fun activities for both kids and adults alike, the water park has 5 themed zones, consisting of The Great Andaman Bay, Coral World, Naga Jungle, Emerald Forest, and the Pearl Palace which are all based on Thai Mythologies.
The main entrance to the Andamanda water park is the Pearl Palace.

The main drawcard to this water park in Phuket apart from the many water slides is the massive Andaman Bay wave pool that can generate waves up to 3 metres high with a long sandy beach and a replica of Koh Tapu (James Bond Island) in the background.
Within this area of the water park there is a selection of exhilarating water slides including the Rock'N'Raft slide, Eagle Flyer tube ride, Curving Cavern tube ride, Sliding Rocks, and Moken's Boat. If you just want to chill out and relax there is also a swim up bar.
Coral World is the best area within this water park if you're traveling with little kids. Within this area you will find a host of fun activities to keep the kids occupied for hours on end.  The Atoll Adventures is a cool three-storey structure comprising of 8 fun water slides or head over to the Rolling Ripples and float down the lazy river, a great way for the whole family to cool down from the heat.
Both Little Reef and Wonder Waterland offer plenty to do, with swings and slip and slides designed just for the little ones.

The Naga Jungle has the most thrilling slides within the waterpark, including the racing nagas a six-lane water slide, the Cobra Curls, the Garuda Soars speed slide, the Dragons Drop.
Within the Emerald Forest is the Flight of the Kinnarees water slide and the Angel's Slides, a flow rider, the Emerald pool, and a swim up bar.
Andamanda Water Park Information
Andamanda Water Park is located in Kathu, a 30-minute drive from Patong Beach.

Entry Fee

Adult 1,500 Baht
Kids 1,000 Baht


---

2. Blue Tree Phuket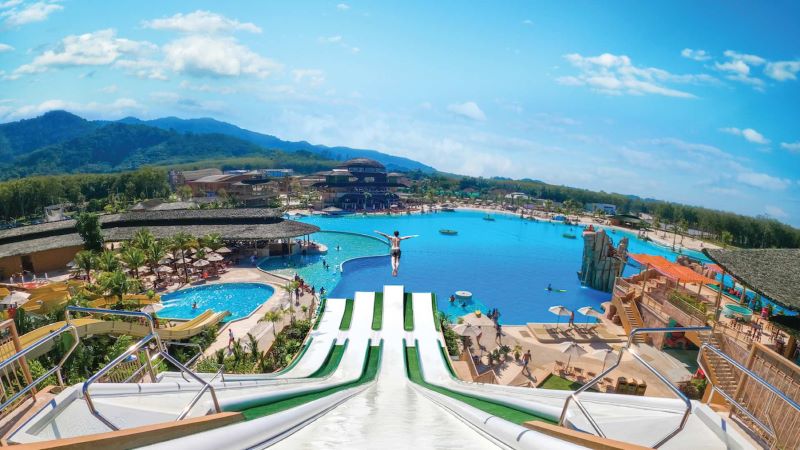 Blue Tree Phuket is much more than just a water park it a complete family entertainment destination which opened in 2019. This fun filled water park in Phuket is located at Cherntalay about a 30-minute drive from Patong Beach or a 10-minute drive from Bangtao Beach.
If you're looking for a water park in Phuket that offers lots of fun activities both in the water and out of the water you need to spend a day at Blue Tree Phuket.
The main highlight at Blue Tree Phuket water park is the massive man-made lagoon, the lagoon is a great place to just chill out and relax but it is also where you will find a large range of exhilarating activities. Such as Slip N Fly, water slides that are suitable and fun for both adults and kids, paddle boarding, zipline, rock climbing, cliff jumping and lots more.
Blue Tree Phuket is suitable for kids of all ages, for the little ones there is a family fun zone water park with kids slides and fountains.
There are numerous restaurants at the Blue Tree Phuket, including the Tree House Restaurant & Beach Club which overlooks the lagoon, the Bay Grill, Made in Italy, and the Sunset View Tapas Bar. Food trucks can be found throughout the Lifestyle village.
The Lifestyle village is a perfect destination for those looking for a bit of retail therapy after spending a fun filled day at the water park.
Blue Tree Phuket Water Park Information
Blue Tree Phuket is open daily from 10.00am to 8.00pm.
Blue Tree Phuket Water Park Entry Fees

Kids 6 years and below - free entry into the water park
Child – 7 years to 12 years – 600 Thai Baht
Adult – above 13 Years of age – 1,100 Thai Baht
Adult 60 years and above – Free entry into the water park
---

3. Splash Jungle Water Park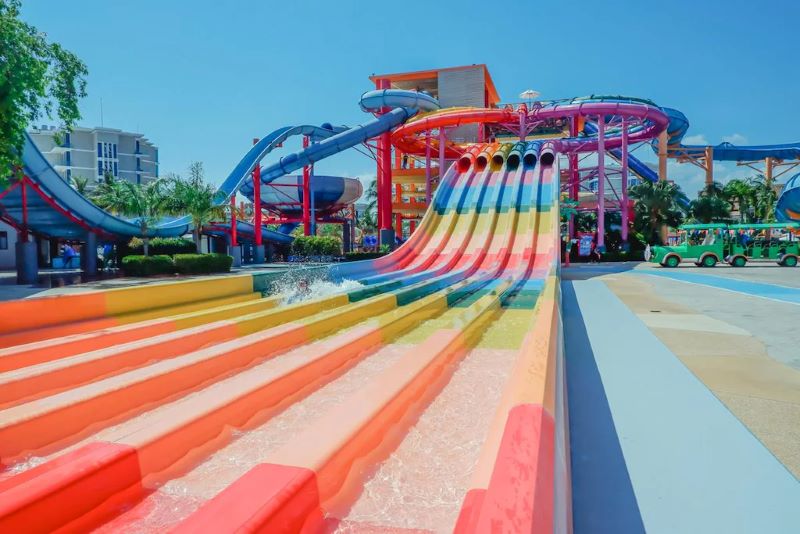 Splash Jungle water park is another fun filled entertainment area filled with slides and rides suitable for all ages and a great family friendly attraction in Phuket.
Splash Jungle Water Park is not the newest or the biggest water park in Phuket. The water park opened in early 2010, however it still features a good selection of water slides.
A long-time favourite ride is the lazy river where you can float around the park, relax, and take in the surroundings.
There is also a Wave Pool, family raft rides, and specifically for the kids, an aqua play pool and Aqua Park. For those that like something a little more adventurous there is the Super Bowl, and Boomerango ride as well as the Whizzard, a six-lane water slide with multiple twist and turns and other waterslides that vary in different height and speeds.
There is plenty of food options within the water park, including the Splash swim up Bar, Coconut Café, street corner food and the Island Bar with fantastic views of all the rides.

Splash Jungle water park is located at Mai Khao Beach, 15 minutes from Phuket International Airport.
Splash Jungle Water Park Information
Splash Jungle is open Thursday through to Monday from 10.00am to 5.45pm

Splash Jungle Water Park Prices
The following prices are a Special offer which are valid until 31st October 2023

Free entry for Kids under 4 years of age
Kids 5 to 11 years of age 650 Thai Baht
Adult 12 years and above 850 Thai Baht
Free Entry for adults 60 years and above
---

4. Rawai Park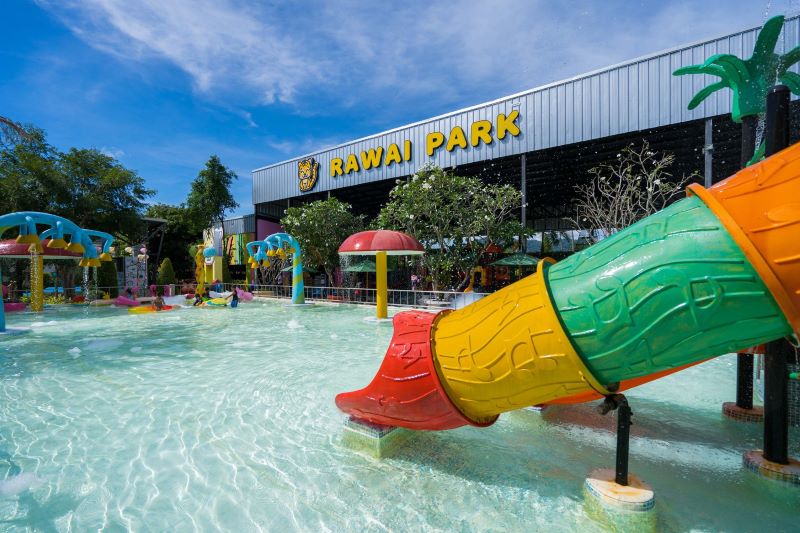 Rawai Park is a fun day out if you are in Phuket with kids aged 1 to 10 years of age. There is plenty of fun activities for the kids to enjoy including an outdoor water park, with slides and fountains. If it's raining there is a large undercover outdoor play area next to the pool, and a large airconditioned indoor kids club which is absolutely loaded with an assortment of toys.
Whilst there is staff to supervise, parental supervision is still required throughout the park.
Parents can sit back and enjoy a coffee from Love Rawai Café and there is ample seating and sunbeds so you can relax whilst watching the kids.

Rawai Park is a great spot to take the kids if your staying around Nai Harn, Ao Sane or Rawai.

Rawai Park Information
Rawai Park is open daily from 10:00am - 6:00pm.

Rawai Park Entry Fee

Monday to Friday - Kids 250 Baht and Adults 100 Baht
Weekend and Public holidays – Kids 350 Baht and Adults 200 Baht
Free entry for kids under 70 cm in height.


---

5. Aqua Kingdom Water Park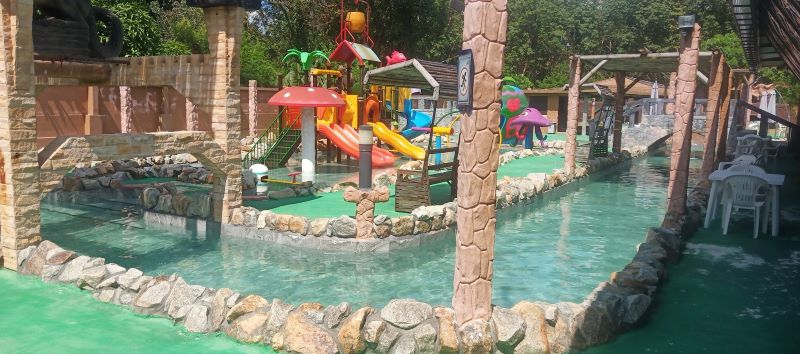 Aqua Kingdom Water Park is located in Cherntalay just near the Blue Tree Phuket, and is a safe and fun water park specifically for the younger kids. This water park is small in comparison to the other water parks in Phuket but is perfect for families travelling on a budget.
Aqua Kingdom water park have foam parties every Saturday and Sunday, and they also offer swimming lessons for kids aged 4 years and older.
The Aqua Kingdom Water park is attached to Kindee Bistro which caters to both kids and adults alike with a good selection of both Thai and Western dishes. The water park also caters well for Birthday parties.
Unlike some of the larger water parks in Phuket, Aqua Kingdom waterpark request that you bring your own towels.
Aqua Kingdom Water Park Information
Aqua Kingdom Water Park is open daily from 10.00am till midnight.

 Entry Fee
Adult - 100 Baht
Kids – 100 Baht
If you enjoyed this article and found it helpful for your travels in Phuket, let us know by following us on Facebook. 

Save Time: Search Phuket Travel Secrets