5 Star Resorts in Phuket
This page contains affiliate links, which means if you make a purchase through a link, we may receive a very small commission at no additional cost to you, you can read our affiliate disclosure.


Luxury 5 Star Resorts in Phuket near Patong Beach
New 5 star resorts are popping up across the island of Phuket at a rapid rate.
Over the years we have seen many new luxury resorts and hotels being built, allowing visitors in search of a luxury vacation a wealth of choice.
Below is a small selection of upmarket luxury 5 star resorts that we feel are worth checking out for your next vacation in Phuket.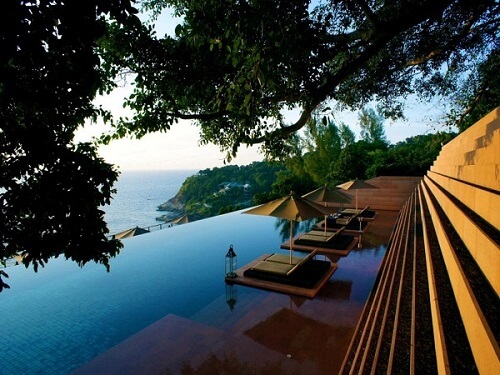 The resorts that we have listed on this page are perfect for people who are looking for an upmarket five star hotel or resort either in Patong or on one of the beaches within close proximity to Patong Beach.

5 Star Resorts at Kamala Beach

Kamala is located just 6km north of Patong Beach and is much quieter and more relaxing then Patong.
Ayara Kamala Resort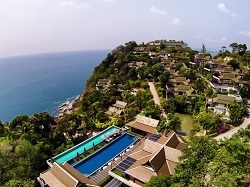 Ayara Kamala Resort has a wonderful relaxed atmosphere in a brilliant location. The resort is situated on a hillside with wonderful views and is the perfect spot for a romantic getaway in Phuket. Read more on Agoda.


Paresa Resort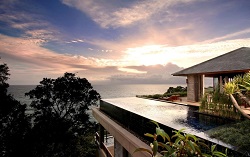 Paresa Resort has stunning ocean views from its cliff-side setting. This luxury 5 star pool villa and suite resort has a range of different villas and suites available for all occasions; catering for families, large groups and is a perfect for a romantic honeymoon. Read more on Agoda.


Bell Pool Villa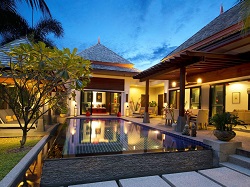 The Bell Pool Villa consists of one, two, three and four bedroom pool villas.
All villas at the resort come complete with your own personal butler who is available 24 hours a day.
This five star pool villa resort is perfect for large groups, family vacations or a romantic getaway. The resort also provides a shuttle service to and from Kamala Beach a couple of times per day. Read more on Agoda.

5 Star Resorts at Patong Beach

Patong is the busiest and most popular travel destination in Phuket. There is an abundance of places to stay in Patong from 5 star resorts through to low cost budget hotels.
Millennium Resort
Millennium Resort is conveniently located in Patong, with excellent facilities.
This resort is a great choice if you want to be close to the shopping and nightlife of Patong. Read more


La Flora Resort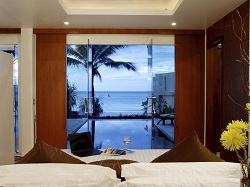 La Flora Resort is a boutique resort, located directly on the sand at Patong Beach.
There is a selection of rooms and pool villas with private balconies, two lap pools and a range of facilities. Read more on Agoda.


Le Meridien Beach Resort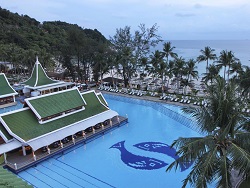 Le Meridien Phuket Beach Resort is located just to the south of Patong, this resort has its own exclusive beach with trained lifeguards and is close to all the attractions of Patong.
The Resort boasts two swimming pools, mini golf, restaurants and bars, a great resort for a family holiday away from the crowds. Read More on Agoda.
5 Star Resorts at Karon Beach

Karon is located just 6km south of Patong Beach, whilst Karon is also a popular spot it is so much more laid back and relaxing then staying in Patong and has a good selection of 5 star resorts to choose from.

Movenpick Resort & Spa
Movenpick Resort & Spa is the perfect spot to relax; its location directly across the road from the beach is ideal for those traveling with kids.
The kids will also make good use of the children's entertainment centre. Read more on Agoda.


Hilton Phuket Arcadia Resort
Hilton Phuket Arcadia Resort & Spa is one of many family friendly five star resorts in Phuket.
The resort is in a fantastic location directly across the road from Karon Beach and provides a range of facilities including a selection of swimming pools, tennis courts, squash courts and a fantastic choice of activities. Read more on Agoda.
Check out the five star resorts north of Patong and the 5 star resorts & hotels around the southern beaches of Phuket.
If you enjoyed this article and found it helpful for your travels in Phuket, let us know by following us on Facebook. 
---