Laem Singh Beach Warning Sign
by Keith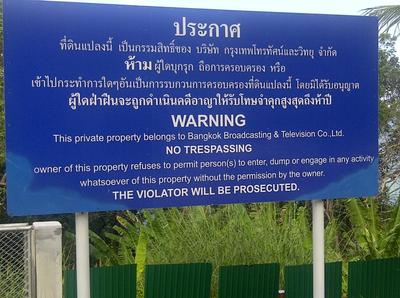 Private property signs can be seen around Laem Singh Beach
I am not sure of the future status of Laem Singh Beach !!!!

The warning sign in the above picture is located all around the beach area.

The beach is still open, at least for now…..


Keith






Hi Keith

Thank you for the update about Laem Singh Beach.

We had heard early in the year that there was a land title issue involving access to Laem Singh, but we hadn't heard anything about it of late.

We certainly hope that the powers that be don't block public access to this beautiful beach.

One would assume if they do eventually block access to the beach from the road that longtail boats will still be able to ferry people to Laem Singh from other nearby beaches?

If public access to the beach is blocked, I would imagine that there would be many unhappy beach lovers that return to this beach year after year.

Not to mention the unhappy restaurant owners and the other workers who make a living from working on the beach.

For readers who are not familiar with Laem Singh, this small somewhat hidden beach is located between Kamala and Surin on the west coast of Phuket.

The beach is very popular, especially during the high season; with hundreds of tourists visiting on a daily basis.

The beach is situated at the bottom of a step hill surrounded with tropical vegetation and to reach the beach you need to walk down the hill.

There are stairs which makes the trek easier but they are quiet steep especially on the way back up.

If you would like to learn more about this hidden beach in Phuket you can read more here.

Thank you once again Keith for your update on the future status of Laem Sing Beach.

We look forward to seeing if anyone else has any other information they would like to share about the future of the beach.

If you do have information you would like to add, just below you will see where you can add a comment or read other comments that have been added by others.




Join in and write your own page! It's easy to do. How? Simply click here to return to Q & A.
If you enjoyed this article and found it helpful for your travels in Phuket, let us know by following us on Facebook. 

Save Time: Search Phuket Travel Secrets