Getting Around Krabi
By Paula Parker


Travel Tips for Getting around Krabi
Getting around Krabi is very easy as there are many different options to choose from.
There are taxi's, tuk tuks and songthaews, motorcycles or scooters and longtail boats to transport you to the offshore islands and to the  beaches in Krabi that are only accessible by boat.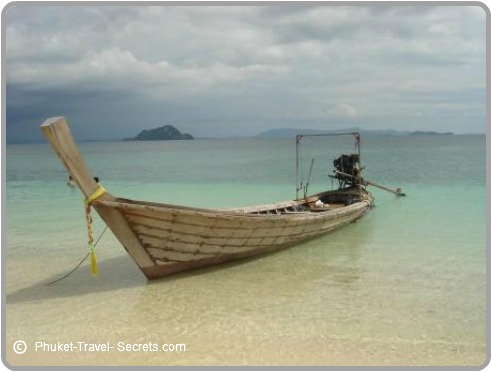 Transfers from Krabi Airport
If you would like your transfer from Krabi International Airport to be organised before you arrive, you can contact our friends at Easy Day Thailand.

Prices for airport transfers are comparable to that of a taxi but much more convenient as you can book your transfer before leaving home, taking the stress of finding transport once you arrive.
Depending on where you are staying in Krabi and your arrival time, prices for a one way transfer start from just 600 Baht.

Getting around Krabi
The best way to see Krabi province and the mainland attractions at your own pace is to rent a car or a motorbike.
Navigating your way around Krabi is easy as long as you have a good map which you can pick up at the airport on arrival or at your hotel.



Motorbikes
Motorbikes are by far the cheapest means of transport for getting around Krabi Province and they can be easily hired along the beach road in Ao Nang for around 150 - 200 baht per day.
If you do decide to hire a motorcycle be aware that insurance is not included.

 

If you plan to hire a motorbike ensure that you have taken out the appropriate travel insurance to ride a motorbike, hold a motorbike license in your own country as well as an international drivers license and always wear a helmet.
Riding a motorbike is only recommended for getting around Krabi if you have had previous experience riding a motorbike.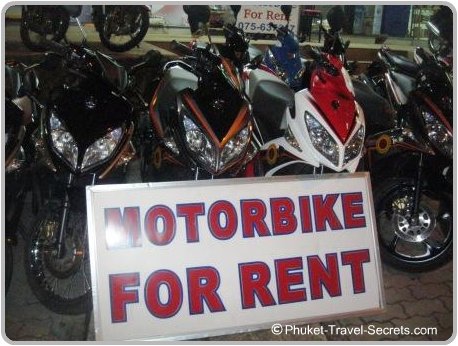 Rental Cars

Rental cars are a safer option for getting around Krabi and are readily available from the airport with companies such as Budget and Avis or you can arrange a rental car through most hotels in Krabi.
If you plan to rent a car ensure that you have taken out the appropriate travel insurance and hold an international drivers license.
If driving a car or motorcycle in Krabi isn't for you, you might consider hiring a car with a driver for getting around Krabi.
This is a more enjoyable way of getting around Krabi with the drivers local knowledge to show you things you probably would possibly miss if you were on your own.
The prices are usually written on a sign near the car, however some drivers during the low season maybe happy to bargain with you.

Getting Around Krabi Town

Motor bike taxi's are also a great way of getting around Krabi Town and will take you to most places for a pre-arranged price, just make sure that you negotiate the price with the driver before you get on the bike.
For trips into Krabi Town and from Krabi Town back to the main beach areas you can catch a songthaew.

Songthaews in Krabi are really just converted pickup trucks that have a roof and two rows of seats in the back, these local buses provide a convenient and cheap means of transport.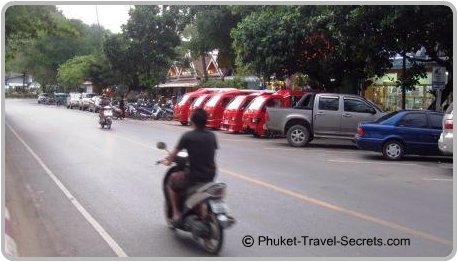 Along the beachfront at Ao Nang, there are tuk-tuks and motorbike sidecar taxis everywhere, which will take you to most places in the local area for around 50 baht per person.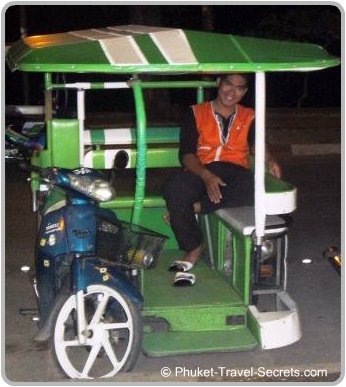 Taxi from Krabi Airport

If you haven't pre-arranged your transport from the airport to your hotel you can also catch a taxi from Krabi airport.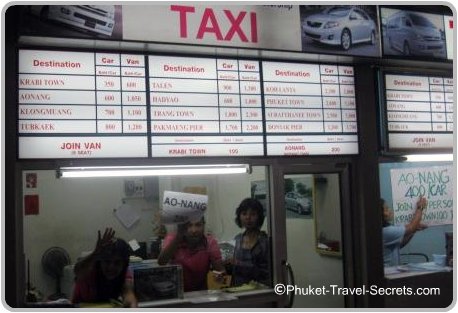 You will need to arrange this at the taxi counter inside the arrivals hall. A taxi from Krabi airport to Ao Nang is around 600 baht one way.

Getting around Krabi Islands

To get to Krabi's offshore islands, Tonsai Beach, Railay Beach and Pra Nang Beach you will need to catch a longtail boat.
There are taxi boats that run from Ao Nang to these beaches frequently throughout the day.
The only downside is that you will have to wait until they have enough passengers which is usually a minimum of 8 people before they will depart.
Tickets for the longtail taxi boats can be purchased at the ticket office on the beach road in Ao Nang.
The prices for these boat trips are fixed prices and displayed on a board outside the ticket office.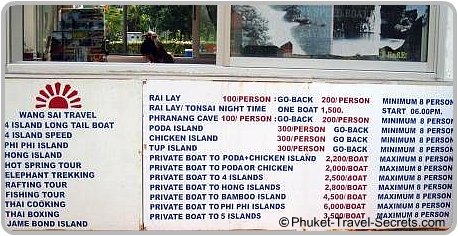 From Ao Nang to Tonsai - West Railay or Phra Nang Beach we paid 100 baht per person or 200 baht return.
Low Season Travel Tips

During the low season, longtail boats may not be able to leave directly from Ao Nang Beach and you may be transported by motorbike taxi to the Nopparatthara Pier for your departure.
This is okay, but just be aware on return you will need to make your own way back to Ao Nang from the Pier by taxi, which is not included in the cost.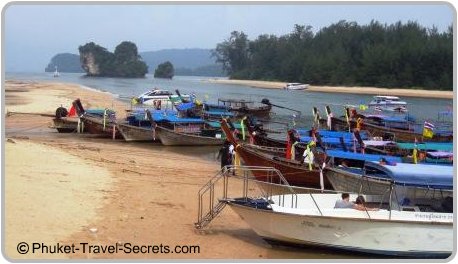 Krabi Offshore Islands Daytrips | Island Hopping Tips



To see the offshore islands you can also charter your own private longtail boat and driver for the day.

You can book this service through the same ticket office on the beach road at Ao Nang.
Or alternatively we found that if you can talk to a boat driver away from the ticket office you maybe able to negotiate a better deal directly with the driver then the fixed prices at the ticket office.
Longtail boats can also be found at Nopparat Thara beach; Chao Fah Pier in Krabi Town; Klong Muang Beach and Railay Beach.
Getting to Krabi

Not only is there ample transport for getting around Krabi.
There are also many ways in which you can get to Krabi from nearby Provinces, below are a couple of suggestions on how to get to Krabi.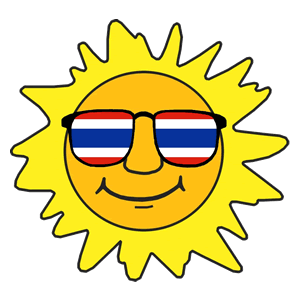 Contact our friends Diego & Ingo from Easy Day Thailand to assist you with Transfers, Ferries and Tours in and around Krabi. 



Ferry Service to and from Krabi
There is a regular ferry service which connects Phuket, Ko Phi Phi and Krabi as well as ferries to other destinations such as Koh Lanta.

Krabi ferry tickets can be purchased from our friends at Easy Day Thailand.


Krabi Ferry Timetable & Prices
Departing from Nopparattara Pier Ao Nang
---
Destination

Ko Phi Phi

Adult 450 | Child 350


Departure 





9.30am


Arrival





11.30am

---
Phuket

Adult 700 | Child 500





3.00pm





5.15pm

---
Koh Lanta

Adult 550 | Child 400





10.30am





12.45pm

Departing from Railay Beach Pier

---
Destination

Ko Phi Phi

Adult 450 | Child 350


Departure 





9.45am


Arrival





11.30am

---
Phuket

Adult 700 | Child 500





3.15pm





5.15pm

---
Koh Lanta

Adult 550 | Child 400





10.45am





12.45pm

Please Note:
Transfers from your Krabi hotel to the pier are not included in the above fare, however if you would like a transfer this can be organised for you.
Planes to Krabi

There are direct flights to Krabi from Bangkok, Ko Samui, Kuala Lumpur and Singapore.

Alternatively you maybe able to pick up cheap flights to Phuket then make your way to Krabi by road or catch a ferry to Ko Phi Phi where you can enjoy a day or two before heading on to Krabi.
Buses to and from Krabi

From Krabi Bus Terminal there are bus services to nearby provinces such as Phuket, Phang-nga, Trang, Hat Yai and Surat Thani and Bangkok.
All Buses arrive and depart in Krabi Town, the Government buses go to the bus terminal in Talaat Kao and private tour buses arrive at the Andaman Wave Master station in the centre of town.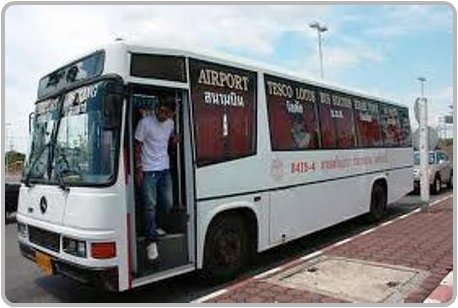 For onward travel to the beach areas in Krabi it is easy to catch a local bus or taxi from either of these stops.
---
---
If you enjoyed this article and found it helpful for your travels in Phuket, let us know by following us on Facebook. 

Save Time: Search Phuket Travel Secrets