Yanui Beach

By Paula Parker


Yanui Beach is one of the more secluded beaches in Phuket..
I would have to say that even though Yanui has become more popular over recent years it is still one of the more relaxing beaches to visit.
It has a nice tranquil atmosphere and is an ideal spot where you can spend the day relaxing on the beach, while enjoying the magnificent scenery and exploring the surrounding areas.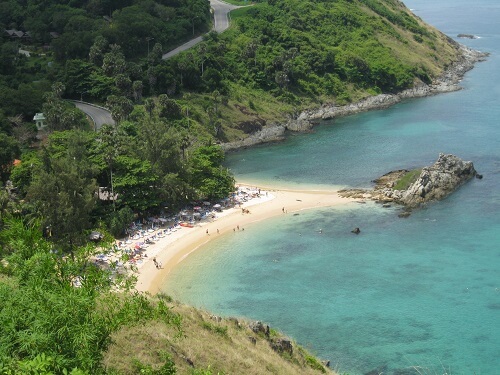 During one of our most recent trips to Phuket we spent day after day at all our favorite beaches and also lots of time exploring the secluded and quieter beaches around Phuket.
Yanui beach is situated in a small bay just to the south of Nai Harn Beach near Promthep Cape on the southern tip of Phuket.
The beach itself is rather small and is split in two by a large rock formation that extends out into the water.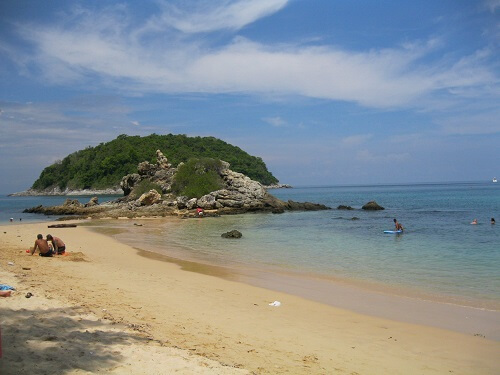 The main area of the beach is okay for swimming or just chilling out in the shallow water, towards the southern end of the beach it is a little rocky underfoot.
The best places to go snorkeling at Yanui beach is around the northern headland or just near the rock extension on the southern end of the beach.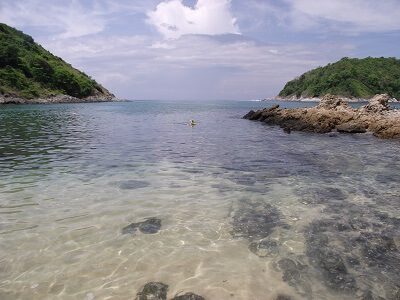 Located just offshore from Yanui you will see a small Island, this island is called Koh Kaeo Noi.

We found Yanui to be a top spot for families, especially those with small kids; here the kids can play in the sand and explore the sea life in the clear shallow waters close to shore.
Throughout the high season, Yanui Beach can get busy with sun seekers who stay at nearby hotels and resorts in Rawai, but nowhere as busy as some of the well-known beaches in Phuket.

To find a list of hotels and resorts located close to Yanui Beach click search in the box below. 




Activities at Yanui Beach
If lazing on the beach with a good book and soaking up the sunshine and scenery is not for you.
You could hire a kayak to go exploring the waters around Promthep Cape, Koh Kaeo Noi & Nai Harn, or grab your fins and mask and go snorkeling in the calm clear waters.
If you haven't got your own snorkeling gear, you can hire masks and fins from the beach vendors.
Unfortunately for sun lovers like me, sunbeds are no longer available for hire but on our last visit they were still renting umbrellas and beach mats. 
There are no beach activities like jet-skis or para sailing at Yanui.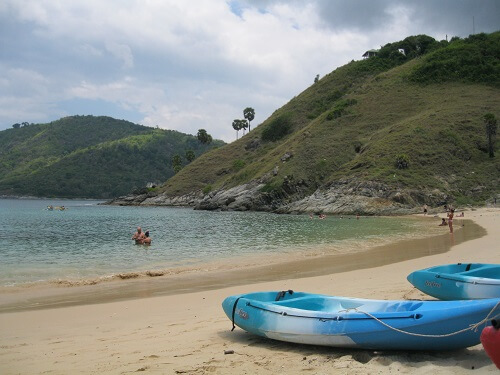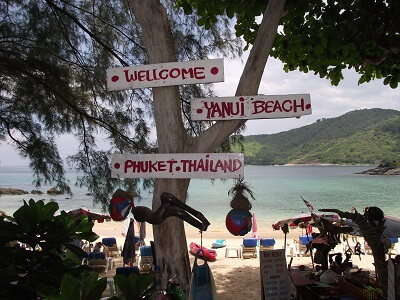 Facilities at Yanui Beach
There are a couple of good restaurants located just across the road, a dive shop and a couple of bungalows called Yanui Bungalow and Nai Ya Bungalow.
When visiting Yanui Beach take the time to explore some of the other close by beaches, such as Nai Harn and Ao Sane and take in some of the fantastic views from the nearby viewpoints of Promthep Cape and the Windmill Lookout.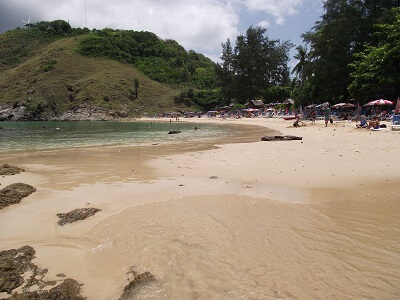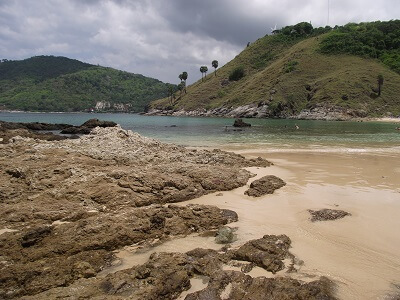 How to get to Yanui Beach

From Nai Harn Beach head South to Promthep Cape, Yanui is located about half way to Promthep Cape.
Map of Yanui Beach
If you enjoyed this article and found it helpful for your travels in Phuket, let us know by following us on Facebook. 

Save Time: Search Phuket Travel Secrets