Xtrem Adventure Park
by Tim in Phuket
(Phuket, Thailand)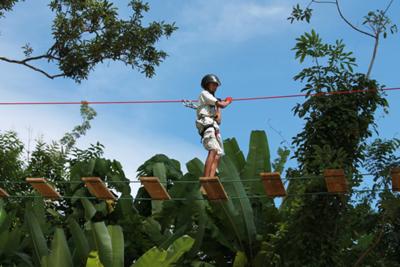 Careful...


We had wanted to visit Xtrem Adventures...

Xtrem Adventures is a new project in Phuket and is similar to a number of adventure Parks in the West.

With a maze of ziplines, ropes, ladders, more ropes, nets and big trees.

We arrived early at 9:30 am (a good idea - we were first)and were swiftly moved along with Pea Nut donning the gear and then traversing the 'easy' part...

Jemma crossed the rope bridges with smiles and after crossing the bridges Jemma found the kid's area - which was more fun...

We will certainly visit Xtrem Adventure again!

To read more about our day at Phuket Xtreme Adventure visit TiminPhuket.blogspot.com
Join in and write your own page! It's easy to do. How? Simply click here to return to Your Phuket Travel Stories.
If you enjoyed this article and found it helpful for your travels in Phuket, let us know by following us on Facebook. 
---

Save Time: Search Phuket Travel Secrets