Why North Carolina?
by Maria
(NC)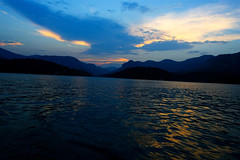 Why North Carolina?

Let's talk about why vacationing in North Carolina is not just a good idea,but a great one.

It's Sheer Beauty - You simply can't go wrong if you are looking for a beautiful place to vacation.


No matter where you go, the coast, the mountains, or anywhere in between, you will be blown away by just how pretty it is here.


The people - Aren't you so tired of mean, nasty people?

Well, I don't think I have ever met anyone in North Carolina that wasn't anything but polite, and helpful.

The nicest people in the world live in North Carolina.

Our Beaches - Talk about the best beaches anywhere!

Yes, we have them right here.

All along the coast you can stop and find our sandy white beaches that will offer a relaxing, fun-filled day!

Sporting events - We have never been more proud of our athletes.

We are passionate about our college basketball, we love NASCAR and all the fun that goes with it, and the four letter word that rolls off our lips...G-O-L-F.

Traveling N.C - The drive up to the mountains or to the Outer Banks, our many wonderful parks, the waterfalls, river riding, our many attractions.


So much to do!

Find out more by visiting www.north-carolina-travel-guide.com
Join in and write your own page! It's easy to do. How? Simply click here to return to Your Travel Stories.
If you enjoyed this article and found it helpful for your travels in Phuket, let us know by following us on Facebook. 
---

Save Time: Search Phuket Travel Secrets