Helicopter Tours in Phuket
By Paula Parker


Skydance Helicopter and Charter Tours
Helicopter Tours in Phuket and to the surrounding regions of Southern Thailand is an experience not to missed.
Imagine an unforgettable luxury helicopter ride over Phuket, where you have the chance to explore the beautiful beaches and bays along the west coast of Phuket.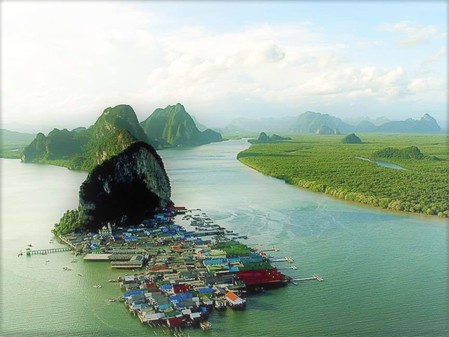 Skydance Tours offers this and more, they offer a range of helicopter adventure tours, including helicopter rides over the picturesque Phang Nga Bay.
These helicopter tours allow passengers the choice of joint tours. Which means each passenger only pays per seat and are joined by other passengers on-board the helicopter, making it much more affordable for those on a budget.



Joint Helicopter Tours in Phuket



Below is a list of the joint helicopter tours that you can experience while holidaying in Phuket:
1. Phuket Scenic Helicopter Tours  
The Phuket scenic helicopter tour gives you a bird's eye view of Phuket's major tourist attractions including Big Buddha and Wat Chalong like never before.

The flight path will take you over some of the most stunning beaches in Phuket including the northern beaches of Nai Thon, Layan and Bang Tao Beaches before flying down the coast over Surin, Kamala, Kalim and Patong Beaches.

From Patong you will follow the coastline to view the beautiful Karon, Kata and Kata Noi beaches. You will also view Promthep Cape the southernmost tip of Phuket before flying around the majestical Big Buddha and Wat Chalong.

Flying time for the helicopter tour is 30 minutes.


2. Phang Nga Helicopter Tour
The flight path for this fantastic tour will take you from Phuket directly across to Phang Nga Bay.

Some of the impressive sights you will fly over throughout this amazing helicopter tour include Koh Panyi, the Muslim Floating Village as well as Koh Tapu more commonly known as James Bond Island.

This tour provides you a bird's eye view of natural beauty and limestone carsts in Phang Nga Bay, an experience you will never forget.

Flying time for the Phang Nga Helicopter Tour is 30 minutes.


3. Phuket Island & Phang Nga Bay combined Tour
For the ultimate helicopter tour in Phuket you can combine the two tours listed above.

Flight time for the combined Phuket Island and Phang Nga tour is 60 minutes.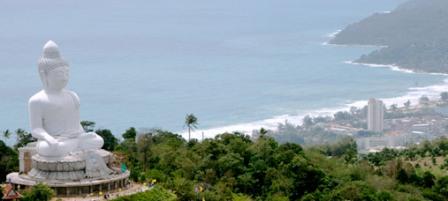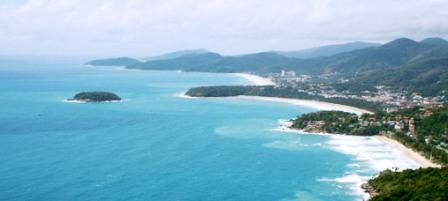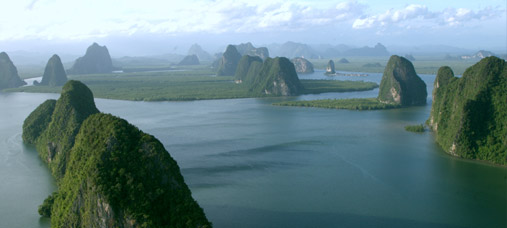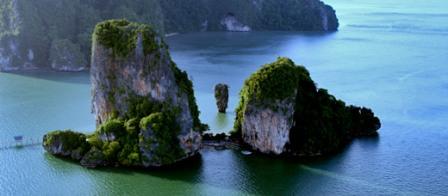 If you are looking for a more intimate experience, romantic occasion, or if you are traveling with a group of friends you can also charter your very own private helicopter.

Below is a list of the destinations you can go to by chartering your own helicopter.


Private Charter Sightseeing Destinations
Private chartered tours are also available for exploring other top destinations within the region, including:
Koh Phi Phi & Phuket
Koh Phi Phi | Phang Nga | Phuket
Phang Nga Bay
Phang Nga Bay & Phuket
Phang Nga Bay | Krabi | Koh Phi Phi | Phuket
Magical Bay of Phuket




Sightseeing Flights which include a landing

If you would like to take a helicopter tour from Phuket and would like to combined it with a couple of hours exploring some of the best destinations offshore from Phuket.

This could be just what you're looking for, however you will have to pay for the complete charter of the helicopter, not per seat.
Koh Phi Phi
Koh Yao Noi
Mai Thon Island
The helicopter comes equipped with Bose headsets, a highly efficient air conditioning system, and a 65-square-foot glass window, which provides the pilot and passengers with unobstructed 180-degree views.

For tour prices and more information about helicopter and charter tours in and around Phuket, you can contact Easy Day Thailand.
Video Of Skydance Adventure Tour


Photos & Video courtesy of Skydance Aero
If you enjoyed this article and found it helpful for your travels in Phuket, let us know by following us on Facebook. 

Save Time: Search Phuket Travel Secrets