Flights to Phuket

By Paula Parker
With so many flights to Phuket, travelling to this Island paradise has never been easier.
From full service carriers to a range of budget airlines that offer cheap and affordable flights into Phuket International Airport.
How do you like to travel?
Do you prefer the full service flight deals with extra leg room?
Or do you prefer to save money and fly on one of the many budget airlines that offer cheap flights, then spend that extra money that you saved on flights on your hotel or shopping?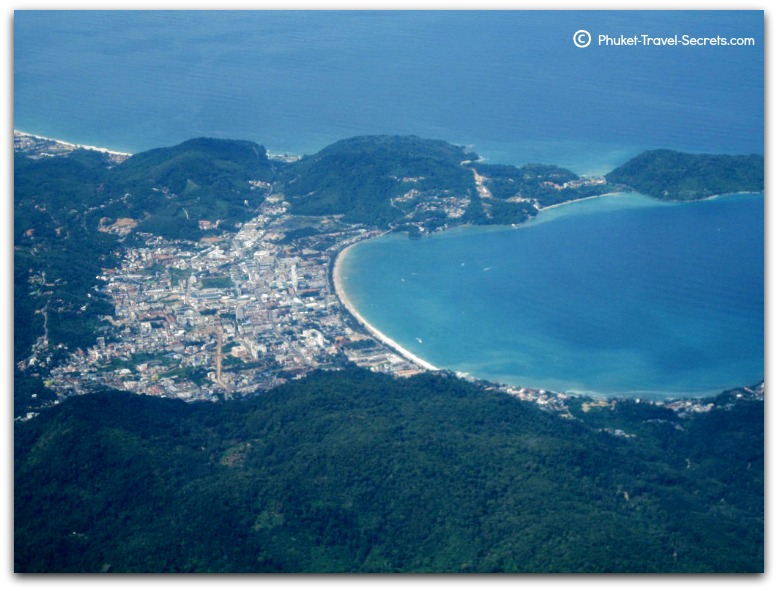 Most of us prefer direct flights without having to waste valuable holiday time in airport terminals waiting for a connecting flight, but sometimes you are unable to get a direct flight.
Whilst there are some International airlines that fly direct to Phuket, you will find most International flights will have stopovers in major cities like Bangkok, Singapore or Kuala Lumpur with connecting flights onto Phuket.


Flights to Phuket from Bangkok
There are two international airports in Bangkok.
Bangkok Suvarnabhumi Airport is the largest international airport which is located 30km east of Bangkok City. Bangkok Airways and Thai Airways have flights to Phuket from Suvarnabhumi Airport. The airport code for Suvarnabhumi Airport is BKK.  
Don Muang Airport is located about 24kms north of Bangkok city. Airlines that have flights to Phuket from Don Muang Airport include Air Asia, Thai Lion and Orient Thai. The airport code for Don Muang is DMK.
For passengers a free shuttle bus links Bangkok's two airports.
If your transferring from Suvarnabhumi Airport to Don Muang the shuttle bus departs from the 2nd Floor of the arrivals hall outside Gate 3. 
If your transferring from Don Muang Airport to Suvarnabhumi the shuttle bus departs from outside the passenger terminal. 
Travel time between the airports is around 50 minutes but this will entirely depend on the traffic. So allow yourself plenty of time.
Flights to Phuket from Singapore
No one enjoys a long layover in between flights, right!
But if it happens, Singapore's Changi airport is the place to be.
We have seen a lot of airports and I have to say that Changi airport is up there as one of the best.
One of our layovers was for 8 hours, but the time passed super quick thanks to a host of free activities that are on offer.
Some of the free activities include a foot massage, a 24-hour movie theatre and 24-hour food court ( food is not free), inside and outside gardens to explore, sleeping lounges, free Wi-Fi and charging stations.
You can read more about Changi Airport on their website.
Flights to Phuket from Kuala Lumpur
If your flying to Phuket from Kuala Lumpur, you should be aware that there are two terminals.

The main terminal is Kuala Lumpur International Airport or KLIA. The other is Kuala Lumpur International Airport 2 or KLIA2 which was purposely built in 2014 for budget carriers like Air Asia, Cebu Pacific, Tigerair / Scoot and JetStar Asia.

The two terminals are located only a couple of kilometres apart and are connected by a high-speed train. 



Find Your Flights to Phuket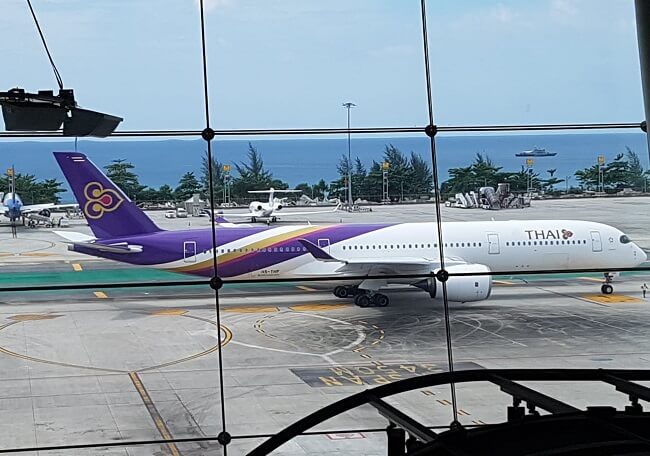 This page contains affiliate links, which means if you make a purchase through a link, we may receive a very small commission at no additional cost to you, you can read our affiliate disclosure.


From Australia Jetstar offers direct flights into Phuket International airport from some Australian airports.

To quickly find the best price for our travel dates we use a range of flight comparison websites, some of our favourites are Skyscanner and CheapOair to find and compare our flights to Phuket as it saves us lots of time by not having to search each individual airline to get the best price. 
Other airlines that have flights to Phuket include: 
Thai Airways
Singapore Airlines
Qantas
Malaysian Airlines
Emirates

There is a good range of budget airlines that offer cheap flights to Phuket such as Air Asia, China Air and Scoot that offer direct flights from their major cities.


If you are travelling to Phuket via Bangkok here is some handy information to read about Bangkok Airport.
---
---
If you enjoyed this article and found it helpful for your travels in Phuket, let us know by following us on Facebook. 
---

Save Time: Search Phuket Travel Secrets