XO Motorbike Tours
In Ho Chi Minh City, Vietnam
by Paula & Jeff
(Phuket Travel Secrets)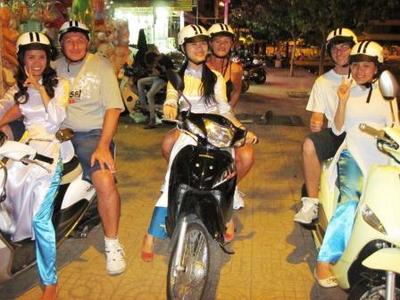 Motorbike Tours With XO Tours


During our most recent adventures throughout Asia, we decided to explore parts of Vietnam.

In the process we came across a unique motorbike tour in Ho Chi Minh City called XO Tours.

This tour was definitely one of the highlights of our time in Vietnam!




XO Tours have 4 different tours you can choose from including "The Shopping Spree" "The Sights" "Saigon By Night" and "The Foodie Tour".

As we wanted to sample the local food and also see the sights of Saigon we decided the best motorbike tour for us to try was the Foodie Tour.

Our tour began from our hotel where we met up with our friendly and very professional all female tour guides, who dress in traditional Vietnamese Ao Dai, and speak fluent English.

From the hotel we hit the streets on the back of the motorbikes, riding through the madness of the Saigon traffic, which at first is a little daunting.

However, within minutes of being on the back of the bikes, we felt very much at ease and had the most amazing experience.

The Foodie tour takes you through 6 different districts in Saigon, areas where tourists don't tend to go too.

Along the way the XO girls chat to you and explain about the different districts and when at your restaurant stops they explain the different foods and assist in cooking the BBQ.

We saw parts of Saigon most tourists would never see, eaten meals at places that we normally wouldn't have tried and tasted delicious local food.

All the food and drinks are included in the price of the foodie tour.

The food was delicious and included Bun Bo Hue a popular Vietnamese soup, BBQ goat meat, frog, BBQ prawns, crab, scallops and a tasty coconut jelly desert called Rau Cau Dua.

If you want you can also ask to try balut.

All in all this was a fun, tasty and interesting experience, we got a real sense of how and where the local Vietnamese people eat as well as learning about the areas along the way.

XO Tours are the only motorbike tour in Vietnam that includes accident insurance with every tour.

It is advisable to book your XO Tours in advance, as these tours have become very popular.

After such a fantastic experience we would highly recommend XO Tours to other travelers visiting Ho Chi Minh City, I can assure you that you won't be disappointed.

For more information about these unique motorbike tours in Vietnam and for tour prices, visit XO Tours website .

If you enjoyed this article and found it helpful for your travels in Phuket, let us know by following us on Facebook. 
---