What to Pack for a Vacation in Phuket
By Paula Parker


Phuket Vacation Packing List and Packing Tips
What to pack when travelling to Phuket !
The hardest decision when going on holidays is deciding what to pack!
We all tend to pack way too much and pack things that we don't really need.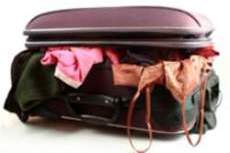 It's important to be organized when planning a vacation, especially a family vacation.
The best idea is to write a vacation packing list with things that you need to do before you leave.
As well as a list of things that you will need to pack, ensuring that you and your family can enjoy a totally worry free vacation in Phuket.
When you are deciding what to pack for your vacation to Phuket keep in mind that it is a tropical climate and that the weather is always warm.
Any kind of jacket is rarely required and lightweight cotton clothing is the most comfortable and will keep you cooler in the hot humid tropical weather.
The dress code throughout Phuket is very casual and you can get away with wearing very casual clothing for almost any occasion at most venues.
Most people usually only wear T-shirts and shorts, skirts, bikini and sarongs.
If you are planning on eating out in upmarket restaurants you might want to pack some short sleeve shirts and lightweight pants for the guys and a dress or two for the ladies.
Phuket is a shopper's heaven; clothes are cheap so only take with you what you really need as you will need the room in your bags to bring all your shopping home.
Which brings up the question of how big a bag do I need to have?
Bags come in all shapes and sizes and choosing the correct type of luggage is very important.
You don't want a bag that is too large or heavy before you even pack your clothes, so shop around and choose the type of bag that best suits your needs.
We have found some of the cheaper bags are good but they tend to be heavy and they don't seem to last the distance.
If you find that you need washing done throughout your holiday, laundry services are relatively cheap in Phuket.
Most Resorts and Hotels have their own laundry services; however you can find laundry shops throughout the Island which are much cheaper than the Resorts.



What to pack in your hand luggage for your flight to Phuket
Essential Carry On Luggage
Passport
Travel tickets
Insurance information 
Luggage Keys
Medications and a copy of prescription
Cash
Credit cards
Travellers cheques 
Small amount of Thai Baht for when you arrive in Phuket





Non Essential Carry On Luggage
Toothbrush and toothpaste
makeup
roll on deodorant
anti bacterial wipes
Phone and charger
Camera and charger
I Pod
Support socks/stockings
A light jacket or cardigan for the flight
A good book or magazine
A change of clothes just in case your luggage is delayed
Lollies and chewing gum can help to soothe ears if you feel discomfort on take off or landing.




What to pack in your hand luggage when flying with kids
If flying with kids to Phuket ensure that you pack lots of in-flight fun activities to keep the kids occupied during the flight.
What you pack for the kids will depend on their age, below is a list of boredom busters to keep them occupied.
Reading books
Puzzle book
Colouring book and pencils
I Pod
Game boy
Portable DVD and movies
A Cuddly Toy, but be careful if taking a favourite teddy with you, imagine the tears if they get lost
Card games
Non sugary snacks
I Pad / Notebook
It is advisable to check with the airline on what their weight and size restrictions are for hand luggage.
Also make sure that you don't carry sharp objects such as scissors, metal nail files or tweezers.
Clothing & what to pack for a vacation in Phuket
Pack really, really lightly when going to Phuket, as you will find lots of bargain shopping once you arrive.
The most important item of clothing to pack is your swimmers, as most fun activities in Phuket involves water.
Packing List for Men
Two pairs of board shorts
Two singlets or T shirts
Cotton Shirt for evening wear
A pair of light weight shorts
Comfortable walking shoes
Underwear and socks
Thongs (Flipflops) and/or sandals
Toiletries



Packing List for Women
Swimmers and Sarong
Two pairs of shorts
Four tops
Dress and skirt
Toiletries
Underwear, Bras and socks
Comfortable walking shoes
Sandals and/or thongs (Flipflops)


Packing List for Kids
Three T Shirts or singlets
Two pairs of shorts
Two or three dresses for the girls
Light weight shorts for the boys
Cotton shirt for evening wear for the boys
Board shorts or swimmers
Underwear and socks
Sleepwear
Comfortable walking shoes
Thongs (Flipflops) and/or sandals
Toiletries


Incidentals & what to pack for a holiday in Phuket
Mosquito repellent and sunscreen is a must, you may choose to pack your favorite or if you don't you will find lots of pharmacies, 7 elevens or Family marts where you can purchase these items from.
Battery chargers for your phone and laptop chargers are easy to forget and having to find a replacement when you arrive in Phuket is not really a great start to anyone's holiday.
Always pack a power adapter for your electrical items to be charged such as mobile phone, camera and lap top.
It is a good idea to also take a power board from your country so that you can charge more than one item at a time.
Phuket Packing Tips

Lay all your clothes out on your bed that you think you will need to take with you, and then halve it!!
When packing your suitcase, forget about folding your clothes individually, they will end up wrinkled.
The best way to pack your clothes and avoid wrinkles is to roll them up.
---
---
If you enjoyed this article and found it helpful for your travels in Phuket, let us know by following us on Facebook. 

Save Time: Search Phuket Travel Secrets