Utah Travel Secrets
by Rod
(Salt Lake City, Utah, USA)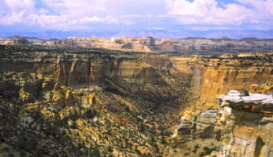 San Rafael Swell
Many people who first see photographs of Utah's outdoor places often suggest the photos were retouched.

Or they had to be taken somewhere else.

But many of those who've actually seen Utah's wild places are never the same.

How about granite peaks rising up from the edge of the desert floor, or slick-rock arches.

More arches and bigger arches than anywhere else on the planet.

Alpine lakes which few people ever reach.

And roaring mountain streams filled with lively trout.

Sandstone hoodoos and ancient ruins of long-gone civilizations.

Seemingly bottomless canyons, some heavily traveled and others still waiting to be discovered.

Sea-like salt flats stretching to the horizon. Sunrises and sunsets that look like they were applied to a canvas using multi-colored oils.

And all of it with some of the easiest access travelers will find anywhere.

The Best Snow on Earth!

Utahns are unabashed in claiming Utah has the best snow on earth.

And thousands of skiers from all over the world travel here each year to enjoy Utah's powder because they believe it to be true also.

Utah offers visitors:

- 5 national parks
- 7 national monuments
- 9 national forests
- 43 state parks

World-Class Outdoor Recreation

Millions of people flock to Utah each year to join those of us who live here to enjoy world-class outdoor recreational opportunities.

A rare mix!

skiing

- snowboarding
- mountain biking
- hiking
- hiking
- photography
- fishing
- hunting
- golf
- boating
- sight-seeing
- four-wheeling
- ATV touring
- water-skiing

You can have a ball doing any of them here.

Or all of them.

Why Is Utah So Unique?

Utah happens to be in a unique location where four totally different geographic regions converge.

In a single state of the western United States you have the meeting of:

- towering mountains - The Rocky Mountains
- a large semi-arid high desert - the Great Basin
- the least-tamed and most beautiful area in the lower 48 states
- the Colorado Plateau
- rainshadow or transition desert - the Mojave Desert.

And this meeting offers up a similarly unique array of climate, terrain, and color.

Resulting in the fantastic creations sculpted out of Utah's rock by the rain, snow, ice, and even gravity.


One of the Best Winter Playgrounds Anywhere

It took the 2002 winter Olympic Games to show the world how fantastic it was here for those who enjoy playing in the winter.

And all that winter mountain moisture results in two more of Utah's unequaled displays of spring-time wildflowers and fall color panoramas.

A famous American writer, Wallace Stegner, once wrote about Utah that, No region in America, and so far as I know in the world, has a comparable power to evoke from human beings such responses of surprise, delight, and, above all, awe.

Getting Here

Getting to Utah from anywhere in the world is not difficult.

Thirteen major airlines fly in and out of Salt Lake City International Airport.

Salt Lake City is the cosmopolitan capital of Utah with a population of more than 1,000,000 people.

And our airport is within 2 ½ hours of half the population of the U.S.

Salt Lake International is located just 10 minutes west of downtown Salt Lake City.

It ranks as the 22nd largest airport in the country and provides service for more than 21.5 million people each year.

The modern airport has two terminals, five concourses, and 83 gates providing wireless internet throughout the terminal.

Salt Lake City International Airport is Delta Air Line's second biggest hub.

In fact, Delta began offering non-stop flights to and from Paris, France last year.

On a yearly basis, the airport continues to rank first in the nation for on-time departures and second for on-time arrivals by the U.S. Department of Transportation.

In fact, each day, 900 scheduled flights leave for over 100 nonstop destinations.

Airlines flying in and out of Salt Lake City include American Airlines, Continental, ExpressJet, Frontier, JetBlue, Northwest, Pinnacle, Sky West, Southwest, United Airlines, and US Airways.

Car rental facilities are located on the ground floor of the short-term parking garage directly across from the terminal buildings.

You can rent the vehicle of your choice from one of 10 rental companies located there.

A taxi cab from the airport to downtown Salt Lake City will run you from $20 to $25.

Shuttles and limo services run to all the local ski resorts.

Highways

Utah is bisected by Interstate 80 east and west and Interstate 15 north and south.

Interstate 70 heads east to Denver from the central part of the state near Utah's famous national parks.

Both I-80 and I-15 converge in Salt Lake City allowing easy access to all areas of the state.

Consider a Trip to Utah

There are wondrous sights in Utah that are still virtually undiscovered.

There is still a universal lack of knowledge about Utah's wild areas but this is changing rapidly.

The state is evolving from a resource-based economy to one more dependent on visitors from other places.

If you want more information about making a decision to visit Utah, go to www.utah-travel-secrets.com.