Upside Down House and A Maze in Phuket
By Paula Parker


The Upside Down House in Phuket is unlike any other attractions that you are likely to find on the Island, in fact anywhere in Thailand!
This wacky attraction in Phuket is sure to turn a few heads and will be ideal for a fun day out with the kids or as a rainy day activity.
The house also known in Thai as "Baan Teelanka" opened its doors in 2014.

So if you're planning a trip to Phuket you might want to add this eccentric and somewhat unusual attraction to your list of things to do and see.
The three storey house is purposely designed and built to give you the impression that you are upside down!
Just imagine walking into a house with all the usual furniture and fittings but unlike any normal house, the ceiling is actually the floor and the floor is the ceiling.
You will literally be walking on the ceiling under the furniture and other household items that hang from overhead.


Whilst "Baan Teelanka" is the first upside down house in Thailand, there are other upside down houses built around the world.
If the topsy – turvy house isn't enough to play games with your mind, just wait until you walk outside and see the grounds and another mind boggling attraction called A Maze in Phuket.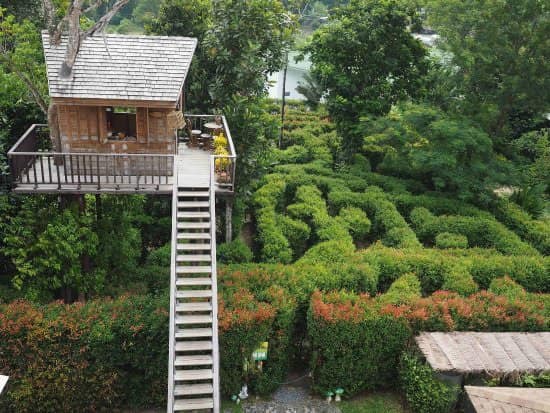 The 950sqm garden maze has been designed by the acclaimed maze designer Adrian Fisher from the United Kingdom and is also the first of its kind in Phuket which is sure to be a hit especially with the kids.

Also located at this amazing fun park is the only escape room game currently operating in Phuket, you can read more about the escape rooms at the Upside Down House here.


The owner and operator of Baan Teelanka is husband and wife team Alex Riva, a Swiss National and his Phuket born wife Wah.
Both Alex and Wah have worked within the tourism and hospitality industry throughout Thailand and South East Asia for many years, so they are no strangers to the industry or Phuket.
We are looking forward to visiting the Upside Down House and A Maze in Phuket for ourselves during our upcoming holiday to Phuket, so stay tuned for some interesting photos of the weird and wonderful creation.
Opening Hours
Baan Teelanka and A Maze in Phuket is open daily from 10.00 am – 6.00pm.

FAQ 
Question - Is there a cafe onsite?
Answer - Yes there is a cafe and souvenir shop onsite, they also offer free WiFi so you can upload and share your pictures.
Question - Is there onsite parking available?
Answer - Yes there is parking available onsite for cars and motorbikes.
Question - How far from is the Upside Down House from Patong?
Answer - The Upside Down House and A Maze in Phuket is 25 to 30 minutes from Patong.
Question - How long should I allow for each activity?
Answer
You should allow up to 45 minutes for the Upside Down House (longer if you prefer) 
Allow 15 to 20 minutes for the Garden Maze
Allow 30 minutes per room for the Escape Game. 
Upside Down House Entry Fee's

The entry fee for each of these attractions is very reasonable, you can either see all attractions or if time is limited just visit one or two.
The below prices are current as of the August 2023.
Upside Down House  
Adults - 470 Baht
Kids aged 4 -11 years - 240 Baht
A Maze in Phuket      
Adults – 230 Baht
Kids aged 4 – 11 years - 140 Baht


Room Escape Game 
Adults - 780 Baht
Kids aged 4 - 11 years - 360 Baht
Combo Prices for Upside Down House & A Maze
Adults - 570 Baht
Kids aged 4 - 11 years - 310 Baht

Combo Prices for all 3 Activities
Adults - 1250 Baht
Kids aged 4 - 11 years - 610 Baht

Location
You will find Baan Teelanka and A Maze in Phuket located between the Premium Outlet Shopping Mall and Siam Niramit on the Bypass Road.
Just keep an eye out for the house that is upside down with the upside down red Volkswagon beetle parked in the carpark .
After business hours, Baan Teelanka is also available for private functions, so if you're looking to hold a private party, celebration or corporate event you can contact Alex and Wah for more details.
Photo's courtesy of Baan Teelanka

If you enjoyed this article and found it helpful for your travels in Phuket, let us know by following us on Facebook. 

Save Time: Search Phuket Travel Secrets