Temples in Phuket

By Paula Parker


A visit to the Temples in Phuket is definitely a must!
The Thai word for temple is Wat.
Visitors to Phuket are always welcome to visit the Buddhist Temples.
Phuket's main religion is Buddhism, with Thai Muslims making up approximately 35% of the Islands population so you will find just as many mosques as temples in Phuket.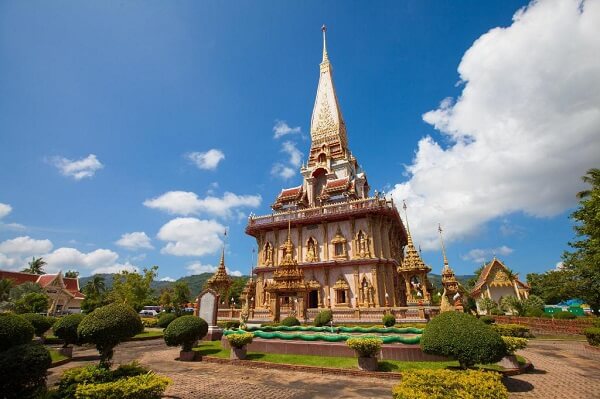 When visiting Wats or Chinese shrines be sure to observe the dress rules.

You will be asked to remove your shoes before entering, and to cover your shoulders, legs and stomach.

There are also a couple of other rules that you need to observe as well:
No swearing
No shouting
No posing with Buddha images
Don't point at any religious item with your feet
There is no admission fee although you may see donation boxes, the money goes towards maintenance of these historic sites.



6 Must See Temples in Phuket



1. Wat Chalong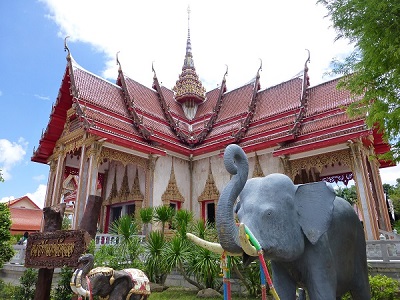 Wat Chalong is the largest and one of the most visited temples in Phuket, locals come here to pray to Buddha and many visitors come here to learn about Buddhism.
The Chalong Temple prayer hall contains the statues of three revered monks, Luang Pro Chaem, Luang Por Gluam and Luang Por Chuang. Wat Chalong history makes it one of the most important temples in Phuket.
How to find Wat Chalong 
Wat Chalong Temple is located on Chao Fa West Road, approximately eight kilometres south of Phuket Town.
---

2. Phuket Big Buddha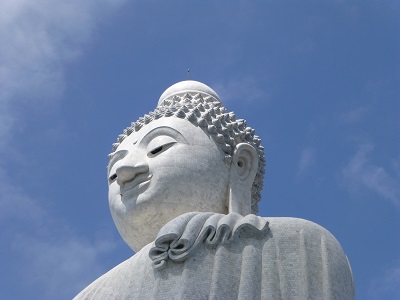 Big Buddha's official name is Ming Mongkol Buddha.

Big Buddha of Phuket is a sight to behold standing at 45 metres high, the largest white marble Buddha in Thailand.
Construction began in 2004 and over the years the site has become a much-loved tourist attraction for visitors to Phuket, where you can take in the incredible views of the island and the craftmanship of Big Buddha itself.

For many visitors this is a must-see tourist attraction when in Phuket, however we must not forget that Big Buddha is firstly a Buddhist temple and a place of worship. 
How to get to Big Buddha
Big Buddha is located at Nakkerd Hill near Chalong 
---

3. Wat Suwan Khiri Khet

Wat Suwan Khiri Khet also known as Karon Temple or Wat Karon is a beautiful temple with an emphasis on the vibrant colours, ornate sculptures and carvings.

Inside there are some lovely paintings describing Buddhas life.
On a Tuesday and Friday evening Karon Temple Market occupies the temple grounds. The markets are fantastic they have a great atmosphere, with live music and lots of food stalls with delicious and interesting dishes.
How to find Karon Temple
Karon Temple can be found in Patak Road, Karon Beach.


---

4. Wat Phra Nang Sang
Wat Phra Nang Sang is the oldest temple in Phuket, it was built when Thalang was the Capital of Phuket.
The grounds in which the temple stands are where the battle with the Burmese invaders took place in 1785.
Statues of Thao Thep Kassatri and Thao Sri Sunthon are within the temple grounds; it is believed that these two sisters led the resistance against the Burmese.
The walls inside the temple are decorated with paintings of historical events and murals of Lord Buddha's life.

How to find Wat Phra Nang Sang
The temple is located in Thalang on Thepkrasattri Road. At the entrance of the temple there are two pairs of large statues holding the gates.
---

5. Wat Sri Sunthon Temple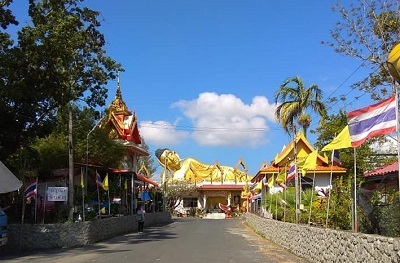 Wat Sri Sunthon Temple is named after one of the two sisters who led the resistance of the Burmese that being Thao Sri Sunthon. The grounds of the temple are beautiful; and it is so quiet.
On top of the roof you will see a large reclining Buddha image, to have a closer look at the Buddha image go to the back of the building where you will find stairs that lead to the roof.
How to find Wat Sri Sunthon Temple 
The temple is located on Thepkasathri Road about five kilometres north of the Heroines Monument, it is open from 7.00am to 5.30pm.
---

6. Wat Phra Thong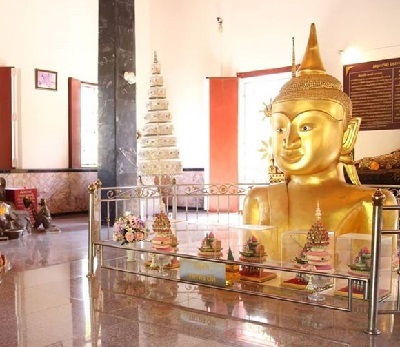 Wat Phra Thong means Temple of the protruding Buddha.
Due to its location not many international visitors come to see this amazingly enormous half buried golden Buddha Statue whose history dates back centuries.
Legend has it that the ancient Buddha is protected by a spell, which is believed to cause death to anyone or anything that attempts to remove it from the ground.
How to find Wat Phra Thong.
Wat Phra Thong temple is also located in Thalang on Thepkrasattri Road, about 20 kilometres from Phuket Town.


When visiting any of the temples in Phuket, please remember to observe the dress rules.


If you enjoyed this article and found it helpful for your travels in Phuket, let us know by following us on Facebook. 

Save Time: Search Phuket Travel Secrets