PP Casita Adults Only Resort at Ko Phi Phi
By Paula Parker


Personal r

eview of PP Casita Resort at Phi Phi Don 
PP Casita is one of the most popular places to stay on Ko Phi Phi Don, ideally located just 60 metres from Loh Dalum Bay.
The location of this adults only resort is excellent, situated close to one of the most photographed beaches in the world.
On your doorstep is all the facilities of Tonsai Village with loads of restaurants, entertainment and shopping.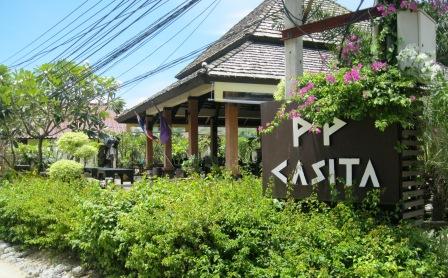 This page contains affiliate links, which means if you make a purchase through a link, we may receive a very small commission at no additional cost to you, you can read our affiliate disclosure.


This resort is within walking distance from Tonsai Pier, there is a complimentary pick up and drop off service provided by the resort, that we found to be very good.
From the pier your guide will escort you and take your luggage in a cart through Tonsai Village, to the resort to be check in.
PP Casita offers great value for money, and is perfect for those on a budget, but is also great for those who like to have a few creature comforts.

To learn more about the PP Casita including availability and room rates or to read verified reviews from other guests who booked their stay through Agoda. 



Overview of PP Casita Bungalows and Rooms 
There is a good range of tastefully decorated bungalows and hotel rooms at PP Casita, which are well priced to suit all budgets. Whilst this is a three star resort the bungalows and rooms are clean and very comfortable.
PP Casita Bungalows
The Bungalows are set on stilts and joined by a series of raised walkways. The bungalows are a little compact, but contain everything you need including a big comfortable bed.


PP Casita Hotel Rooms
The Hotel Rooms are located in separate buildings, all rooms are tastefully decorated with views of the cliffs and glimpses of Loh Dalum Bay from the top floor.
All rooms at P P Casita are modern and have the following in room facilities.

Hair Dryer

Hot & Cold Showers
Western Toilets
Satellite TV
Refrigerator




Coffee Making Facilities
In Room Safe

Toiletries
Complimentary Bottled water
Air Conditioning






PP Casita Resort Facilities
Apart from clean and comfortable accommodation the resort boasts a fantastic swimming pool and a swim up bar for guests to enjoy.
Other facilities include an onsite restaurant where you can enjoy your daily complimentary breakfast. Free Wi-Fi is available throughout the resort and if your feeling energetic and want to do a workout the resort also has a fitness centre.


P P Casita makes an ideal base for exploring Ko Phi Phi as you are literally just minutes away from the beach, Pee Pee Viewpoint, and a range of activities such as rock climbing, kayaking & snorkelling.



Travel Tips
We thoroughly enjoyed our stay in an air conditioned bungalow at P P Casita.
We found the resort to be an ideal spot away from the centre of Tonsai village, but close enough to enjoy all the activities of both Loh Dalum Bay and Tonsai Bay.
P P Casita provides clean pool and beach towels daily for their guests to use.
Just make sure that you check with reception to see what time the towels have to be returned, as they check them off each night.
From reviews that we had read prior to booking our stay at PP Casita we expected more noise during the night from the beach bars on Loh Dalum Beach, however we didn't find it noisy at all, in fact we found the location of the hotel to be quiet relaxing.
Ensure you keep your door closed to keep the mosquitoes out as well as wear a repellent when going out at night.
Located across the road from P P Casita heading towards Loh Dalum Bay is a couple of internet shops and a great little massage place called Lompai & Pon that we can recommend.
The PP Casita Resort is very good, read hotel reviews from other guests that have also booked their accommodation using Agoda.
Or see what other travelers have to say about their experience staying at the PP Casita Resort on TripAdvisor.
Location Map of PP Casita Resort at Ko Phi Phi




If you enjoyed this article and found it helpful for your travels in Phuket, let us know by following us on Facebook. 

Save Time: Search Phuket Travel Secrets