Phuket Yacht Charter Holidays
By Paula Parker


Phuket yacht charter holidays are perfect for visitors planning a special getaway or looking for something unique to do while on holiday in Phuket.

Yacht charter holidays from Phuket can have you sailing away from the crowded beaches, to the beautiful offshore islands and beyond.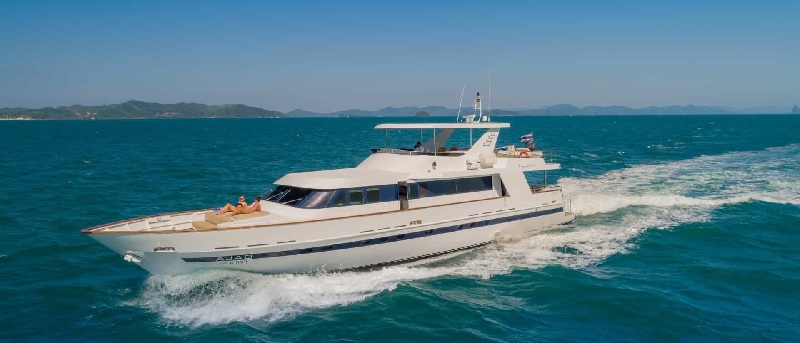 There is a collection of yachts available, some yachts are best suited to explore the Islands closer to Phuket, whilst others are more equipped if you would like to expand your travel and discover other destinations throughout southern Thailand.



Phuket Yacht Charter Holidays & the Best Locations



For the ultimate experience, there are overnight charters and multiple day tours available.

These charter tours can sail you to other beautiful destinations, such as Koh Phi Phi, Phang Nga Bay, Krabi, Koh Lanta and the Similan Islands.
If you have more time you may like to charter a boat and discover the Turatao Archipelago near Malaysia, this area is like Phuket was some 20 years ago.
On-board some of the yachts is just like being on your very own floating 5-Star resort, the cabins have comfortable berths and many of them have en-suited bathrooms.
The good news is that you don't need any sailing experience to charter a yacht from Phuket, as the boats are skippered by an experienced captain and a personal cook is on board that will see to your every need.
All the yachts including day trip charters and overnight charters can be tailored to meet your needs and interests.
If you're planning a Phuket yacht charter holiday or you would like to charter a yacht to go Island hopping or to celebrate a special occasion talk to the team at Easy Day Thailand.  



Yachts available for Phuket Yacht Charter Holidays 



There is a large range of yacht's available for charter to suit most budgets, below is a list of yachts that are rated amongst the best that you can charter for Phuket Yacht Charter Holidays or daytrips.
Best Yachts for Overnight Charters




Ajao is the perfect yacht to cruise around the Andaman, if you are looking to charter a yacht that oozes complete luxury this is the yacht for you.
Staying on-board this yacht is just like staying in a 5-star hotel, with three en-suited cabins comprising of one master suite and two twin cabins.
The yacht is fully airconditioned with three dining areas and a spacious sundeck. On-board there is an array of equipment including 2 double seat kayaks, a stand up paddle board, a ski board, snorkeling gear and is fully equipped for game fishing or scuba diving.
Ajao will comfortably sleep up to 6 passengers for multi day holidays, and up to 30 passengers for day trips.
Adamo is a luxury motor yacht, another perfect choice for yacht charter holidays with family or friends from Phuket.
This yacht can comfortably sleep up to six passengers with three en-suite bathrooms consisting of two double cabins and one twin cabin.
Adamo can also be chartered for day trips and can seat up to 14 people.
Rendezvous is also a great choice for a yacht charter holiday from Phuket.
This motorised catamaran can comfortably sleep up to 7 passengers as it has three double cabins and one single cabin.

You can also charter this yacht for day charters from Phuket as it will comfortably seat up to 15 passengers.
Best Yachts for Day Charters
The boats below are ideal for day trips and can be chartered for private Island hopping tours, snorkelling day trips, booze cruises, sunset cruises or to celebrate special occasions such as weddings, birthdays, hens, or stag parties.


MV Thainess is one of the most affordable charter boats in Phuket.

This boat can be chartered for a range of activities such as Island hopping, sunset cruises, fishing, snorkelling or scuba diving trips.
MV Thainess has ample space for up to 20 passengers.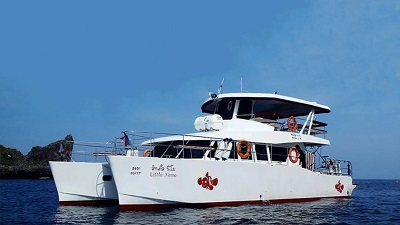 MV Nemo will comfortable seat 15 to 20 people,
This catamaran is motorised and is the ideal boat to  charter for a Party Cruise, Private Snorkelling or Scuba Diving.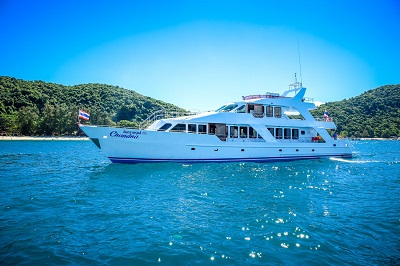 MV Chandra is a perfect yacht for larger groups, as it can comfortably seat up to 80 guests.

This yacht is ideal for island hopping day trips and sunset cruises to Coral Island, Racha Island, Koh Khai, Rang Yai, Phang Nga Bay or the Phi Phi Islands.

Phuket Yacht Charter Activities

The possibilities are endless and the fully equipped boats offer a range of fun activities including kayaking, fishing, snorkeling and scuba diving and game fishing.
On route to your destination you can relax on deck, sip your favorite drink, listen to some music, read a book, play games all at your own pace and only with your friends or family.
For more information about the day trips and overnight Phuket yacht charter holidays and possible destinations contact Easy Day Thailand.


If you enjoyed this article and found it helpful for your travels in Phuket, let us know by following us on Facebook. 

Save Time: Search Phuket Travel Secrets